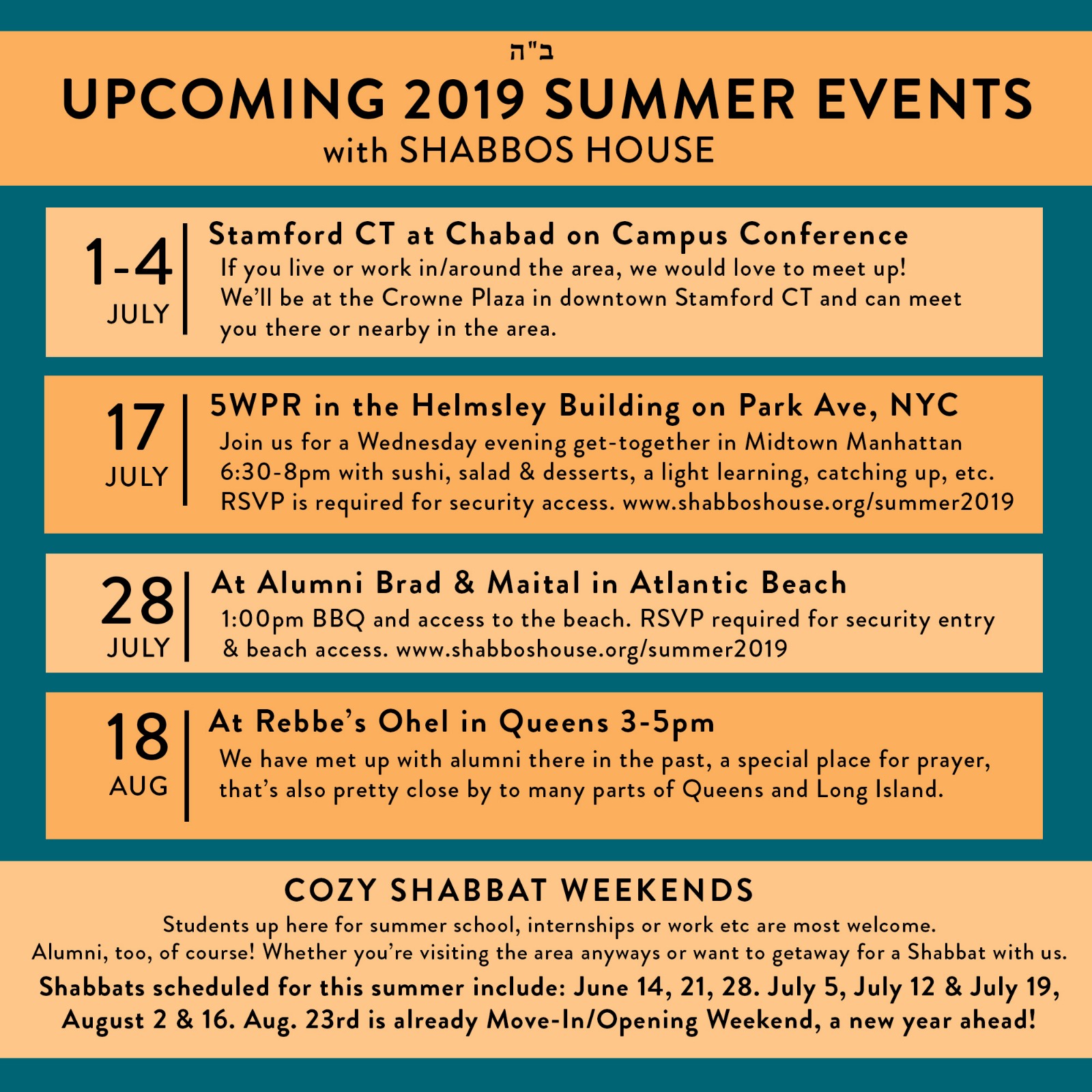 Scroll down to bottom of page for Reunions Sign-Up Google Form.
Summer is quieter on our end with most students away, but is a wonderful time for us to go to alumni simchas (always in season!), alumni reunions and visits and small Cozy Shabbats up here . Of course, we're also busy planning for the new year, organizing and catching up with back end office stuff and trying to raise the funds to keep the good works going.
COZY SHABBAT WEEKENDS:
Students up here for summer school, internships or work etc are most welcome. Alumni, too, of course! Whether you are up in the area visiting anyways or want to getaway for a Shabbat with us.
Cozy Shabbats scheduled for this summer include: June 14, 21, 28. July 5, July 12 & July 19. August 2 & 16. August 23rd is already Move-In/Opening Weekend, a new year ahead!
GREATER NYC-AREA ALUMNI REUNIONS:
July 1-4: in Stamford CT at Chabad on Campus Conference. If you live or work in/around the area, would love to meet up! We'll be at the Crowne Plaza in downtown Stamford CT and can meet up there or nearby in the area.
*July 17: at 5WPR in the Helmsley Building on Park Avenue, NYC. Wednesday evening get-together in Midtown Manhattan 6:30-8pm with sushi, salad and desserts, a little light learning, catching up, etc. RSVP is required for security access, please use google form below.
*July 28: at alumni Brad & Maital in Atlantic Beach. 1:00pm BBQ and beach access. RSVP for security entrance and beach access is required, please use the google form below.
August 18: at Rebbe's Ohel in Queens 3-5pm. We have met up with alumni there in the past, a special place for prayer that's also pretty close to many parts of Queens and Long Island.
We're going to bring back the NJ (and another) reunion this coming winter break. And we hope to do more Mendel's Mondays in Manhattan again this Fall!
*RSVPs always helpful but are required for the July 17 and July 28 events for security (and beach) access. Please use form below…
SUMMER IS ALSO TIME FOR THE RAFFLE
For several years now Chabad on Campus runs a summertime raffle at zero-cost to Shabbos House (prizes, platform, etc) so its a win-win Mitzvah and maybe you'll win something for your good deed. If you'd like to buy a $36 ticket (or 2 tickets or 5 tickets etc) use THIS link for the funds to go directly to Shabbos House.
ALSO IN ALBANY NY AREA THIS SUMMER:
June 26th Historic Gomel Russia Torah Dedication 5:30pm at the Crossings Park in Colonie
June 30th "Battle of the BBQ's" for Shalom Kosher Food Pantry at Bethlehem Chabad 2-5pm
July 9th David Babinet, Opera Star at Saratoga Chabad shares his journey and a spectrum of songs from Broadway to Cantorial.. 7-9pm
July 10th "My Rebbe Story – Albany Edition" local Ted-talk style talks about Rebbe at Shabbos House
THE REUNION(S) SIGN-UP FORM:
Note that two reunions require signups for security/access purposes.