Dear friends,
Hope classes are wrapping up well for you and you are prepared/preparing for finals, final papers and projects and end of the semester. Much success with it all!
We still have events and activities this week, into next. See below for a quasi-Torah-Tues, Thursday Night BBQ with Great Danes for Israel, Shabbat info, and the big Grad Party rescheduled for next Monday… it may be wrapping up, but lots happening! 
NO TORAH-TUES (5/3)… but:
We did conclude our semester series of Torah-Tuesdays last week (great line-up, including 3 weeks of student presenters!) but we will have dairy dinner at Shabbos House at 6pm and 9pm as usual. Instead of a prepared Torah-Tuesday we will do a little learning, to try to finish up some of the short Talmud pieces on Tefillin that we didn't finish up at the Minyan-Brunches.
KOSHER-ON-FULLER dinner (by swipe) this week on Monday and Wednesday (see Tuesday above, and Thursday below):
THURSDAY NIGHT (5/5) BBQ… 
Great Danes for Israel will be hosting their Yom Ha'atzmaut (Israel Independence Day) Kosher BBQ event (possibly also fire-pit) Thursday night 7-9pm at Shabbos House, along with squeeze your own orange-juice.
FRIDAY NIGHT (5/6) AND SHABBAT DAY (5/7):
Finals Week Shabbat! This week back at Shabbos House. Prayers 7:15pm, Shabbat Dinner 8pm. For most students this will be your last Shabbat of Spring '22! Shabbat Day Minyan as usual 10:30am at Shabbos House (Torah reading is Kedoshim) with lunch following at 12:30pm. Light end-of-Shabbat dinner at 7:45pm with Havdalah at 8:50pm.
SUNDAY MINYAN BRUNCH (5/8)
11am, the last one of the season! 12pm Brunch.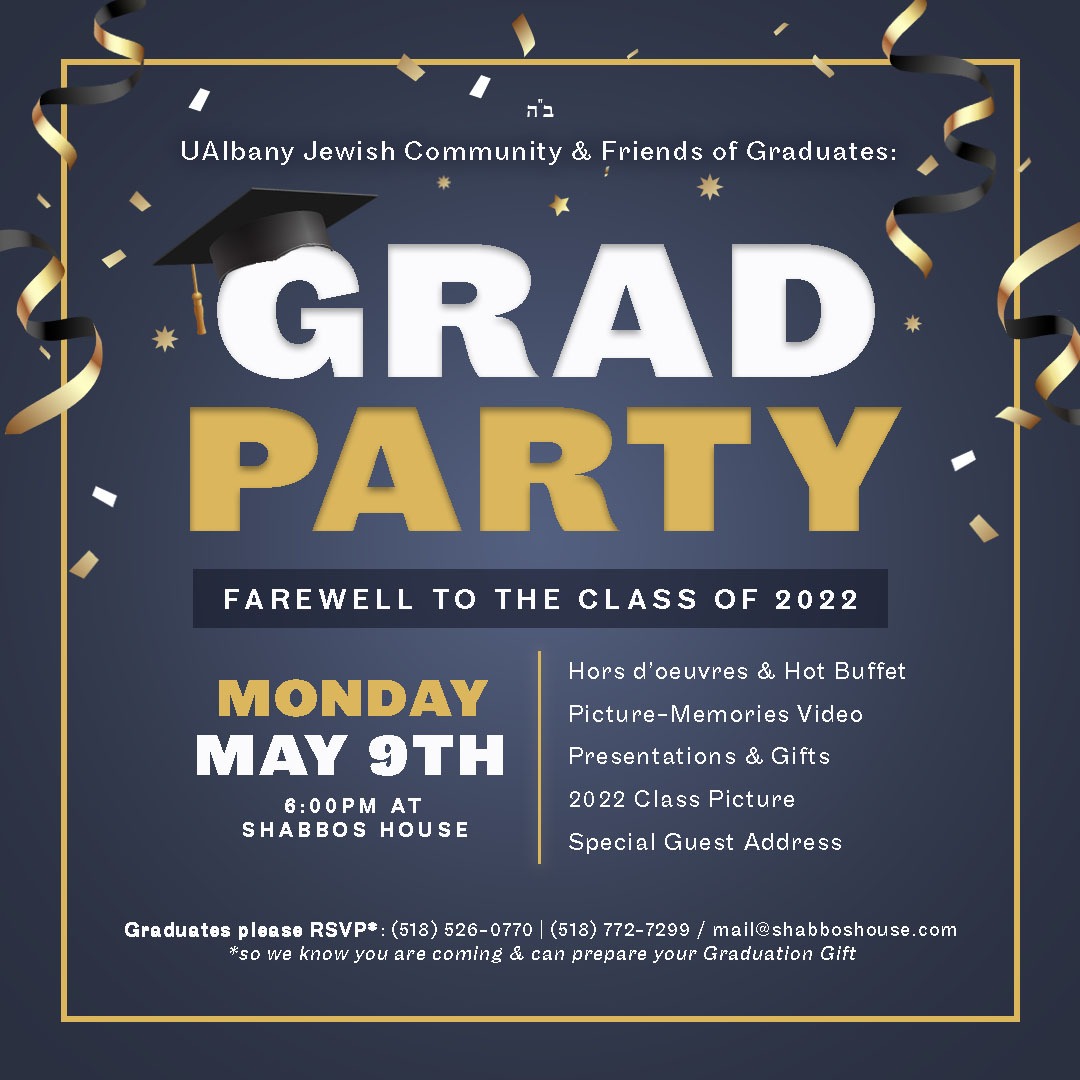 MONDAY (5/9) GRAD-PARTY CELEBRATION, ALL STUDENTS WELCOME!
This is special annual event at Shabbos House, with a nice hot buffet, memories slide-show, personalized gift for each graduate, special presentations and awards, a short guest speaker, and the Class Photo of 2022. It's an elegant farewell and appreciation of the Jewishly involved students of the Class of 2022. But all students are very welcome to attend, 6-8pm at Shabbos House. We did reschedule this event from Sunday due to some conflicts, but hope that as many as possible can make this very memorable event.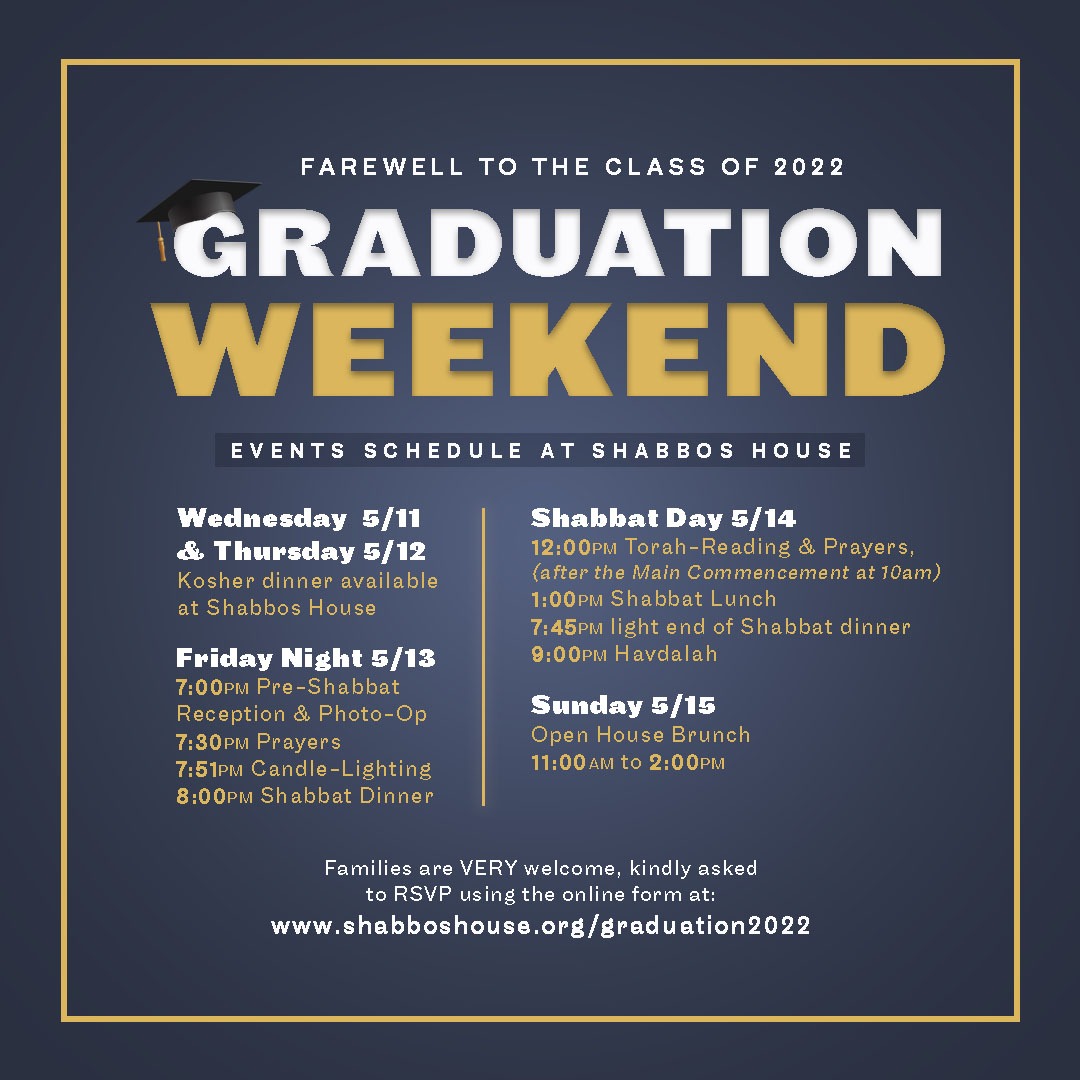 ABOUT GRADUATION/COMMENCEMENT WEEKEND:
We put up a page online of detailed times and schedules of Grad Weekend 2022 meals and events at Shabbos House. Some families will be here for most of it, other families only for certain portions. It is helpful if families can fill out this Survey/RSVP form so we can have a better idea when people plan on coming.
WELCOME TO INCOMING SHABBOS HOUSE L'CHAIM STUDENT BOARD:
We are excited to welcome (and welcome back) members of the 2022-2023 E-Board and G-Board! We're having a outgoing-incoming Board lunch on Reading Day and look forward to working together to plan over the summer and into the new year! It's a big board, a great team…
SUMMER PLANS…
If you don't have summer plans yet and are interesting in exploring subsidized Torah study and Jewish exploration opportunities, including one option that pays a generous stipend, please speak to Mendel and Raizy to see if that can work for you.
Personally, we have a lot going on with year-end activities at UAlbany, more work for the year-end at our children's school Maimonides, and lots of paperwork and office-work to catch up on. But we also look forward to summer, and will keep you posted now and then (not weekly) with our summer escapades, activities and adventures. We do host Cozy-Shabbat dinners most (but not all) weekends for students up here for work or study during the summer months. If you do plan to be up for part/all of the summer, please let us know.
Much success with everything year-end for you!
Love,
Mendel and Raizy
—
PS: For those who do want to contribute (even small amounts) in support of Jewish communities in Ukraine, this link below goes directly (no complicated overhead) to communities there, to refugees, to people stuck in the crisis there, and all types of support. You can earmark a specific city or the general overall Chabad effort there, which prior to the war served dozens of communities with over 200 Shluchim families, operating synagogues, schools, orphanages, soup-kitchens, mikvahs, community-centers – you name it. And they are still working in many ways to help refugees, families and elderly and many in Ukraine. The link is Chabad.org/Ukraine. 

—-
SIGNUP FORM for keep-in-touch at Shabbos House.… we send out a weekly email with event updates for that week.  If you don't get our emails (alumni: a couple times a month, student updates weekly) please let us know so we can add you to the email list. Stay in touch, keep in the loop!
More updates soon,
Love, Mendel & Raizy