Welcome back from Thanksgiving, hope you enjoyed the time away/with family. We certainly did – we took a road trip west that took us through Canada, to Raizy's siblings and their families in Detroit, Chicago and Cleveland, and we enjoyed interesting and memorable stops and sights (including the Jell-O Museum and Retirement Home Park for Bridges) along the way.
Can't believe this is the last week before Finals Week, Fall 2022 is about to slip away! But not before we have a little more celebrating together:
This Shabbat is our last regular Friday Night at Shabbos House for 2022. There will be Hillel Shabbat Dinner (and Shabbos House lunch) next week during Finals, but this is the last Shabbat dinner for Shabbos House. We may have some local HS seniors looking at Jewish campus life, a prospective transfer, and possibly an alumni as well. Candle-lighting and start of Shabbat this week is 4:04pm (the earliest it gets in Albany) Prayers will be 6:20pm, and Shabbat Dinner 7pm. It's also Sara's Hebrew 20th birthday, she has a close friend coming up, and we'll do something special for dessert.
Shabbat Day we read Vayeitzei (Jacob's Ladder, his marriages, birth of the tribes) Minyan at 10:30am, Lunch 12:30pm, Shabbat ends 5:09pm. We'll do Sat Night Pizza and Matt's Media Messages at 7:45pm.
Sunday may be our last or second to last Minyan Brunch of the semester. Just saw this great piece today on a  first-time Tefillin in Ghana Chabad by acclaimed writer David Patrikarakos, it's short but says a lot, well-written.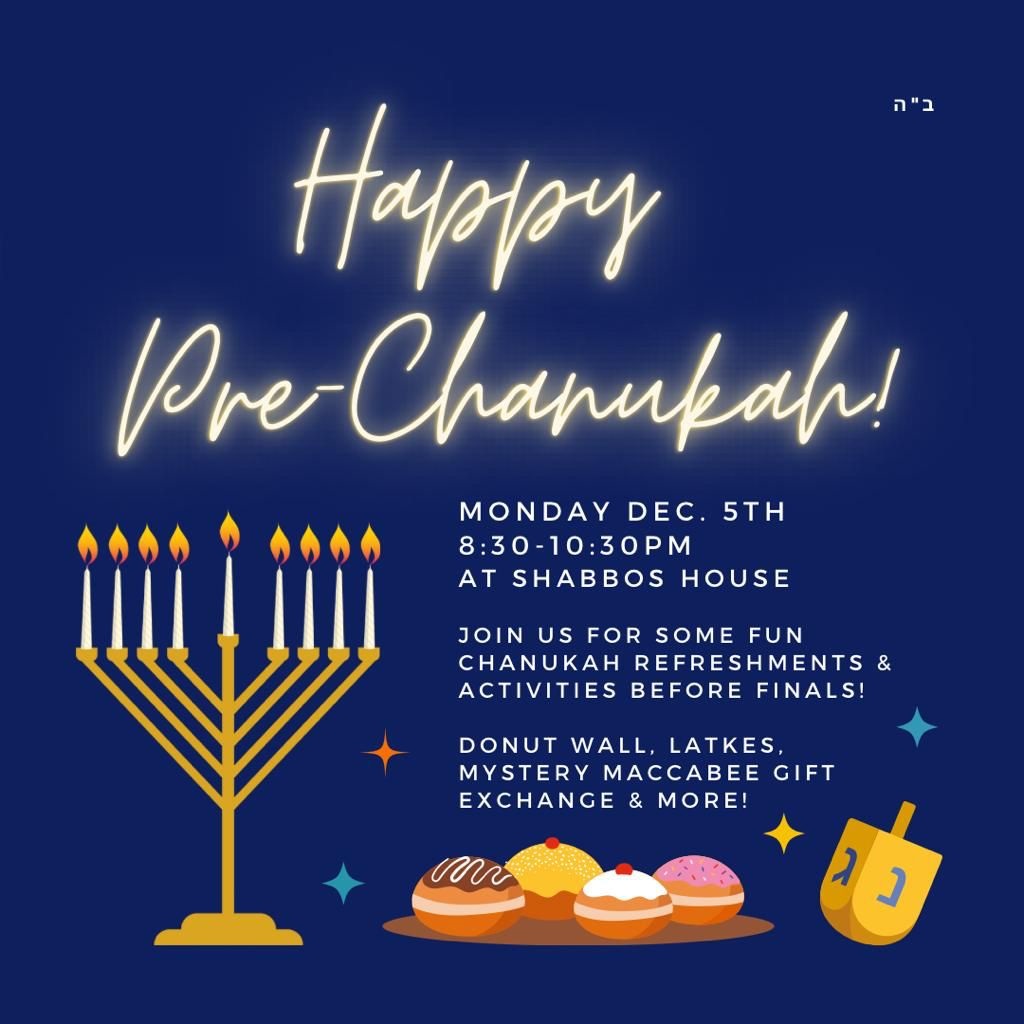 This coming Monday night, Dec 5, eve of (night before) Reading Day, between 8:30-10:30pm, we're planning a fun PRE-Chanukah party (instead of our usual Midnight Breakfast). Most students won't be here for the actual Chanukah due to it falling over Winter Break (first night is Dec 18) but we can still enjoy fresh doughnuts, Dreidel pancakes, Chanukah spirit, and have a Mystery Maccabee gift exchange, there's still time to sign up (use this Mystery Maccabee form) to be assigned a mystery Maccabee (purchase an under $10 gift for a randomly assigned student), but please do it by tomorrow (Thurs) noon, so they can be randomized and students told of their "assignments".
One last Torah-Tuesday – on Reading Day, we had "Toy Story Insights" on schedule for this last one of the semester as its Reading Day and wanted something light, but some have asked for the heavier "Abortion and Contraception" topic which we missed this past week (due to Mendel traveling to an alumni funeral, Class of 1970) so we'll wait for some more feedback as to which one to go with, either way we'll do the other next semester. Stay tuned next week.
Stay tuned for something "Food for Finals/Study Treats". We'll email and post a form next week to sign up for deliveries of food and nosh likely on the late nights of Thursday and/or Sunday night of Finals. A little treat to help you get through!
For those here over break: You won't want to miss ChanukahOnJay.com big community-wide event (Sunday Dec 18th) in Schenectady, we're also hosting a Raffle-Auction drawings (for tickets see www.maimonidesschool.org/auction – at our kids school on Tues Dec 20th of Chanukah. We're likely away for the last week of 2022 but will be back for some Cozy-Shabbat weekends over winter break.
Love and best wishes,
Mendel and Raizy