Dear friends,

This is our last week of full regular programming for the semester. See below for details, and yes – we will also be here both weekends of Graduation.

Click here for this week's May 4-9 RSVP Signup form, including a year-end event, the last regular season Shabbat, Torah-Tues, and also your t-shirt sign up and size choice.

The T-Shirt signup. We're so grateful and excited to be at this point after such an unusual year with all of its curveballs and complications that we're making a tshirt for the whole "Covid-Crew" all who have been on this journey along with us. To assure a t-shirt in your size by this coming Thursday (see about the event below), please be sure to indicate your preferred size on this week's RSVP sign-up form – again click above or here for that.

Torah-Tuesday this week (May 4) is the last one in-person for the semester. We may do more Torah-Tuesdays virtually over break to keep on learning, but this will be the last one for the season. Topic will be the Shavuot holiday, which falls this year during Graduation Week, one week from today.

Girls Study of the Book of Ruth will be on Wednesday night, May 5th over Zoom (672-547-2221 P: SH320) at 7:15pm.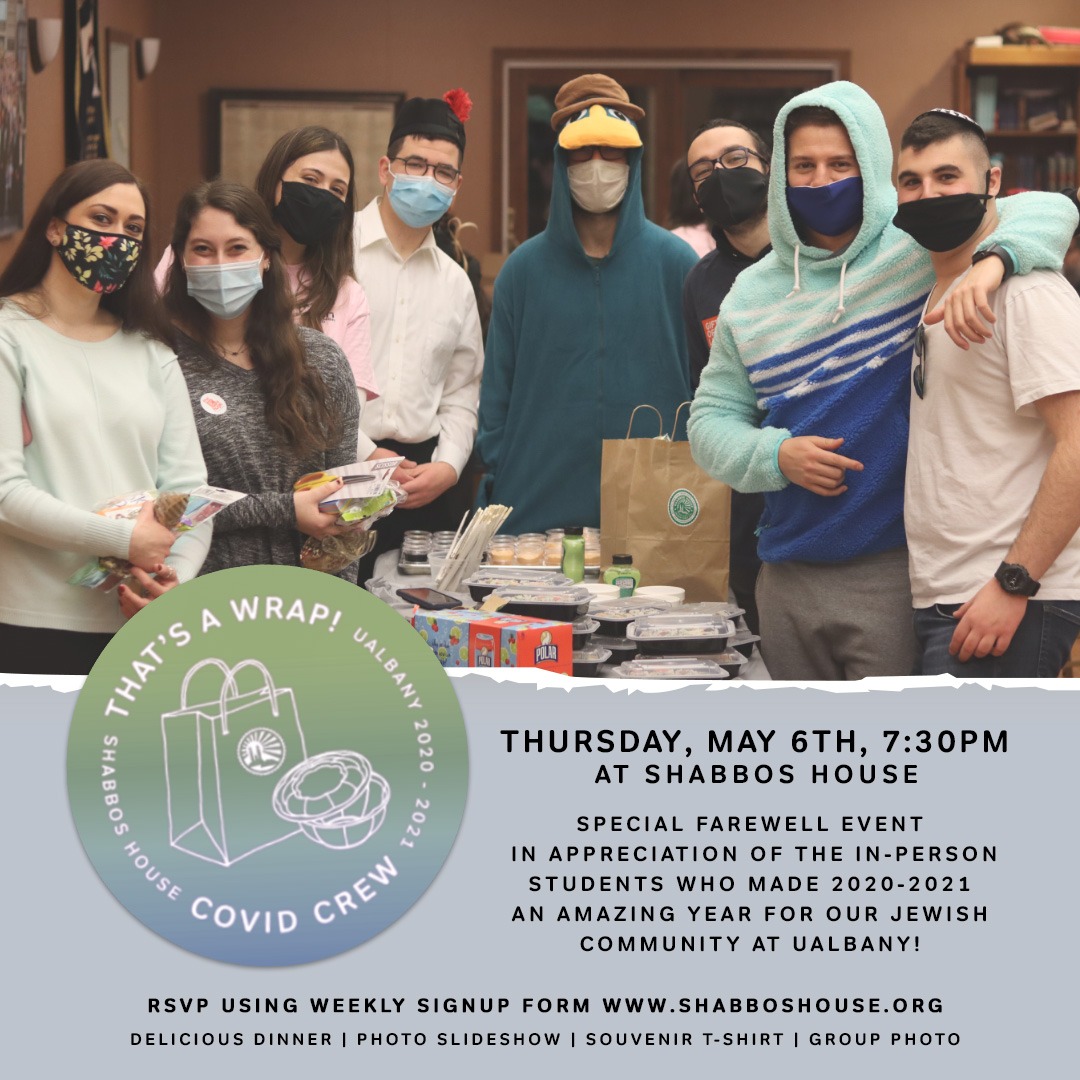 Year-End Farewell and Appreciation Dinner. We are especially grateful to the amazing group of students who have helped make such a challenging year so special and memorable – truly unforgettable! Usually we do a Grad Party at year-end but this year that will be virtual instead so we are doing a fancy food buffet this Thursday night 7:30pm at Shabbos House. We're hoping to put together a slide-show of photo memories, some students to share words and reflections, and take one group photo with the "It's a Wrap – Covid Crew" t-shirts.
Shabbat, of course. And this is the last Shabbat with most in-person students still in town. We will be here for the following two Shabbat weekends for graduation weekend and families, as well some students still up here, but this is the last Shabbat of a very unique Shabbat setup this year! Dinner and Lunch here, last Shabbat meal with Ding-a-ling and all the prayers.
Graduates! First of all, please let us know when you/your family will be up here using this separate Graduation Week Survey Form. We would also like to do a Grad-Party over Zoom (as not many seniors are in-person this semester) and all students etc can join next week on Tuesday night May 11th 7:30pm (672-547-2221 P: SH320). We will be preparing personal letters, the cookbook and gifts etc for each of the graduates (undergraduates and masters).
Wishing everyone best of luck as we near semester's end and Finals Week. Much success with papers and tests and summer plans.
SUMMER OPPORTUNITIES
Not too far away now! One of our favorites to recommend is the MyJSF(Jewish Summer Fellowship) in the nearby Catskills which pays a stipend for Torah study (for those who didn't have prior yeshiva experience) between $800 and $1800 for a 3 or 6 week study program. There's a Chabad on Campus travel subsidy to study in Israel – and also a study option that comes along with an Israel internship option, too. There are a bunch of different study opportunities with various features. We also just heard of a Jewish girls summer camp that wants to train and pay for zip-line and rock-wall instructors/counselors (open to girls over 18 who are adventurous and enjoy outdoors etc) and local day-camp Givah which is looking for staff from group counselors to life-guards to specialty counselors. Let us know if any of the above speaks to you!
Wishing everyone a smooth and successful final (pun intended) few weeks of this semester!
Best wishes!
Mendel and Raizy
—
All events are via RSVP during Covid – current students please check your emails, the whatsapp group or the Covid page on this site for this week's form.
see our VIRTUAL page for links to join Zoom's and Whatsapp's, our daily FB Live, and other ways to connect virtually. Since our closing in March for Covid-Coronavirus we've transitioned to a lot of online programming for both students and alumni. As well as Shabbat-To-Go almost all throughout.
See our COVID page for continuously (keep checking back as we update it!) updated information on what services and programs we may (or may not) be able to offer during this unusual semester, and what conditions and specifics would be involved, including RSVP system, outdoor seating, limited group sizes, distancing, masks etc. The goal is to provide as much as we possibly can under these circumstances, in a responsible and safe manner, following the guidelines and recommendations. Thanks to all who have contributed to help purchase equipment and supplies to enable this current temporary transition. And thanks to those alumni, parents, friends and professionals who have helped us develop protocols and guidelines based on local and national and university health policies.
—
See our shabboshouse.org/Covid page (under the "This Week" tab) for the Sukkot First Days RSVP form and a how it will work this weekend. We're taking this a few days at a time, reevaluating and taking all things into consideration and planning accordingly. We are limiting our to-go Sukkot meals for those in quarantine, but will get back to more to-go meals as things go on. Stay tuned each week has its own schedule, opportunities and challenges!
—-
SIGNUP FORM for keep-in-touch at Shabbos House.… we send out a weekly email with event updates for that week. If you don't get our emails (alumni: a couple times a month, student updates weekly) please let us know so we can add you to the email list. Stay in touch, keep in the loop!
More updates soon,
Love, Mendel & Raizy