see our new VIRTUAL page for links to join Zoom's and Whatsapp's and other ways to connect virtually. Yes, our doors are closed now for in-person events but our hearts are wide open for all types of ways to connect and engage with students and alumni!
Due to Coronavirus or Covid-19, social-distancing and UAlbany's transition for now online, Shabbos House is now online as well with many opportunities to get-together, study and share despite whatever physical distance.
See below for updates, details and link info:
NISSIM BLACK
Rapper Nissim Black (now Orthodox in Israel) is the 2nd speaker in the Portraits of Resilience speaker series with Chabad on Campus. Tuesday 6/30 at 5pm. Register at www.PortraitsofResilience.org to get log-in code. It may also stream on Chabad on Campus' Facebook page, but not sure of that.
FB LIVE
FB Live at 12:45pm each day. This Shabbat is another Chassidic holiday: Yud-Bais (12th of) Tammuz, when Previous Rebbe (1880-1950) was released from Soviet prison in 1927. In that spirit we're sharing stories each day that Chani illustrated for her Bat-Mitzvah project. Storytime this week!
FARBRENGEN
Tune in for a Zoom Farbrengen on Monday night July 6th at 8pm. 672-547-2221 and usual password. Think of something to share, on any meaningful topic, a toast, a wish or something. Just good to see each other on screen and share a warm word. Alumni and students are welcome. Maybe we'll get a short guest but mostly just between us.
Thursday cooking to resume next Thursday July 9th.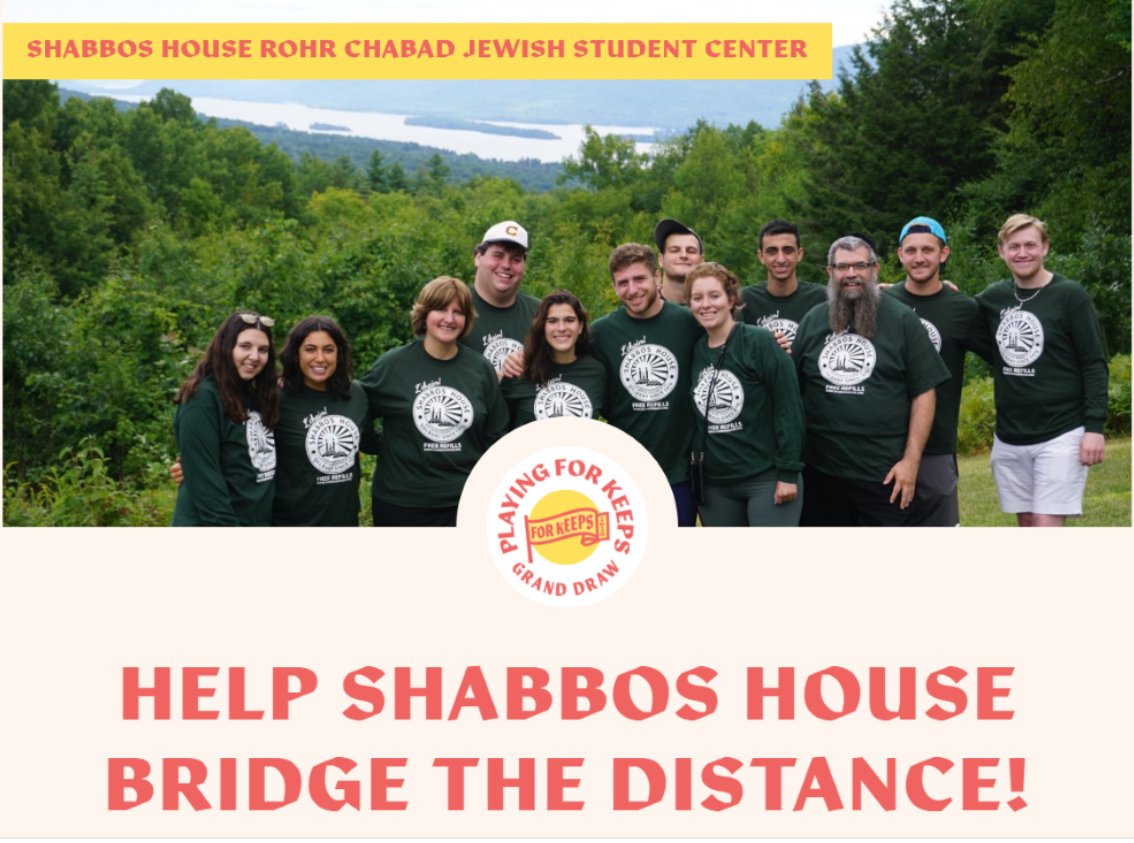 HELP US BRIDGE THE DISTANCE!
Our Summer Raffle is up and running. Some like to support Shabbos House in this win-win kind of way. All ticket proceeds via this link go directly to Shabbos House and help keep us going during this period of increased uncertainty and weaker economic support. A ticket is $36, so its feasible donation for one or two tickets, some do 5 or 10, but even 1 ticket helps a lot, and together the cumulative support goes a long way. We're doing Shabbat-To-Go for 40+ each week, and this helps support that and other projects. Plus some ongoing overhead costs are constant, and we have to keep Shabbos House going Corona or not, hopefully ready to go for next semester in any way that we can!
SUMMER STUDY OPPORTUNITIES
My Jewish Summer Fellowship has mens and womens programs in the Catskill area that pay a stipend of $1,000 for 3 weeks on in-person quality study (and they have health-department go-ahead for that). There's also a new online 2-week study opportunity for women run by a spectrum of Chabad On Campus Rebbetzins titled Summer For the Soul. Summer for the Soul is underway and our students are enjoying! Both are at no-charge and are geared to current students and recent grads. More opportunities to be posted soon.
ALUMNI ZOOM REUNIONS
Here's a nice alumni suggestion (thanks Wendy, Scott and others) to do online Zoom Reunions this summer based on years. We're looking to do 5 such online events, based around the years 2001, 2005, 2009, 2013 and 2017. Alumni can choose to participate in the years closest to them (possibly 2 such reunions) as there are 4 years between each. We're looking for "hosts" to help arrange, organize and program for each of these events. Please be in touch and once things get rolling we'll arrange dates for each and we'll all get the word out.
A NEW "SUPPORT YOUR FELLOW" FUND
A sensitive and generous alumna sent monies to Shabbos House to start a small fund to support fellow alumni going through hard times. While this fund is limited and isn't intended or able to solve major needs, the goal is to provide small gestures of thoughtful support and uplift in these challenging times. Please contact us if you know someone who could benefit from this or if you would like to contribute towards it. You can let us know anonymously through this form as well.
UALBANY SOON ANNOUNCING FALL DETAILS
We were on a faculty call where Fall plans were discussed and should be announced soon (pending governor's go ahead and other factors). The goal is to resume in-person campus life with some classes in-person, online and hybrids of both. There will be some restrictions and safety systems in place and possibly a smaller campus community for Fall, but we're looking forward to working within the guidelines and adapting to whatever is needed to get back to whatever student programming and experiences possible for us to do – we will work with students to make it work. The online stuff is cool (and we may continue a lot of it even after all this is over) but we really really miss students in person and look forward to a gradual and eventual return to our blessed wonderful campus community.
ZOOM GET-TOGETHERS – check here for updates to our weekly Zoom programs. Our Zoom Meeting # is 672-547-2221 check email for password or contact us for the info.
Plus, you can call or text our cells: Raizy 518-772-7299 or Mendel 518-526-0770 or email us or we can set up a Zoom to learn, discuss, or just catch up!
and we're still doing on daily WhatsApp Inspiration Group, geared for the times we're in:
SHABBOS HOUSE DAILY INSPIRATION via WhatsApp
Join the WhatsApp Group using this link. Each day we'll share a short message, teaching or inspiration either via text, voice-note or a little video. We did miss a couple of days but have been overall pretty good about posting one inspiration daily.
—
—-
SIGNUP FORM for keep-in-touch at Shabbos House.… we send out a weekly email with event updates for that week. If you don't get our emails (alumni: a couple times a month, student updates weekly) please let us know so we can add you to the email list. Stay in touch, keep in the loop!
More updates soon,
Love, Mendel & Raizy