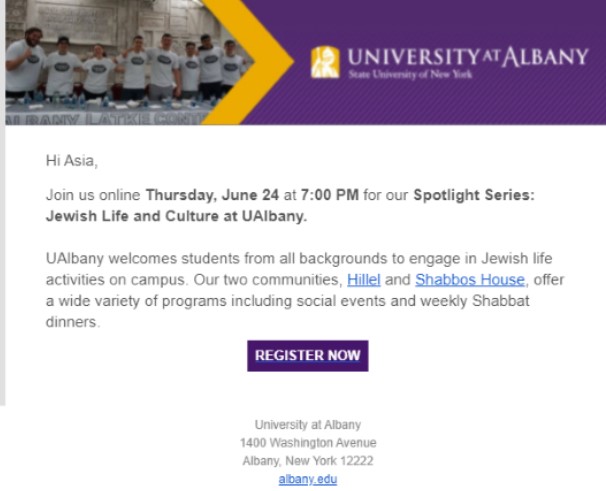 Summer is busy in its own way! BH lots of alumni weddings, getting our kids to camp, Cozy-Shabbat weekends and planning for a new post-Covid year at Shabbos House! No alumni reunions planned for this summer, but the weddings are reunions of their own, some come to visit, and we hope to get in some alumni trip as well.
COZY SHABBAT – We will be here most (but not all) weekends over the summer, so if you are here for work, summer classes or back in town for whatever reason, please touch base, we'd love to have you for Shabbat dinner and/or lunch.
ORIENTATIONS – We will be tabling at most of the (thrice-weekly) orientations in July, look for the Shabbos House table just outside the Office of Student Involvement in Campus Center West.
KOSHER DINING UPDATES – We sent out an email with some Kosher Dining changes and updates but they are not final, there are still ongoing meetings to see how to best work things out for this coming year. If interested or have questions, please be in touch with us, and we will post FAQ's and final details once it is finalized and confirmed.
ALUMNI WEDDINGS – BH for Simchas (joyous occasions!) Especially due to Covid last year, we've been going to a bunch of alumni weddings and learning and preparing with a few brides & grooms leading up to their weddings this summer. We love traveling for happy things, celebrating with dear friends and also having mini reunions, there too.
REUNIONS – We didn't plan reunions for this summer, but there is a possibility for a mid-August reunion in NJ, stay tuned.
Hope your summer is going well: happy, healthy, rejuvenating and productive! Wow, its already flying by!
—
—-
SIGNUP FORM for keep-in-touch at Shabbos House.… we send out a weekly email with event updates for that week. If you don't get our emails (alumni: a couple times a month, student updates weekly) please let us know so we can add you to the email list. Stay in touch, keep in the loop!
More updates soon,
Love, Mendel & Raizy