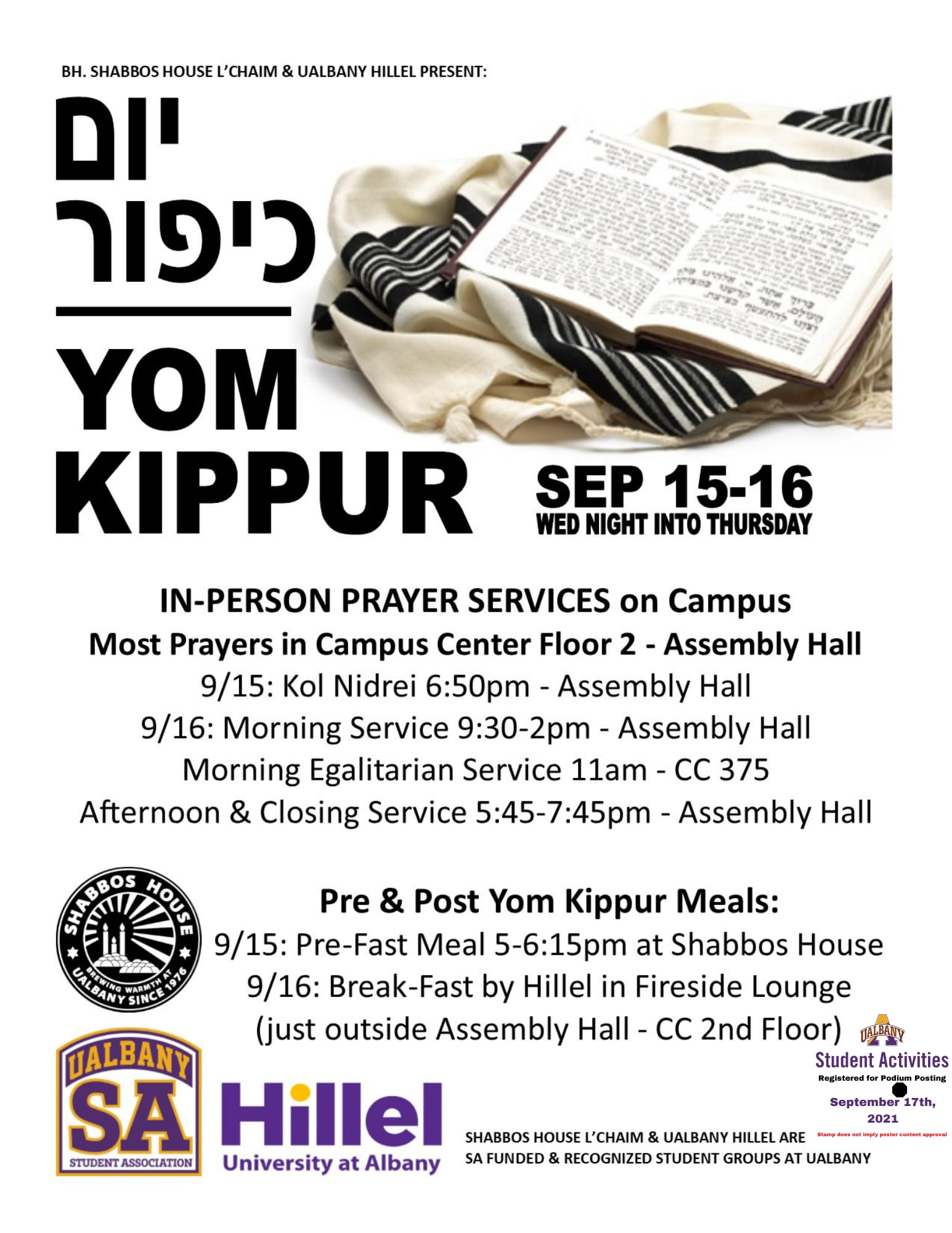 YOM KIPPUR AT UALBANY
It is a hugely important Jewish day of the year, as the Torah calls it "The One Day of the Year" or as we like to call it: The Day of At-One-Ment. See our Tishrei Month of Holidays Fall 2021 at UAlbany (click there on the Yom Kippur tab) for schedule of prayer services and the pre and post fast meals, mostly on campus, though the pre-fast is at Shabbos House.
HOLIDAY LETTERS
Please email us (reply to this email) or indicate on the RSVP form if you need an explanatory letter regarding the Jewish High Holidays for your professors. The letter itself lists all the months holidays, explains that there are various levels and styles of observance, so please when sharing this letter with your professor, please add a note as to which days will be a conflict for that particular class, and what and how you will be observing (some students may be going home, others skipping class to attend services here at Shabbos House, some attending class but not taking tests etc).
JFS SCHOLARSHIP
The local Jewish Family Services has an easy college student scholarship to apply to – click here for the form and short essay.
Also, in addition to this weekly email we do have another way to share updates and event details and that's the Shabbos House Students Whatsapp Group. You won't get flooded with messages but there is more helpful information and updates there than just a once a week email.
Not too early to start wishing friends and family a Shana Tova UMetukah, Ksiva VaChasima Tova, a Happy Healthy Sweet New Year!
Love,
Mendel and Raizy
KOSHER DINING UPDATES – Please see this page with Info, FAQs and some important links about the Kosher Meal Plan at UAlbany for the year 2021-2022.
HOLIDAY CALENDAR from Rosh Hashanah to Simchat Torah – services, festive meals and events at UAlbany
See the email for links to join the "Shabbos House Students" and the "Kosher on Fuller" Whatsapp groups for additional updates.
Hope your summer is going well: happy, healthy, rejuvenating and productive! Wow, its already flying by!
—
—-
SIGNUP FORM for keep-in-touch at Shabbos House.… we send out a weekly email with event updates for that week. If you don't get our emails (alumni: a couple times a month, student updates weekly) please let us know so we can add you to the email list. Stay in touch, keep in the loop!
More updates soon,
Love, Mendel & Raizy