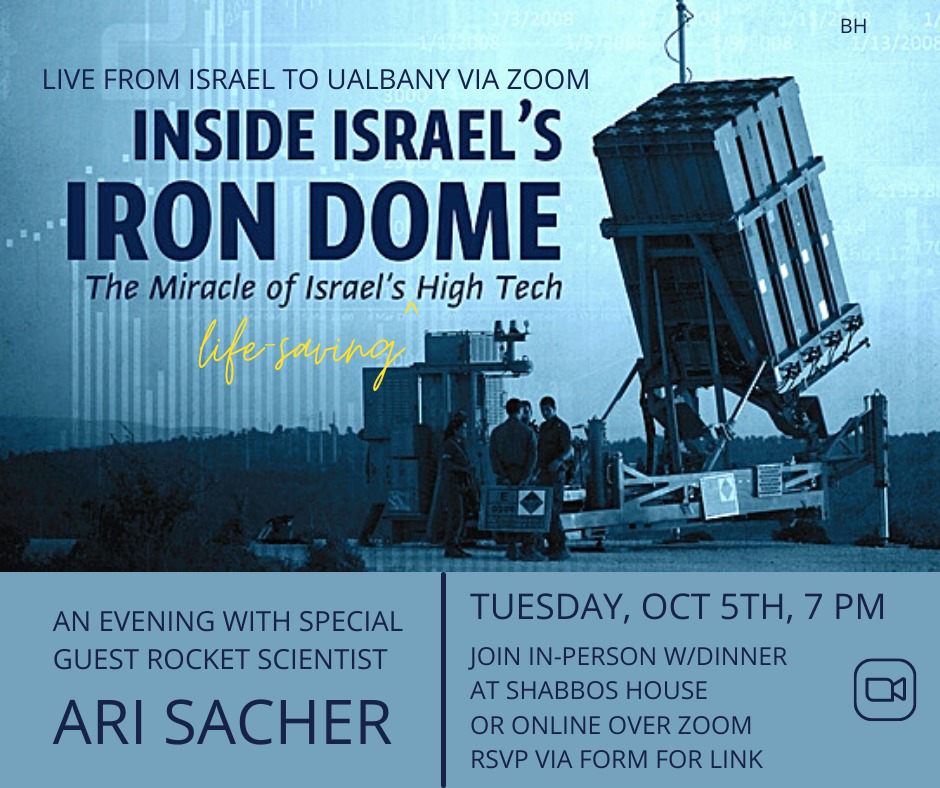 ARI SACHER ON ISRAEL'S IRON DOME
Iron Dome is a technological marvel, an incredible piece of national life-saving equipment, which saves civilian lives on both sides of the issue. It's not yet swords into ploughshares, but its a little closer in that direction. We booked this speaker before all the tumult erupted about the Iron-Dome in Congress and in the news. Either way, Ari will be speaking to us live from Israel (2:00am his time) at 7:00pm our time. You can join us as a group and with dairy dinner here at Shabbos House, or we can message you the Zoom link (see also your email from this week) and you can join from home/dorm/apt. First a talk and then Q&A, Tuesday, October 5th, 7pm.
FALL BREAK UP HERE
Most will be headed home for Fall Break (an extended weekend including Monday and Tuesday of next week) but some students will be up here. We will be hosting Cozy-Shabbat dinner and lunch, and trying to gauge interest in a possible abbreviated Shabbat day noon-time Torah reading for a student's Parshat Noach bar-mitzvah anniversary. Please let us know on this week's RSVP form if you will be up here. Also, we might do some nature or local outings as a family on Sunday day or Monday later afternoon, let us know on the RSVP form if you'll be here and might be interested in joining us.
AND TORAH-TUES WHEN YOU RETURN
If you'll be back Tuesday evening, we're doing a Torah-Tuesday at 7:45pm-only titled "We All Need a Break" with Torah texts about breaks and pauses etc.
BEST WISHES AND OUR THANKS
Best wishes with midterms and with this much-needed academic Fall Break. And many many thanks to all for an incredibly beautiful, meaningful, enjoyable and memorable Tishrei month holiday season from Rosh Hashanah to Simchas Torah and everything in between!
Love,
Mendel and Raizy
KOSHER DINING UPDATES – Please see this page with Info, FAQs and some important links about the Kosher Meal Plan at UAlbany for the year 2021-2022.
See the email for links to join the "Shabbos House Students" and the "Kosher on Fuller" Whatsapp groups for additional updates.
—
—-
SIGNUP FORM for keep-in-touch at Shabbos House.… we send out a weekly email with event updates for that week. If you don't get our emails (alumni: a couple times a month, student updates weekly) please let us know so we can add you to the email list. Stay in touch, keep in the loop!
More updates soon,
Love, Mendel & Raizy