Summer is flying by! Students will be moving in before you know it….
That's why we are trying and working to be ready. Here are the first few events as the new semester opens, see more info at Opening Weekend Fall 2019: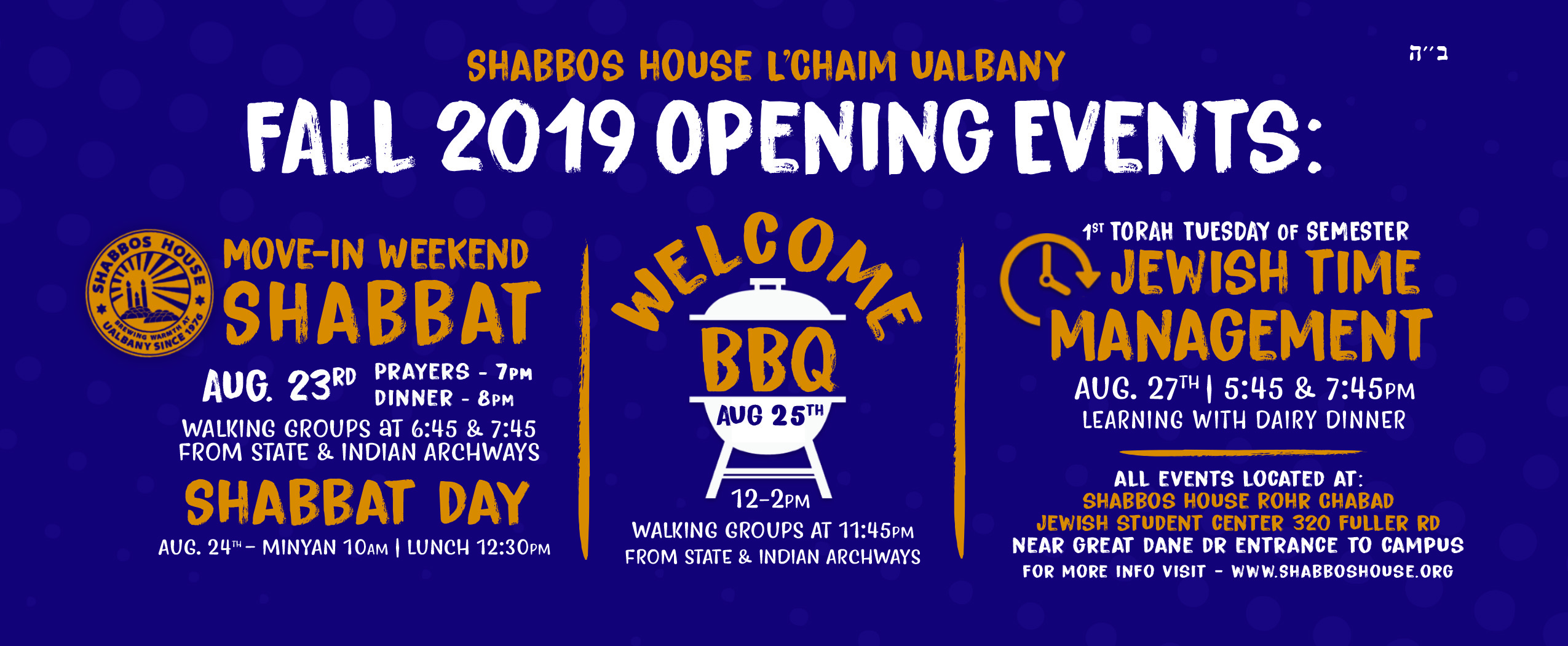 And not too early to start thinking about the High Holidays of Rosh Hashanah and Yom Kippur 2019 especially this year when UAlbany classes will be in session. See link for our schedule of prayers and meals, more info coming soon. Also Sukkot and Simchat Torah come soon after that! All great times at Shabbos house… Stay tuned!
We have one more NYC-area Summer Reunion on Aug 18th. See www.shabboshouse.org/summer2019 for Cozy Shabbat dates listing, dates of summertime alumni reunions and get-together opportunities in CT, Long Island, Midtown Manhattan and Queens NY, along with a signup form. Some reunion get-togethers require signup RSVP for security/access purposes.
Incoming students and families! Look for us at Orientations this July and PLEASE reach out to us with any questions or needs while you are up here! Please visit our Prospective Students Page and be in touch with us to sign up and for any questions you may have.
Gimmel (3rd of) Tammuz this year is the Rebbe's 25th yartzeit. As we've done in past years, we've collected a spectrum of some of the most recent articles, videos, personal impressions, and stories. Take a look, grow in appreciation and inspiration and internalize that which speaks to you. And we're hosting "My Rebbe Story – Albany Edition" a communal event here at Shabbos House, July 10th 7:30-8:3pm.
If you don't get our emails (alumni: a couple times a month, student updates weekly) please let us know so we can add you to the email list. Stay in touch, keep in the loop!
We're now trying to maximize summertime and plan ahead for the Fall semester!
More updates soon,
Love, Mendel & Raizy