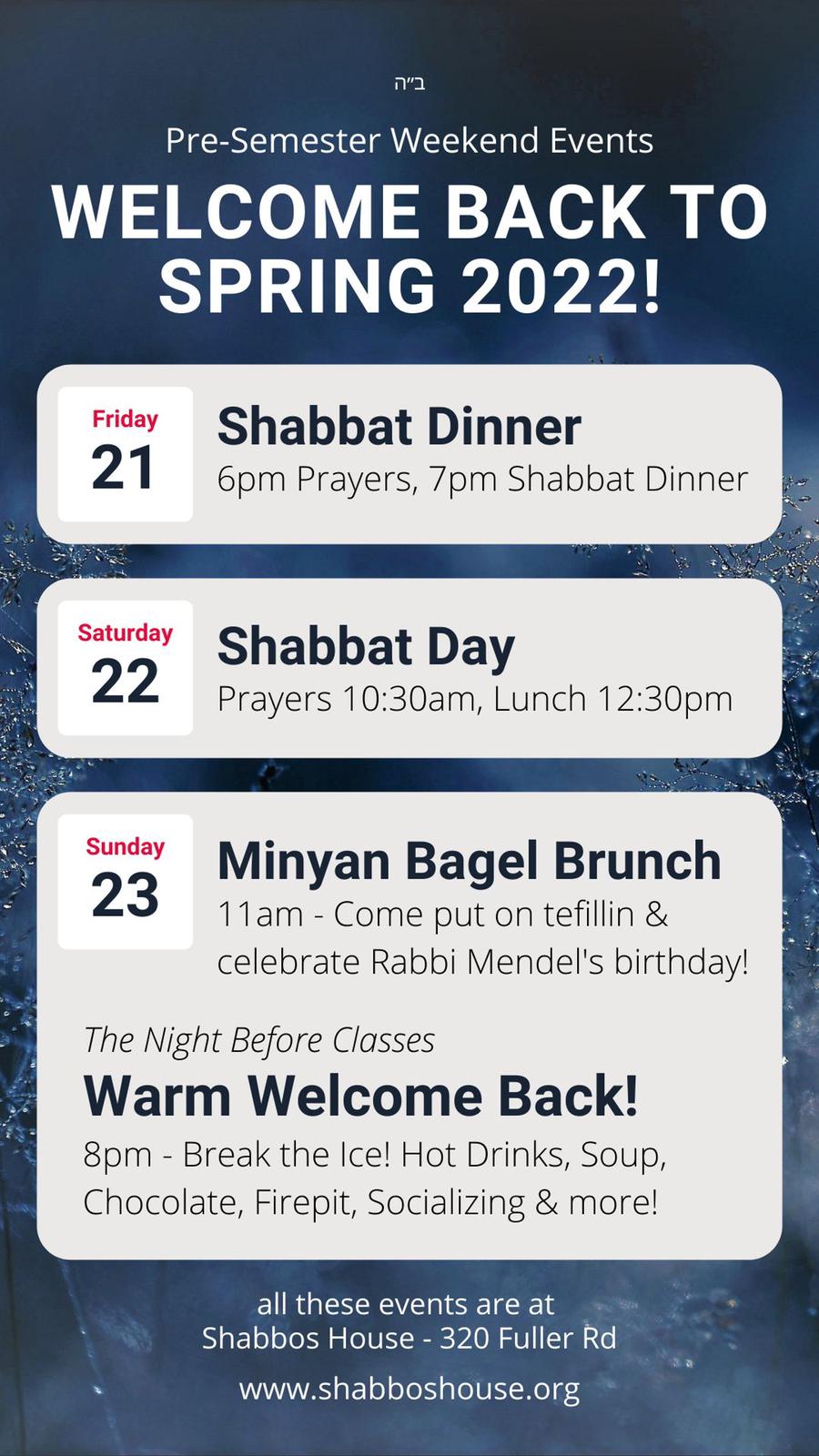 And here we are. The Winter Break slipped by, and we're now at the weekend prior to the Spring 2022 semester. See handy image on left for the key events we're doing this weekend as students return and move in before classes begin on Monday. See below for additional details and more information (from the student email that went out on Thursday, plus a few updates since then):
Everything below is at Shabbos House. Also, please note: due to the delayed semester start, next Shabbat dinner will be at Shabbos House as well, our Friday Night alternating with Hillel to begin the following weekend.
FRIDAY NIGHT SHABBAT DINNER 1/21 
Prayers 6pm, Dinner at 7pm. Friday night is forecasted for a low of Zero degrees, so dress warm and in layers but once you get here will be warm within, lots of delicious food and warm atmosphere. Raizy and some of our daughters will be away at a hybrid Chabad Womens Kinus conference, but she plans to be back by Sunday morning. She cooked up a storm before she left, and we'll put together the rest.
SHABBAT DAY MINYAN AND LUNCH 1/22
We read Yitro (which happens to be Mendel's Bar-Mitzvah Parsha) Minyan 10:30am, with Lunch at 12:30pm (or when you come). Not everyone is back up yet, but we should be able to hopefully make Minyan. And come for Shabbat lunch regardless.
SAT NIGHT PIZZA 1/22
Havdalah & Pizza, maybe a little story. 7:45pm on Sat Night.
SUNDAY MINYAN BRUNCH 1/23
11am on Sunday. Two things make this Minyan Brunch different! It's Mendel's Hebrew birthday so come wrap Tefillin and eat bagels to celebrate. Also, Alumnus Brad and Maital Legum, have been sponsoring ALL the Minyan Brunches for several years now and are hoping to make this one as part of an upstate visit.
AND OUR "BREAK THE ICE – WARM WELCOME TO THE SEMESTER" SUNDAY NIGHT 1/23
'Tis the night before classes begin! Come by to Shabbos House at 8pm for a casual informal evening with lots of hot drinks: teas, cider, chocolate, coffees, soup and other indoor treats, plus a firepit in the cold outside. Come to see people, catch up and connect as the semester is about to begin. It's called for 8pm and was advertised that way but some are asking for an earlier start, so we'll have a "soft" start at 7:30pm so by 8pm it will be already going strong.
MONDAY 1/24 – we restart Kosher-On-Fuller dinners:
If you have questions about this, or would like to opt-in or join (possibly at no cost or no obligation/change etc to you) please reach out to us. It's not an all or nothing proposition, happy to explain how it works and how it might be able to work for you and fit your needs. We are also exploring the possibility of doing one of the dinner nights as delivery, stay tuned for details on that.
TORAH-TUESDAY 1/25….
Our Torah-Tuesday Spring 2022 schedule is being finalized, including at least 2 student presentations. Look for the schedule of classes and topics soon. But for starters, Tuesday night is Raizy's birthday and she'll be giving the class this week.
WED 1/26 GIRLS NIGHT IN
Stay tuned! 8pm on Wednesday night, look for craft or activity. Will be at Shabbos House as all of the other events on this email.
Love,
Mendel and Raizy
—-
SIGNUP FORM for keep-in-touch at Shabbos House.… we send out a weekly email with event updates for that week.  If you don't get our emails (alumni: a couple times a month, student updates weekly) please let us know so we can add you to the email list. Stay in touch, keep in the loop!
More updates soon,
Love, Mendel & Raizy