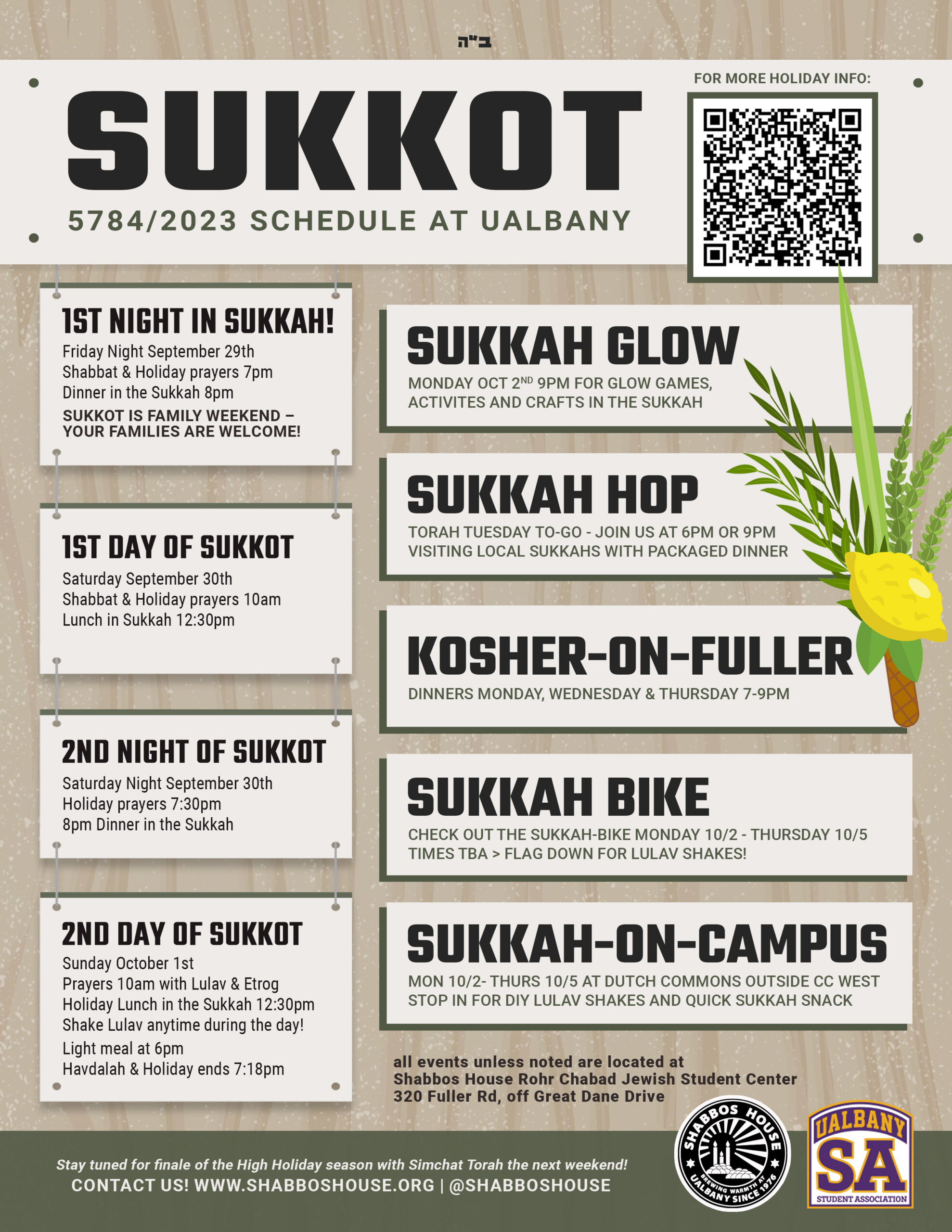 HAPPY SUKKOT! This beloved outdoorsy holiday is filled with vibe and atmosphere, it's a very special time at Shabbos House ('s Sukkah). We'll have lots of holiday meals, events and activities and it culminates next weekend (when many but not all of you will be home or away on Fall Break) with joyous Simchat Torah! But first this weekend and coming week is Sukkot…
Note re: the holiday-days and weekday days of Sukkot: Basically, the first two days of Sukkot – Friday night until Sunday night – are holiday-days. We have prayers, festive dinners and lunches both these days. The next 5 days – Monday until Friday – are weekday parts of the holiday, we still shake Lulav and eat in a Sukkah and have festive Sukkot spirit but otherwise they're weekday days. We have more meals on holiday days, more programming on the weekday days.
There's a handy flyer Chani made with all the Sukkot events, also in this email. Here is a more detailed breakdown schedule, with additional events, menus and info:
FRIDAY 9/29: THE FIRST NIGHT OF SUKKOT:
Prayers 7:15pm, Shabbat and Holiday Dinner 8pm. This is the night when we drink the traditional upstate hot cider and sing the Sukkahleh Song.
Menu: Challah and Dips, Chip-Salad, Sesame Noodles, Sesame-Chicken, Rice, Grilled Veggies, Desserts…  
NGL, its not great when it rains on Sukkot, but a real bummer when it rains Friday Night and the First Night, when its a big night for students to come over and celebrate. Rain or shine, we're on. If its raining we'll set up inside and only the stalwarts can brave the elements and eat out in the Sukkah. We'll have to play the set-up by ear closer to the time, because we'd really love to eat in the Sukkah if we can. Just in case, dress for the Sukkah. Either way, we're baking up some extra-small Challah rolls so everyone can at least have one traditional bite in the Sukkah when its an extra-special mitzvah on the first night. And the forecast is now slightly improving…
Are your families in town for Family Weekend? They are welcome, too!
SAT 9/30, FIRST DAY OF SUKKOT:
Good news is that rain is supposed to stop sometime in the morning. We're doing Minyan at 10am (No Lulav on Shabbat) followed by lunch in the Sukkah at 12:30 and on. Visiting families are welcome for lunch, too. We'll have a light dinner and snacks near end of the first day around 6pm-ish.
Menu: Salad Course and Gefilte Fish, Cholent and Deli-Roll, Desserts and more…
SAT NIGHT 9/30, SECOND NIGHT OF SUKKOT:
Prayers 7:30pm, 8pm Dinner in the Sukkah – and forecast looks much better for the second night! Should be nice but dress for eating outside.
Menu: Challah and Dips, Salad, Roast-Beef, Potato Kugel, Green Beans and Dessert.
SUNDAY 10/1, SECOND DAY OF SUKKOT & FIRST DAY OF LULAV:
Prayers 10am, including Lulav Shakes for the first time this holiday (as we don't shake Lulav on Shabbat). Holiday Lunch 12:30pm in the Sukkah (or when you come).
We'll do a light dinner near end of second day at 6pm.
The first 2 days of Sukkot holiday ends 7:18pm
Menu: a Schwarma-style Chicken and Falafel Bar with pita, veggies, fillers and toppings. 
SUNDAY NIGHT 10/1, MUSICAL NIGHT IN THE SUKKAH:
This event isn't on the Sukkot flyer, and it's open to the local Jewish community. A group of very talented local musicians (cello, violin, accordion and percussion) will play Jewish and Chassidic melodies, desserts and refreshments will be served. This event is hosted by Mendel's parents each year in memory of his sister Esty. Students are welcome, but its also a community event – at Shabbos House.
MONDAY 10/2 – THURSDAY 10/5:
Sukkah-on-Campus: We're setting up a small Sukkah outside CC West on Dutch Commons (just behind the tree line). Inside will be a Lulav set for DIY shakes, plus we'll leave some snacks there for a quick bite in the Sukkah. We may do "Mendel's Takeout" there with some food, stay tuned for more about that.
The Sukkah-Bike: Each of the Sukkot weekdays, Mon-Thurs, we'll take the Sukkah-Bike for a spin around the Podium and Quads, flag us down for Lulav Shakes. Times TBA.
MONDAY 10/2:
KOF (Kosher-on-Fuller by swipe) Dinner 7-9pm
Glow in the Sukkah – 9pm in the Sukkah, a fun, hands-on, interactive, an illuminating-the-darkness event, refreshments served.
TUESDAY 10/3:
Instead of the usual Torah-Tuesday we're going to do a 1-hour Sukkah-Hop in the local Jewish community, one at 6-7pm, one at 9-10pm. It may run a little longer but will try to keep it to that. We'll pack a packaged dinner and snacks. Students who don't want to go can enjoy the packaged dinner here in the Sukkah at home.
WEDNESDAY 10/4:
Esther Miriam's Bat-Mitzvah!! Students are all invited, 4-6pm with a big Poke Bowl Buffet and her multi-media Torah presentation on "Bucket-Lists" – she's our bucket-list girl. There are some nice souvenirs for all. We realize the timing can't work for everyone, but students can come when they can.
We'll also do a KOF dinner 7-9pm.
THURSDAY 10/5:
It's still Sukkot… Lulav Shakes are a thing everyday if we can, once a day, but only during the daytime.
HAPPY SUKKOT, please come for whatever and as much as you can this holiday. We love to celebrate this joyous uplifting and invigorating holiday together! It has a tangible spirituality, its multi-dimensional and multi-sensory… The Sukkah brings people closer together, going out into the Sukkah and being enveloped by its atmosphere, brings out an inner warmth and dimension inside us.
Love, and our best holiday wishes!
Mendel and Raizy
PS: For almost ten years now we go down with a group of students to Brooklyn for a mega Chabad on Campus Shabbaton called "Pegisha" with hundreds of students from around the country, some years exceeding 1,000 or 1,200 students representing campuses from all over. It's also a fun and meaningful bonding time together as an Albany group. This year it falls over the Oct 27-29 weekend. Registration is due by October 16th. If you are interested in joining, you need to register at chabadoncampus.org/pegisha/  please speak to us if you have questions or would like to hear more of what this is about, what it entails, etc.
SHABBOS HOUSE 
Rohr Chabad Jewish Student Center
Rabbi Mendel & Raizy Rubin, Directors
320 Fuller Road Albany NY 12203
Mendel: 518-526-0770 Raizy: 518-772-7299
​