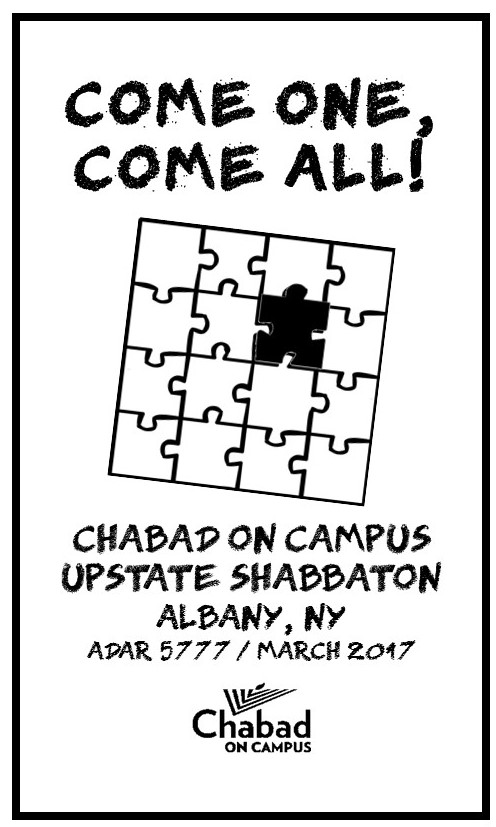 We're hosting again! The Chabad on Campus Regional Shabbaton is coming back to Albany (one week before Mushky's wedding) and we are excited!
March 24-25 (or until the morning of the 26th) 2017. Hosted at Shabbos House, by our UAlbany students.
See Shabbaton2017schedulecard in PDF for all the weekend events at a glimpse, or see the listing of Shabbaton 2017 events at this Shabbaton Schedule page.
INFO FOR UALBANY STUDENTS
Host Housing Signup – please complete this form if you are able to host visiting students (couch space, floor space etc) for Friday March 24 and (for most also on) Sat March 25th.
Why UAlbany Students should also sign up for Shabbaton at www.JewishWeekend.org?
We are able to receive program funds for each student who signs up at www.JewishWeekend.org for the Upstate NY Shabbaton 2017. It's $18 for local (UAlbany) students If you use discount code: lchaim – this code only for UAlbany students) which goes directly to Shabbos House to cover Shabbaton costs, and we get additional funding for each student who signs up, so that helps a lot, if you can. Thanks!
Who are the Guest Presenters?
Leibel Mangel from Ohio is a grandson of a Holocaust survivor and served in the IDF. He will share his experiences and message of Jewish pride and identity on Friday Night.
Rabbi Yaakov Wagner is a warm, sweet, scholarly Rosh Yeshiva from Morristown NJ, a yeshiva which specializes in beginner/late learners. He will farbreng, offer classes, discussions.
The Chabad Staff from various campuses each add their special flavor, including Oneonta's Rabbi Meir Rubashkin, RCC's Rabbi Dov Oliver, and others, TBA soon!
Sat Afternoon Workshops:
Still in development.. This year our students suggested a series of 15-minute short but impactful workshops, presentations and activities. Some will be by our students, visiting students and some of the visiting Chabad campus Rabbis etc. We'll have nice nosh bars, good socializing and an enjoyable, meaningful afternoon.
What's Planned for Sat Night?
We're bringing back the Arcade Games (shuffle-alley, car-driver, pac-man and others), will have tie-dying for the Shabbaton t-shirts, a fire-pit out back, informal Jamming Night, maybe a photo-booth, and lots of food! Of course, Sat Night all begins with a lively warm musical Havdalah!
Read up about the theme! "Come One, Come All" reflects Rebbe's insight into the healthy balance of the Parsha titles "Vayakhel-Pekudei" joined for the weekend of the Shabbaton. To the Rebbe it symbolizes the collective AND the particular, community AND the individual, the general idea AND all of its specifics… see the link for links to interesting examples from Waldo to Horton, Rambam to Rashi, and our Moshe's Bar-Mitzvah speech based on the Rebbe's teachings.
More info to be posted soon, stay tuned!!!