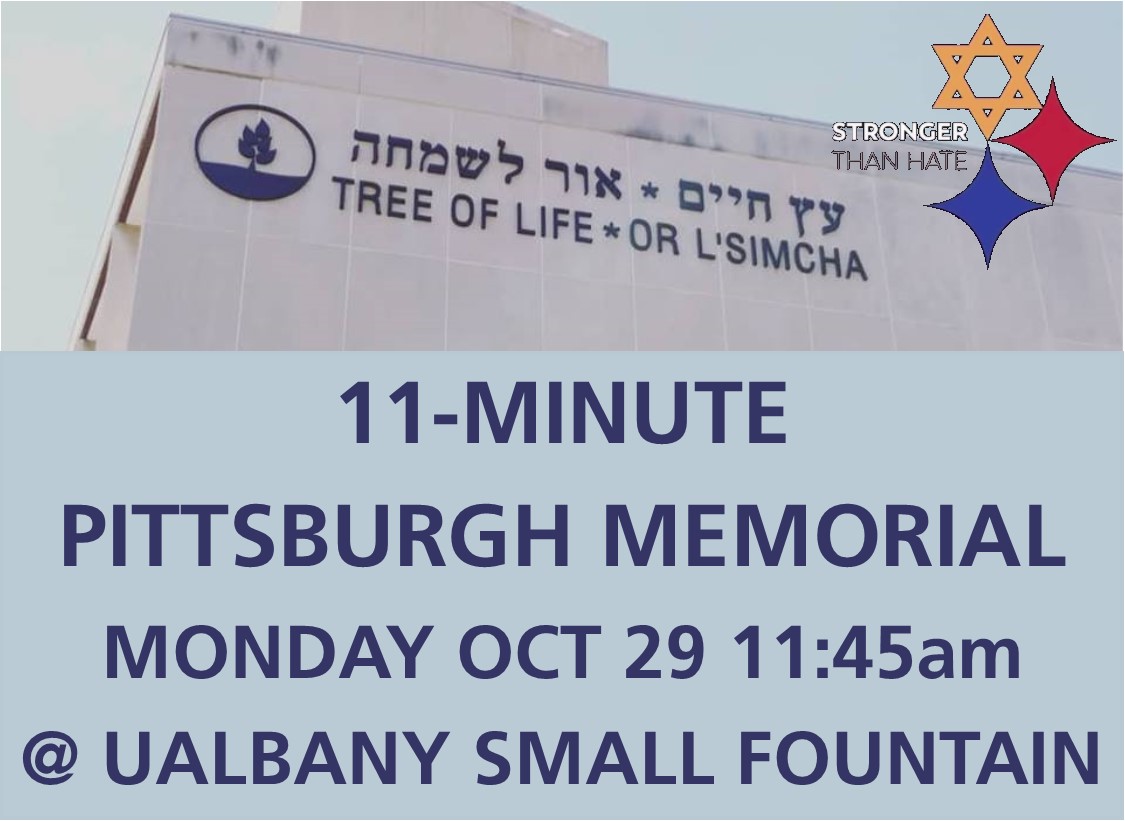 We came together as a campus community for a short memorial for the 11 victims of the Pittsburgh shooting at the Tree of Life*Or L'Simcha synagogue in the Squirrel Hill neighborhood.
This short but important event was arranged by Shabbos House and UAlbany Hillel, with attendance by UAlbany administration (including Provost Stellar who spoke, people from the President's Office and student life) faculty (including Professor Federica Francesconi of Judaic Studies) and a broad spectrum of students of all walks of life, religions etc.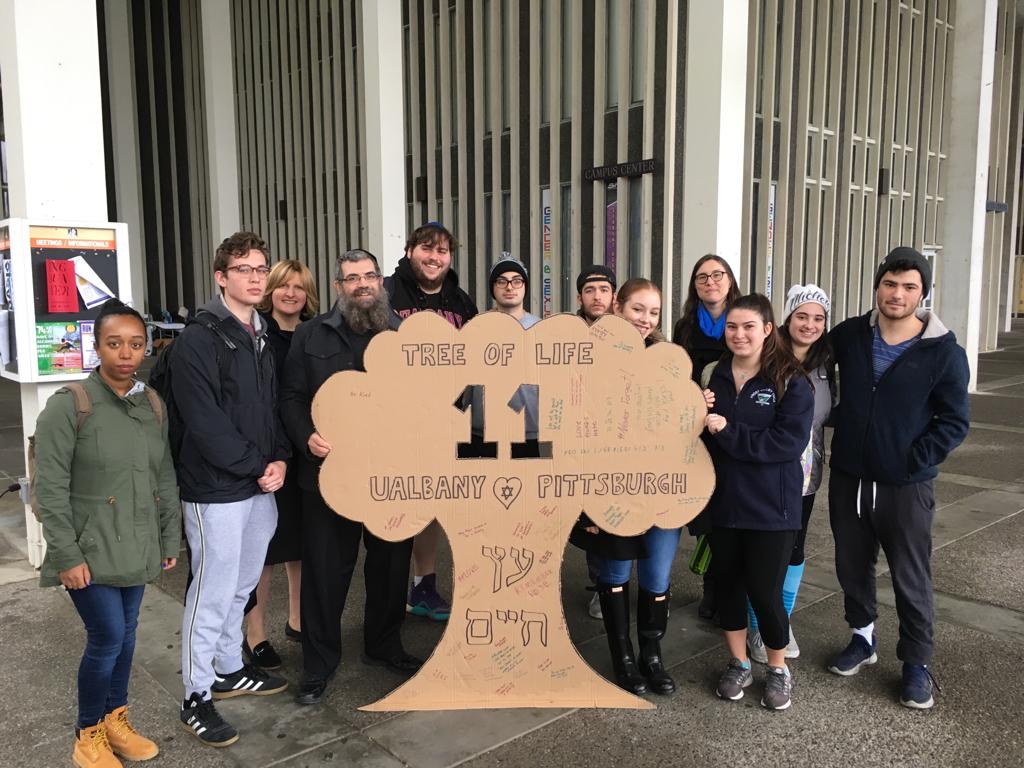 "Tree of Life" is the name of the synagogue complex attacked in Pittsburgh where 11 victims were killed. Thus, an ad-hoc cardboard "UAlbany (hearts-Jewish star) Pittsburgh" Tree of Life was cut out quickly by Raizy the night before, upon which students inscribed sentiments, hopes, and good deeds committed to in their memory.
As Rabbi Mendel noted at the memorial, the number 11 (for the eleven killed that Shabbos morning in the synagogue) is cut out and missing, yet remains boldly present. They will always be remembered.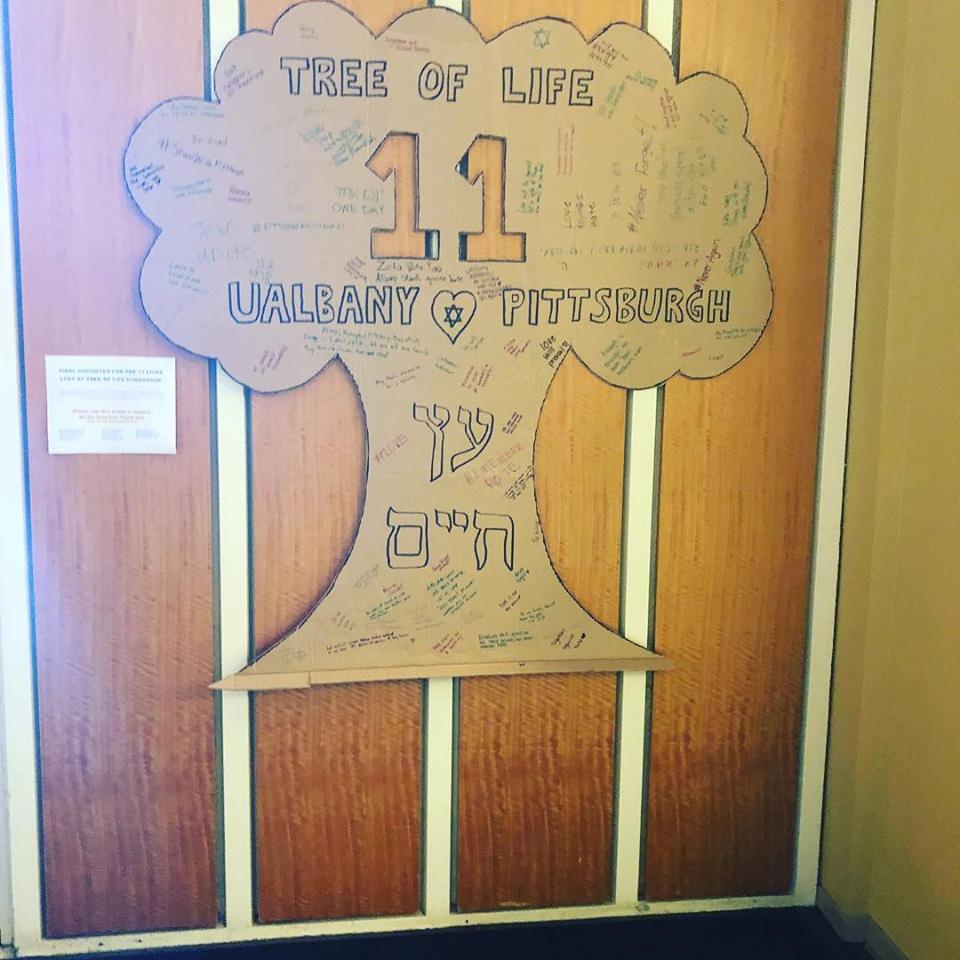 Scott Birge, director of the Campus Center hung it up afterward in a respectful and meaningful way in the Campus Center (directly across the Information Desk) for students (of all faiths, ethnic backgrounds etc) to share their sentiments, thoughts and hopes. Thanks for making this visible and accessible to all.
The memorial at 11:45am on Monday morning near the Small Fountain was scheduled to be 11 minutes long. See this Facebook Live video filmed by a student of the Memorial ceremony, or see this TV segment on the local Spectrum News channel.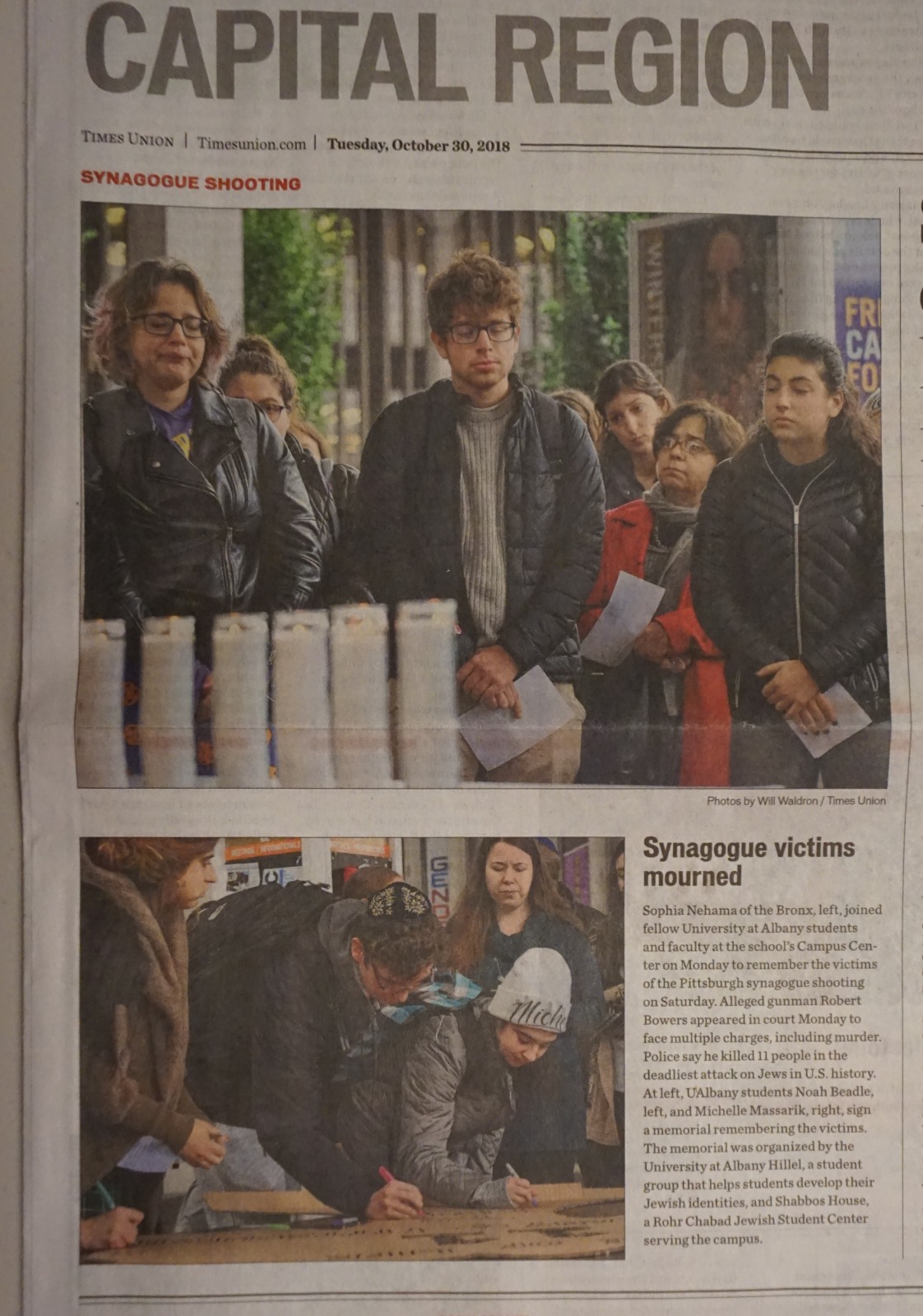 This unique photo by Times-Union's Mel Waldron captures some of the feelings of the moment, a heartfelt glimpse into the crowd and hearts at the brief but meaningful memorial.
On the following Shabbat, for #ShowUpForShabbat (this week with UAlbany Hillel at the Empire Commons community room) after a student read the names of the victims and tidbits about each of them, he said the mourners Kaddish in English. Rabbi Mendel then shared this story-interpretation to the striking Pittsburgh Post-Gazette banner headline with the four opening words of the Kaddish in Hebrew.
For Shabbat day we already had a Hebron-themed Shabbat planned for that lunch, with Israel-awareness co-sponsored by Stand With Us. While the focus was on Hebron's long biblical and modern history, it also touched upon the 1929 Massacre, eerily appropriate for a Shabbat after Pittsburgh.
It was nice to see students who don't usually come for Shabbat morning services come earlier especially to answer Amein and be part of a Shabbat morning prayer service as a #ShowUpForShabbat response to the tragedy of the Shabbat morning prior.
During the week we met with both Guilderland Police and UPD to seek ways to do the responsible thing and increase watchfulness, vigilance and security while maintaining our homestyle welcoming atmosphere. For Shabbat Lunch an officer from Guilderland Police stopped by to check up on us and spoke to us as a group as well as to some individual students.
May we come together for happier occasions, may we celebrate the Tree of Life for good things.
In addition, anytime, as it is customary to increase our Mitzvot and acts of kindness in an effort to add light to a darkened world, please consider joining this campaign for a Mitzvah for Pittsburgh, in support and encouragement of that Jewish community in their time of crisis.