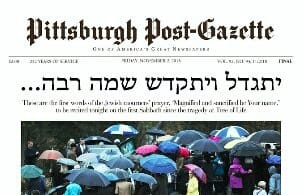 This image of these four Hebrew words (which begin the Kaddish, the mourners prayer) spread across the whole front page top of the Post-Gazette, Pittsburgh's largest newspaper, is chilling and comforting, saddening and uplifting at the same time.
Tonight at Hillel Dinner, Ari S. shared tributes to each of the eleven victims of the synagogue shooting and then read the Kaddish aloud in English.
That reminded me of a story or image that I once heard from the late 20th century philanthropist Marty Silverman (founder of The Albany Prize, the University Heights concept in Albany among other efforts). At the time he was exploring the possibility of contributing toward the new Shabbos House (he did seem interested but this did not materialize) and in that conversation he told us the following story:
Mr. Silverman's mother passed away early in life, so he made a special effort to be in the synagogue to say Kaddish in her memory. His family belonged to Beth Tephilah down on River Street in Troy, which is an old historic Orthodox synagogue. He said the words there emphatically with much feeling. Later when he married, his wife wanted a more egalitarian service, so they moved uptown to the Beth El Conservative synagogue up the hill on Hoosick Street. There he had a rude awakening: there was English translation and he realized the Kaddish had nothing to do with his mother at all! It was not a memorial prayer in the least. It was all about G-d, not his mother! And since then the Kaddish held little meaning for him again, and in some way he was nostalgic for the old days when he thought the ancient, magical words were about his beloved mother.
The Kaddish is really an opportunity for the mourner to affirm one's faith and connect with the community at a time of sadness and loss. Kaddish is much more for the living than it is for the dead. It is a statement of commitment, of renewed dedication.
And that's the inner meaning of the Kaddish words displayed in Hebrew across the front page of the Pittsburgh Post-Gazette. It is a statement of continuity, of strength, of community, of dedication and of memory.