So why did we name her Rivka?
In addition of course to the biblical matriarch, Rivka or Rebecca, the name runs in both of our families.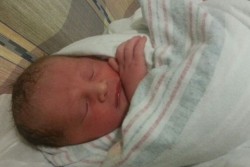 Raizy's maternal grandfather, Zeide Shmuel Tzvi Fox, of blessed memory, was the only one of his family to survive the Holocaust. They were all killed by the Nazis in his hometown of Disna Poland, while he was away at the Lubavitch Yeshiva in Otwotsk, later escaping with fellow students (including Mendel's grandfather) to Shanghai. On his tombstone near the Rebbe's Ohel in Queens, are the names of his sisters who perished in the Holocaust, including Rivka, who had no other memorial. May her memory be a blessing. To us that blessing is our newborn little Rivka.
Mendel's paternal grandmother, Bubbe Yocheved Miriam (nee Backman) Rubin, of blessed memory had an older sister "Aunt Ray" Rivka Rochel Lichtman who raised a fine Jewish family in East Flatbush. Mendel's father remembers her well, and has many fond memories of her home. She was strong, warm and nurturing, dedicated and committed to her family and Jewish observance despite the challenges of pre & post WWII Judaism. Amazingly, the 25th of Tammuz, the day our Rivka was born, is the yartzeit, anniversary of the passing of "Aunt Ray" Rivkah Rochel Lichtman!!
Rivka is an important name in our Chabad Lubavitch heritage as well. Of the 7 Chabad Rebbes, the 6th Rebbe Yosef Yitzchak Scheersohn (1880-1950) was the most grandfatherly-type, filled with nostalgia, warmth and inspiration who shared a great many Chassidic stories and vivid images of older Chassidim. He wrote a great deal, also kept a diary dating back to his youth, some of which was published. He credited his grandmother, Rebbetzin Rivka (wife of the fourth Chabad Rebbe) who inspired and nurtured his rich appreciation of stories and love of people. He felt very close to his grandmother Rivka, and spent much time with her, and he shared much of what he learned from her with Chassidim. We are proud for our Rivka to carry her name.
In more recent Chabad history, Rivky and Gaby Holzberg were the Rebbe's Shluchim to Mumbai India, killed by terrorists in their Chabad House while "on the line of duty" as the whole world watched the terrible drama unfold. Their legendary hospitality, open home, genuine Ahavat Yisrael – and their dedication to the Rebbe's work and vision remains ingrained in our hearts.
The biblical Rivka (or Rebecca) was called "a rose among thorns". This resonates with us today, as Rivka's birth was a bright ray of light for us during a time of global darkness in the world around us this July of 2014. May we see better and brighter times soon, with good news all around us.

Thank you to the many, many friends who called, texted, messaged, FB-liked (333!) and many who commented, wishing us Mazal Tov on Rivka's birth. We are very grateful and appreciative for your friendship and love, it means the world to us. May we all have the good fortune to share many Simchas, good news and joyous occasions with one another.
Thanks to her six older sisters, Rivka has enough clothing, thank G-d! Those who wish to give a gift can contribute to Shabbos House in her honor at www.tinyurl.com/ShabbosHousePayPal, or to the Maimonides School in Albany via www.tinyurl.com/MaimonidesPayPal where we look forward to her attending in the not so far future!
May G-d grant us good health and all the spiritual and physical resources necessary to raise Rivka, and all her siblings, to the traditional blessings of "Torah, Chuppah and Good Deeds".