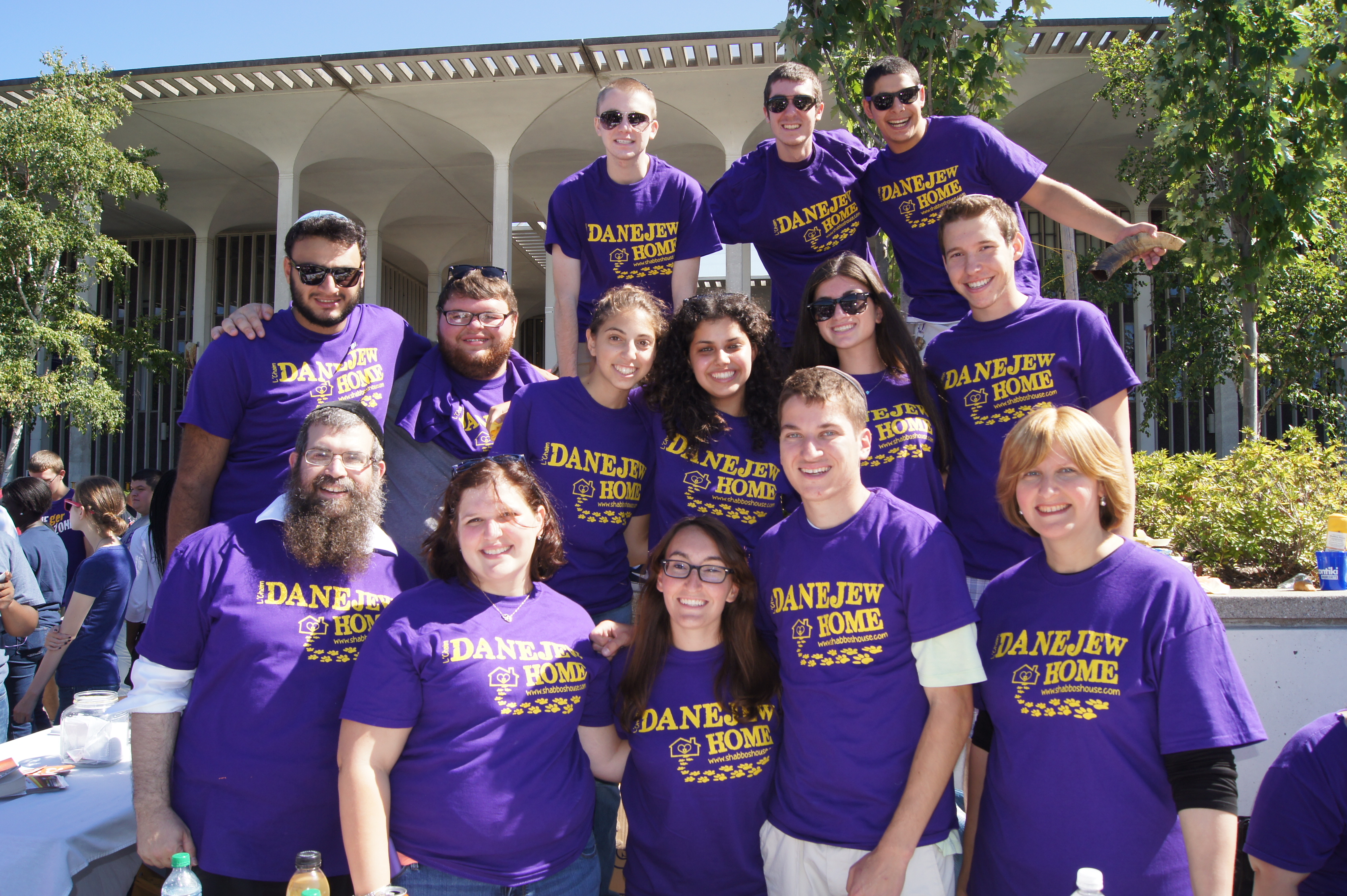 Lchaim Board Members were all decked out in the new "Dane Jew Home" purple t-shirts, giving out purple and gold hand towels that read: "Soak it all in! Absorb the Shabbos House Experience."
This year's Student Association Block Party was held on the Podium, on the upper level surrounding the Fountain. The L'chaim Table was just about midway between the Bell-Tower and the Performing Arts Center. The PAC's archways are what you see behind the board members in this picture. It was a hot and busy afternoon, with lots of new (and old) faces. We also gave out mini-calendars with all the upcoming holidays with meals and prayers at Shabbos House.
Thanks to the Lchaim student board for the investment and enthusiasm, from towel waving to Shofar blowing, with friendly welcomes to all. There were lots of sign-ups today and we hope to continue to stay in touch about upcoming events, and continue to grow our Jewish campus community and welcoming atmosphere.
The DaneJewHome shirts were a big hit, thanks to alumnus Rebecca K. for the design. It's take off the ubiquitous "DANEger ZONE" shirts you see all over campus. Of course, purple is in keeping with school spirit, which has really been increasing in recent years. The pawprints leading into the Shabbos House logo are a neat bonus feature.
Thanks to our daughter Mushky, now studying in Israel for designing the Soak It All In! towels, which were rolled and tied with ribbon along with the candle-lighting times card that shows the alternating Friday Night schedule between Shabbos House and UAlbany Hillel, handy reminder of where Shabbat is that week, and what time it actually begins.
The towels are nice, but we think the message is even better! We do have some (not many) left, so if you didn't get yours, let us know! There are a limited number of purple "DaneJewHome" t-shirts available for sale (in whatever sizes we have left) for $10 each.