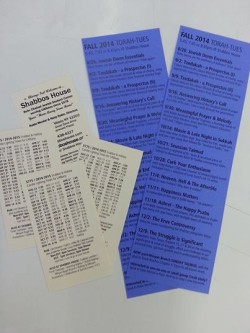 Despite all the technology at our fingertips, students still enjoy these handy giveaways. We print them on different color each time to keep them a little different.
The bookmark lists all the TorahTues topics of the semester, while our "business" card has the Shabbos candle-lighting times of the year with bold and italic dates indicating whether Shabbos Dinner that week is at Hillel or Shabbos House.
Get yours and keep them handy!
Look soon for this year's new Lchaim T-shirts (extras are available for purchase by any student) and the new giveaway to be available at the SA Block Party on Sunday, September 7th.