As Chanukah fell on Thanksgiving this year, nearly all students went home for the extended weekend, so the first part of our holiday was mostly family.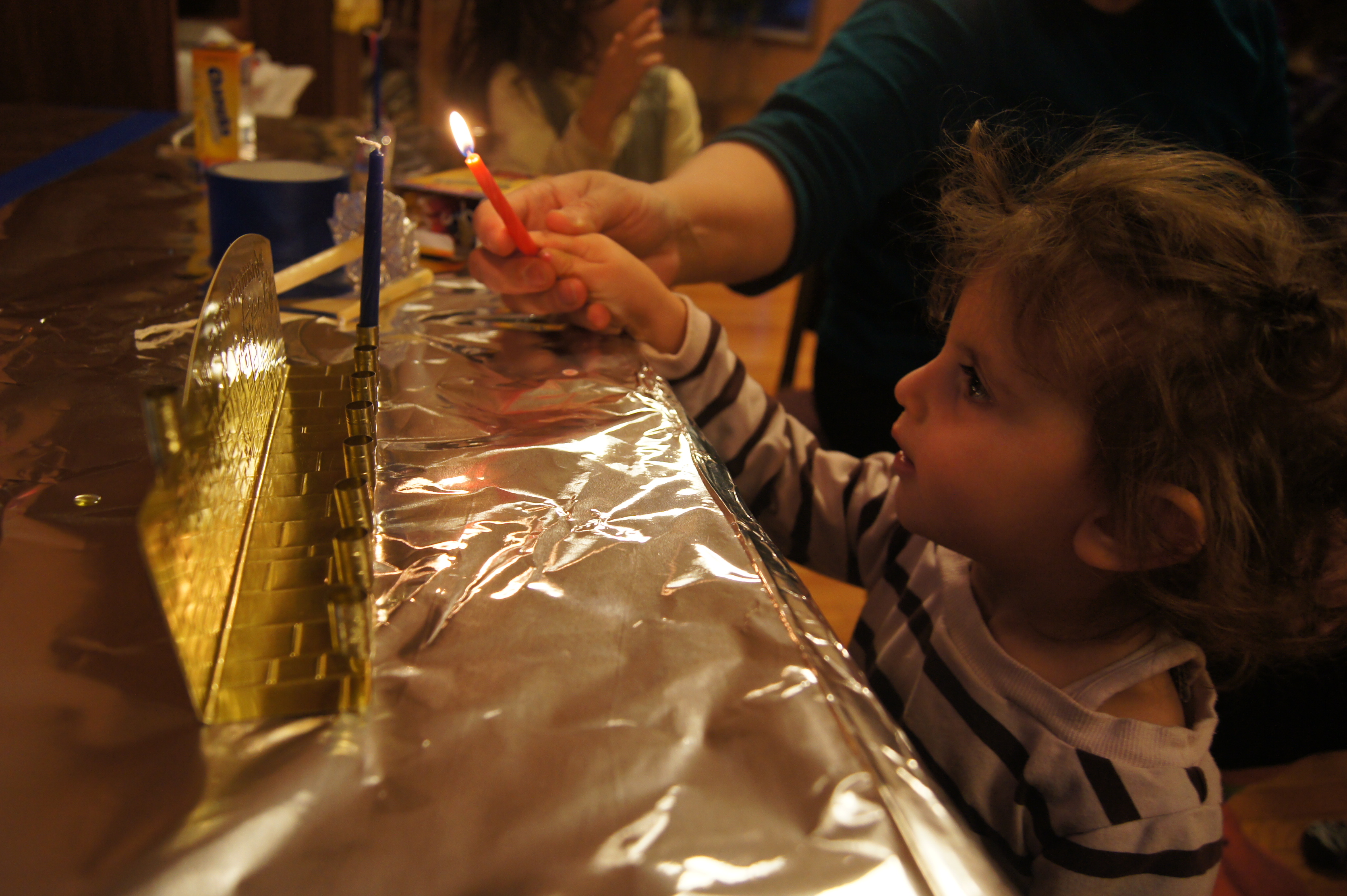 It was Esther-Miriam's first Menorah Lighting, she was delighted to do it every night, and enjoyed picking her candle colors. Here is she is pictured, carefully and curiously lighting her first candle. She was a little confused with Sahbbos candle-lighting, and at first covered her eyes… Towards the end of the holiday she insisted on having all of her candles lit, we kind of gave in on her Menorah.
Bluma was proud to use the Menorah she made in Kindergarten Class at the Maimonides school made of wood, pennies, metal bolts and paint. She was very eager to do this nightly ritual and to do it right. She was quite careful, too!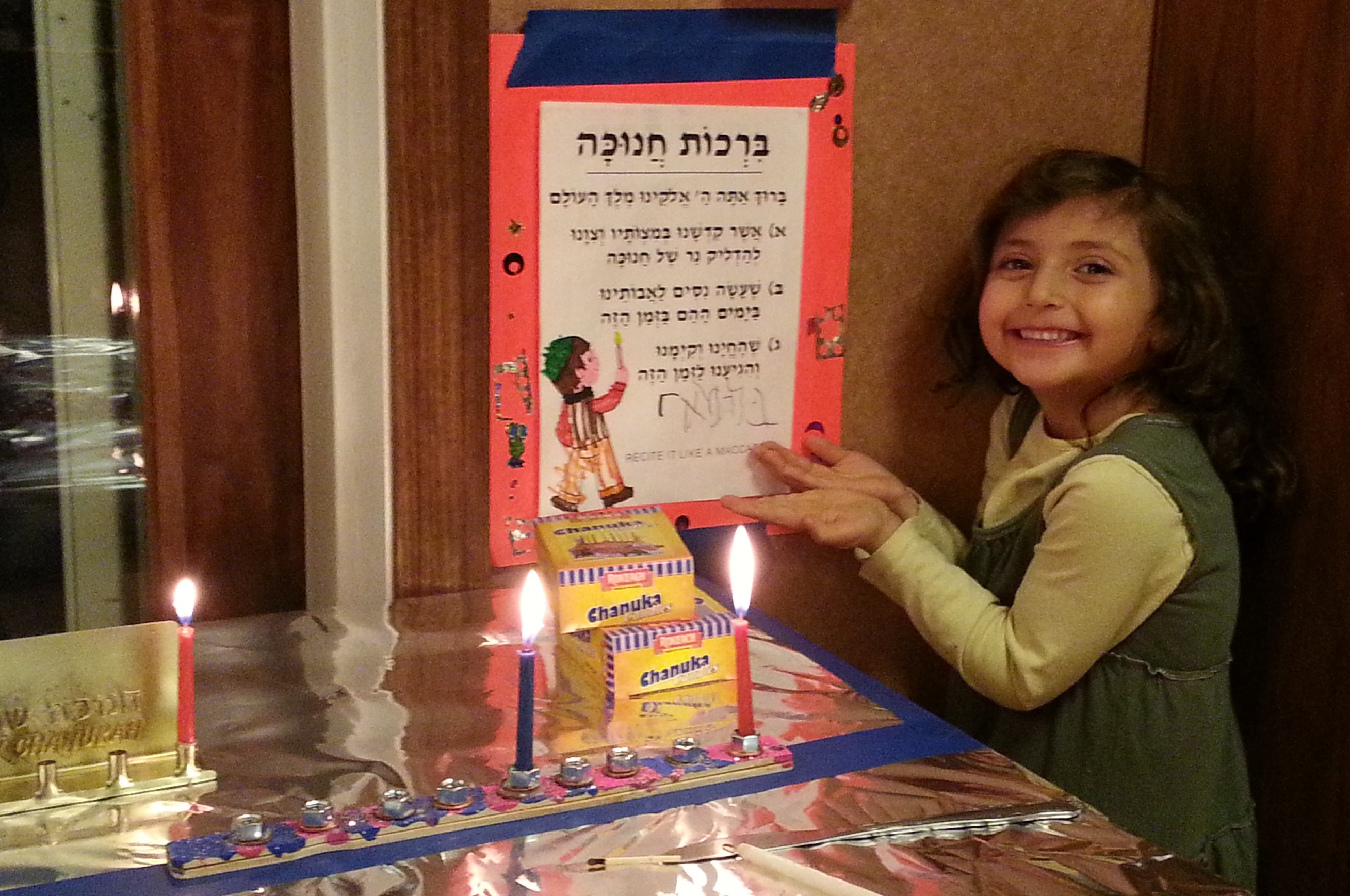 She also had a poster with the blessings which she colored in and wrote her name prominently. The poster said, "say your blessings like a Maccabee!" i.e. loud and proud, emphatic and dramatic! – and that's how Bluma did it each and every night!
Thursday late afternoon, Thanksgiving Day, we (the Rubins) went up to Saratoga Chabad for a communal Thanksgiving & Chanukah Meal with quite a bit of Mendel's family and other Albany and Saratoga guests. After delicious courses served, and homemade cranberry pie atop that, Rabbi Israel Rubin (Mendel's father) get up and said that "The main course is now going to be served!" People were quite surprised! He explained that on a day like Thanksgiving, the main course is not the turkey or potatoes but the grace after meals…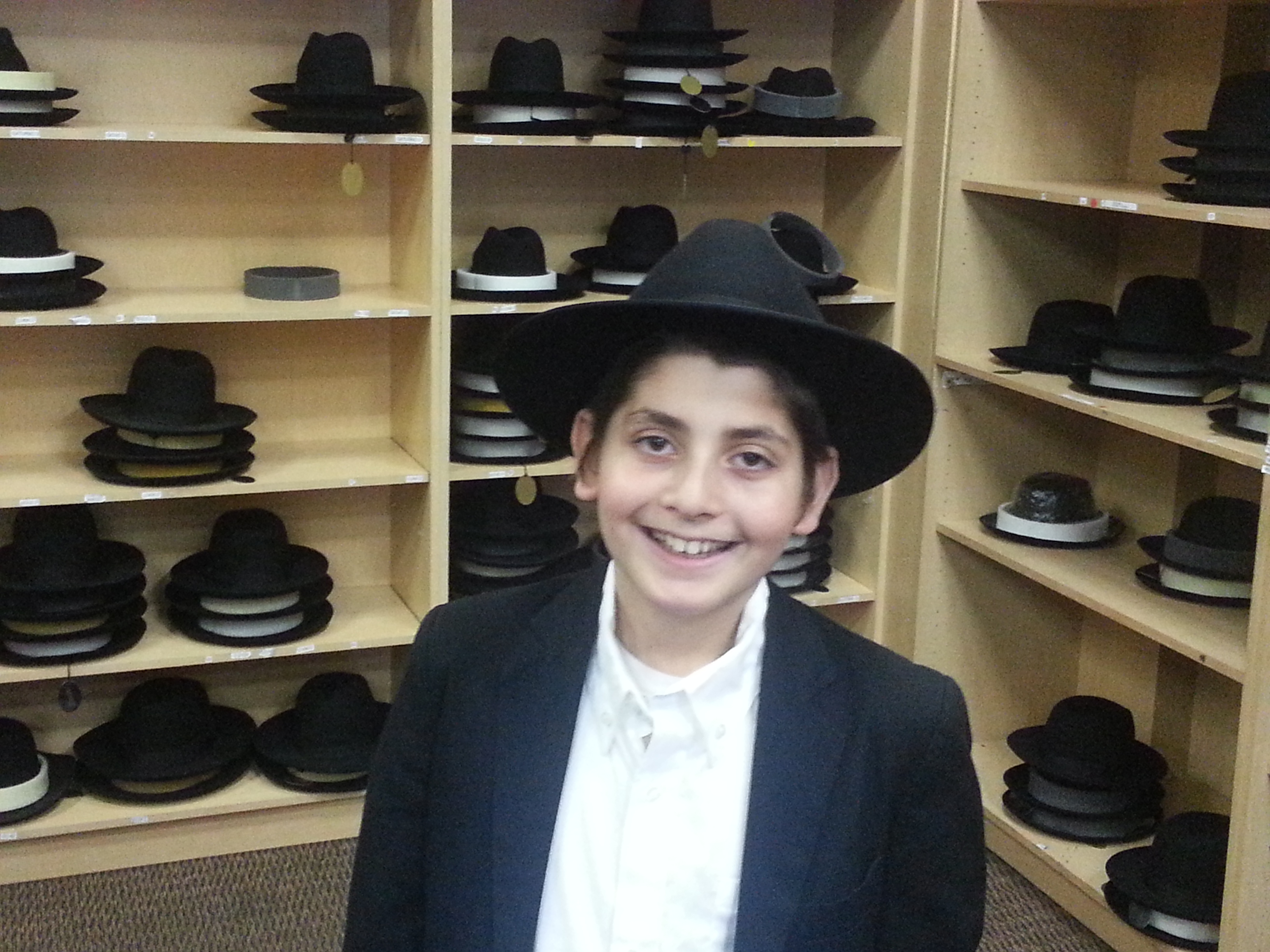 No sales, no shopping for us, at least not this year. We drove home, did some stuff around the house, relaxed as a family, and packed up for our weekend trip. Actually, for Black Friday, we did stop into "Primo Hats" on Kingston Ave in Crown Heights and get Moshe's hat steamed (refreshed) for free… or "Black Hat Friday"!
Friday morning we rose early, just after 5am (in the spirit of Black Friday) to drive down to Monsey NY to attend the Bris of a newborn Hendel cousin/nephew there. Mendel and Raizy were honored as Kvatter (the couple who brings the baby into the ceremony and back out again) and it was quick and good to be with family for a joyous occasion. The baby was named Schneur Zalman after the Alter Rebbe of Chabad, for he was born on the auspicious date of Yud-Tes Kislev, when the Alter Rebbe was released from Czarist prison in 1789.
At the Bris Raizy recognized something about the name or look of the caterer, and we asked, and sure enough he is a brother-in-law of a very dear alumni friend Chaim S. who was quickly dialed (they live down in Maryland) and was surprised to hear Mendel's voice coming from his brother-in-law's cell phone.
Then we drove down to NY. Despite the Black Friday busy-ness, we hardly had any traffic. This was our first family Shabbos at the Galperins in many months. They prepared a feast, and Rabbi Galperin (Raizy's father) shared many stories.
On Shabbos morning Moshe and Rabbi Mendel prayed in 770, the Rebbe's synagogue, and said all of Tehillim (Book of Psalms) and prayed together. After the prayer we walked down to Empire Shteeble where Zeide Galperin had a Kiddush for the Yartzeit of his father, Reb Shimon Galperin. It was a bonafide Kiddush with traditional salads and herring, vodka and stories. By the time we had some Shabbos Lunch and shmoozed a bit, it was time for Mincha and Shabbos was over.
Click here to get back to CHANUKAH 2013 RECAP