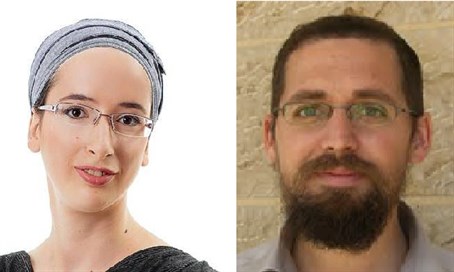 In middle of the Sukkot holiday this year (5776 / 2015), Eitam and Naama Henkin, an Israeli couple, were gunned down and killed in their car by terrorists, while their children were (thankfully spared) in the back seat. Abbas' Fatah faction claimed responsibility, soon after Abbas declared the Oslo accords dead.
This tragedy hits closer to home, because Naama was a cousin to an very dear UAlbany/Shabbos House alumni couple.
Eitam was a learned Rabbi, a historian and researcher, with many scholarly articles published online. He comes from a distinguished line of Rabbis. His grandfather was a respected Halachic authority in New York, and his mother is dean and founder of the Nishmat School in Jerusalem.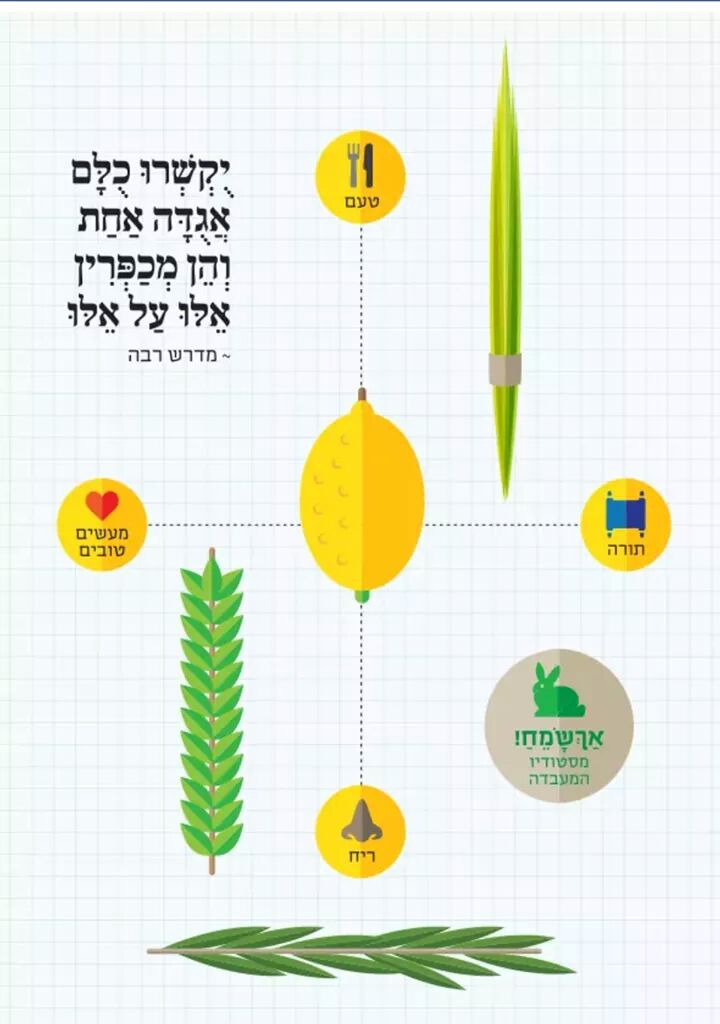 Naama was an accomplished graphic designer. This piece she did (pictured here) expresses a Midrashic statement about the diversity and unity of the four-kinds of the Lulav and Etrog set, which we shared earlier this Sukkot in a post called "Willow Jews". 
Notice how she divided it into quadrants. Similar to those organizational charts with plot dots, that show your political affiliation or personality traits.
The vertical line runs between taste on top and smell on bottom, the horizontal line runs from Torah on right, to good deeds on left. The Lulav which has taste but no smell – represents Torah, so its up in that upper right corner. Myrtle branches are in the bottom left corner, between fragrance and good deeds. The Etrog is smack in the middle, equidistant between taste and smell, Torah and good deeds. And the willow – it's on bottom, as it has neither taste or smell and represents Jews who don't excel or Torah or in good deeds.
The Rebbe oft-quoted this same Medrash on Sukkot. The Rebbe emphasized the point that to create unity we need all types of Jewish diversity to work together, and while the lowly willow has neither taste nor smell, the whole set is incomplete without it.
Naama's art pictured here, seems to focus on a different message in this Medrash, highlighting the exemplary Etrog, how it beautifully balances the symbolism of taste (Torah) and smell (Mitzvot) – ideas and action, learning and living, mind and heart.
The more we hear of this young Henkin couple, of blessed memory, of their relationship with each other and of their academic and career pursuits, and the way they lived their lives, they seem to represent the exemplary Etrog as Naama depicted it here, with healthy balance, synthesis and beauty.
May their memory be a blessing. May G-d avenge their innocent blood. Hopefully their killers will be brought to justice and those responsible as well. And most importantly, may their young orphaned children be blessed in every way possible to have the emotional strength, fortitude and all the physical and spiritual resources to grow up and live their lives as their wonderful parents did.