Due to Coronavirus or Covid-19, social-distancing and UAlbany's transition for now online, Shabbos House is now online as well with many opportunities to get-together, study and share despite whatever physical distance.
See below for updates, details and link info:
DAILY FB LIVE
This week all our FB Live will be all about Shavuot (celebrating our receiving the Torah at Mt Sinai). Customs, observances, holiday insights and meanings. We'll do something different every day at 12:45pm. Sunday thru Thursday. Holiday begins Thursday night.
MORE LOCAL-TO-GO
We're keeping up the Shabbat-To-Go for students, grad students and alum up here in Albany. The signup form is at this link, we prepare off the form and leave it on the front porch for social-distancing pickup. This coming week for Shavuot (it begins Thursday night 5/28 and runs into Shabbat) we'll do porch pickup packages with both dairy and non-dairy meals (dairy is a big Shavuot custom) on Thursday (not Friday!) starting at 4:30pm. Allergic to dairy or gluten-free? Please let us know.
SAT NIGHT HAVDALAH, OMER, STORY & DISCUSSION
Shabbat is ending later now, but we'll keep this up at least for now. 9:20pm this week online over Zoom. We'll make Havdalah (though its best to make your own at home), count the Omer (getting closer now!) and do a short story and discussion. Our Zoom ID: 672-547-2221 (message us or see email for our usual password).
CAN YOU BE PART OF A SHAVUOT TORAH BOOKLET?
We're looking for students and alumni who would like to contribute a short Torah thought or insight (on any subject) for us to include in a Pre-Shavuot holiday learning booklet to share with alumni and students. Doesn't have to be original, (thought it could be!) can be an idea, interpretation or parable you really liked. Looking for a paragraph to a page each. This could be really nice, hope we can put it together with your help! Latest we can get this would be Monday 5/25.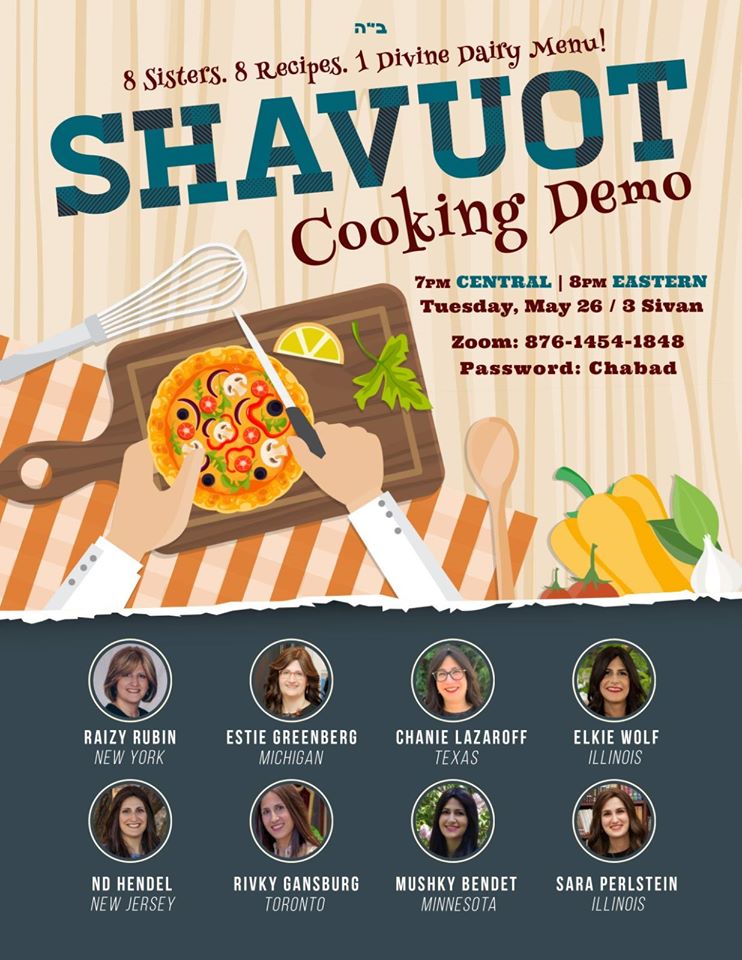 8 GALPERIN SISTERS COOK FOR SHAVUOT ONLINE
Don't miss this! Raizy and her 7 sisters will do a Shavuot cooking demo on Tuesday 5/26 at 8pm. Eight sisters in a multi-state Zoom experience. Zoom ID: 876-1454-1848 (message for password or see flyer or email). This should be very special!
A NEW "SUPPORT YOUR FELLOW" FUND
A sensitive and generous alumna sent monies to Shabbos House to start a small fund to support fellow alumni going through hard times. While this fund is limited and isn't intended or able to solve major needs, the goal is to provide small gestures of thoughtful support and uplift in these challenging times. Please contact us if you know someone who could benefit from this or if you would like to contribute towards it. You can let us know anonymously through this form as well.
ZOOM GET-TOGETHERS – check here for updates to our weekly Zoom programs. Our Zoom Meeting # is 672-547-2221 check email for password or contact us for the info.
Plus, you can call or text our cells: Raizy 518-772-7299 or Mendel 518-526-0770 or email us or we can set up a Zoom to learn, discuss, or just catch up!
and we're still doing on daily WhatsApp Inspiration Group, geared for the times we're in:
SHABBOS HOUSE DAILY INSPIRATION via WhatsApp
Join the WhatsApp Group using this link. Each day we'll share a short message, teaching or inspiration either via text, voice-note or a little video. We did miss a couple of days but have been overall pretty good about posting one inspiration daily.