This Fall 2022 the Jewish holiday season comes later in the Fall semester, Rosh Hashanah is in the last week of September. And all the holidays fall mid-week which takes up a lot of days (in festive ways!) at the start of the semester.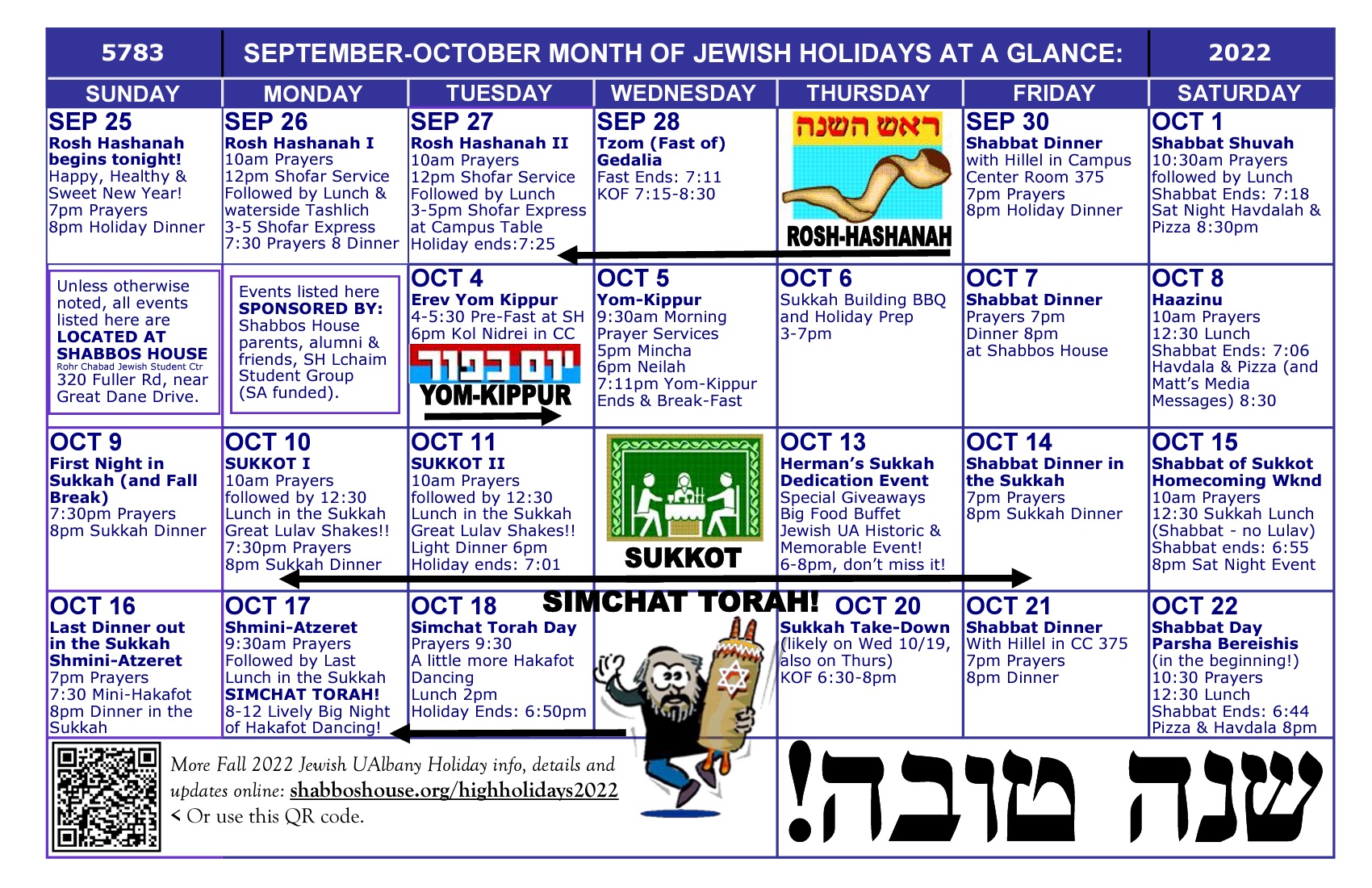 Click on calendar image to enlarge the image or click here for a handy PDF calendar of the Fall 2022 Jewish Holiday season  of the Jewish holiday Fall 2022 season at UAlbany, all the prayers, festive meals and celebration at Shabbos House, this year all in the month of September 2021.
There is no cost to students for any holiday meals or prayers. There's no dress code, no attendance, no expectations. Prayers are traditional but explained and student-centered and student-friendly.
These are wonderful times of Jewish celebration, student-centered and student-friendly, with good food, good friends, good times. Each holiday offers a special flavor and atmosphere and creates a special set of memories. Sukkot and Simchat Torah are especially rich in celebration, connection and are very memorable times at Shabbos House.
CLASSES ON THE HOLIDAYS
UAlbany does not give off for the holidays anymore, there will be classes on Rosh Hashanah and Yom Kippur, though some teachers may cancel. All faculty are notified that religious holidays (and they have a University list of them) are excused absences and if there are tests or such on those days students are very much entitled to ask to have them rescheduled.
Obviously, out of respect and courtesy, students should not tell this to the professor last minute, it is best that they are told of your observance dates and observance level at least a week or more prior.
Not all students observe the holidays the same way. Some will go home to be with family, some will miss class to attend services and holiday meals, some will attend class but not write or take tests – whatever your or your family's observance level or style, this is something UAlbany is committed to respect.
Email Shabbos House with "Holiday Letter" in the subject line and Rabbi Mendel will personalize a holiday letter for you to share with your professors with dates and details. Please explain to the professors which holiday dates you will be absent, not writing, or not taking tests etc, depending on your/your family's observance.
If there should be any issues with any professor in this regard please contact Rabbi Mendel and the Deans Office and they will promptly address it.
ROSH HASHANAH 2021 AT UALBANY
All Rosh Hashanah prayer services and holiday meals will be at Shabbos House. In addition, there will be a quick and accessible Shofar Express with holiday treats at a Small Fountain campus table from 3-5pm each afternoon of Rosh Hashanah.
RSVPs are not required, but they are helpful so we can be best prepared. Are you here for Rosh Hashanah or part of it? We don't usually ask for RSVPs unless its especially hard for us to gauge: Here's the Rosh Hashanah Signup Form.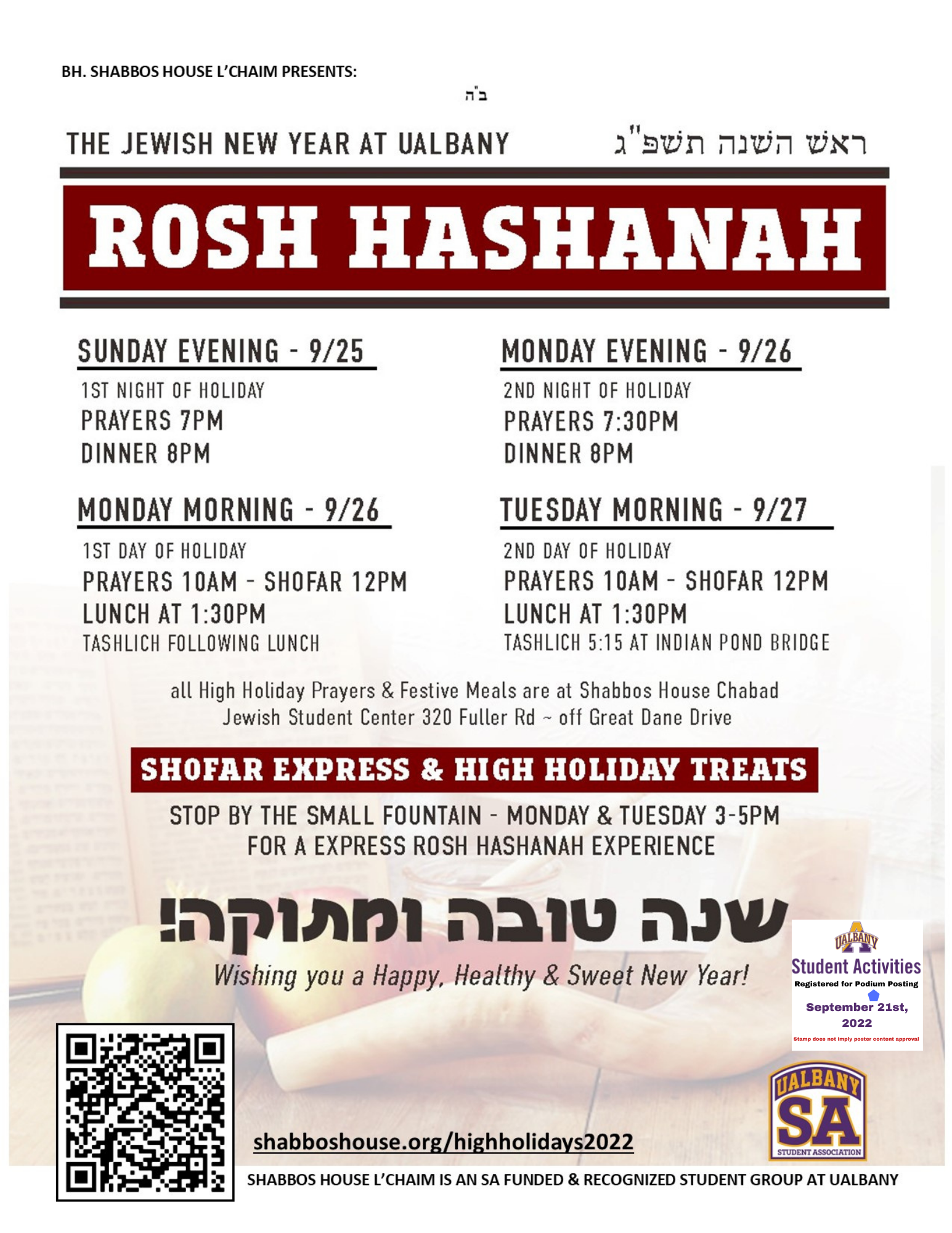 FIRST NIGHT, SUNDAY, SEPT 25:
Prayers 7pm, holiday dinner at 8pm (this is night of apple and challah dipped in honey, and eating pomegranate seeds etc, plus a full-course holiday meal)
FIRST DAY, MONDAY, SEPT 26:
Morning Prayers 9:30am, Shofar 12pm, Lunch at 1:30pm followed by nearby neighborhood waterside Tashlich
Shofar Express & holiday treats at a Small Fountain table on Campus, 3-5pm
SECOND NIGHT, MONDAY NIGHT, SEPT 26:
Prayers 7:30pm, holiday dinner 8pm (on the second night we eat new and exotic "Shehechiyanu" fruits, plus a full-course holiday meal).
SECOND DAY, TUESDAY, SEPT 27:
Morning Prayers 9:30am, Shofar 12pm, Lunch at 1:30pm followed by nearby neighborhood waterside Tashlich
Shofar Express & holiday treats at a Small Fountain table on Campus, 3-5pm
5:15pm Tashlich Service at Indian Pond Bridge
Holiday ends 7:59pm. We'll do a light meal and farbrengen to close out the holiday at approx 7pm.
Those observant of the Fast-of-Gedalia (on the day after Rosh Hashanah, this year Wednesday Sep 8th) the fast ends at 7:14pm. We'll do "Kosher on Fuller" at 7:15pm that night.
YOM KIPPUR AT UALBANY
Yom Kippur services at UAlbany are a joint project of Shabbos House and UAlbany Hillel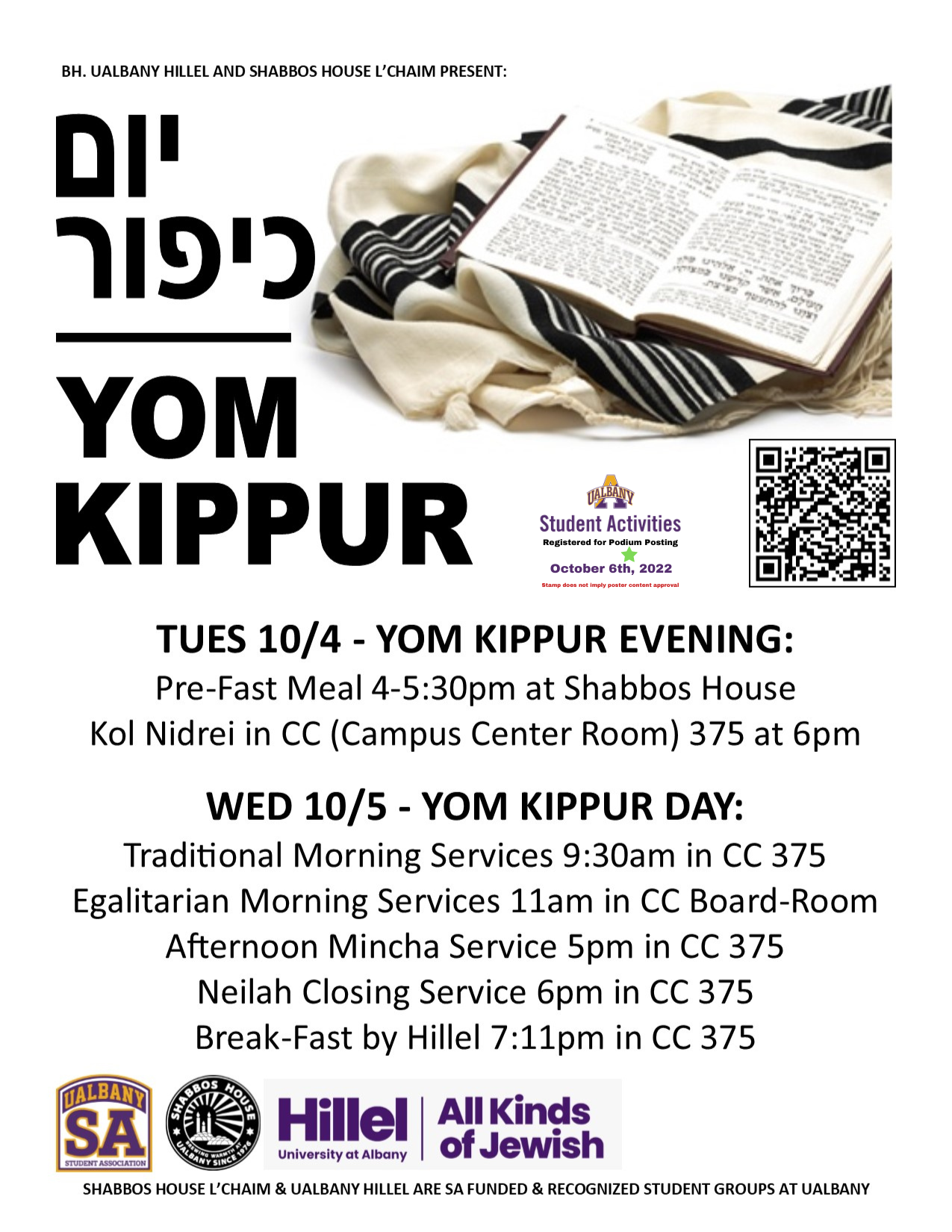 YOM KIPPUR NIGHT, TUES OCT 4th:
Prefast Meal at Shabbos House 4pm-5:30pm
Kol Nidrei Prayers in Campus Center Room 375 at 6pm
YOM KIPPUR DAY, WED OCT 5th:
9:30am-2pm Traditional Morning Prayers in CC Room 375
Hillel Egalitarian Prayers in CC BoardRoom
5pm Mincha Prayers in CC Assembly Hall
6pm Neilah Closing Service in CC Assembly Hall
7:11pm Yom Kippur Ends, Break-Fast By UAlbany Hillel
SUKKOT
Sukkot is all about atmosphere! There are lots of meals in the Sukkah, opportunities to shake the Lulav and spend quality holiday time together.
Please, if you can, use this RSVP form for Sukkot Week events. We do not hold you to RSVPs but it is recommended during Covid, and also helps us be best prepared. Check off what you think you can/would like to come to, and come either way as it works for you!
Sukkot is filled with vibe and atmosphere! It is a special time of togetherness, uplift, good food and good times. It's a light and chill holiday, pleasant and accessible, outdoorsy and nature-oriented, it has a really good feel to it. And it all leads up to the joyous Simchat Torah!
THURS, OCT 6th:
Sukkah Building BBQ 3:30pm-7:30pm
Hot Dogs, Burgers, Corn-Salad, Tri-Color Pasta Salad, and more
FIRST NIGHT IN THE SUKKAH, SUNDAY OCT 9th:
Holiday prayers 7:30pm, first dinner in the Sukkah  8pm
Challah & Dips, Soup & Salad, Pepper-Steak, Rice, Roasted Broccoli, Chocolate Chip Cookies… 
FIRST DAY OF SUKKOT, FIRST LULAV SHAKE, MONDAY OCT 10th:
Prayers 10am, with Lulav & Etrog, followed by holiday lunch in the Sukkah 12:30pm
SECOND NIGHT OF SUKKOT, MONDAY OCT 10th:
Holiday prayers 7:30pm, 8pm dinner in the Sukkah
SECOND DAY OF SUKKOT, WEDNESDAY OCT 11th:
Prayers 10am, with Lulav & Etrog, followed by holiday lunch in the Sukkah 12:30pm
Light meal at 6pm
Havdalah and holiday ends 7:01pm
Sukkot is a long holiday, but its middle/intermediate days are more like weekday days of the holiday.
THURS NIGHT OCT 13th: "HERMAN'S SUKKAH" DEDICATION EVENT
Details TBA, but for now save the date. 6-8pm with food, special souvenirs and memories of the unforgettable Herman.
LOOK FOR SUKKAH BIKE ON CAMPUS
Making its rounds on Wednesday, Thursday & Friday, flag us down or schedule us for accessible Lulav shakes!
SHABBAT DINNER IN THE SUKKAH, HOMECOMING WKND, FRIDAY NIGHT, OCT 14th:
Always a special night in the Sukkah, 7pm prayers, 8pm dinner in the Sukkah
SHABBAT DAY OF SUKKOT, SAT OCT 15th:
Prayers 10am (no Lulav on Shabbat), Lunch in the Sukkah at 12:30pm
Shabbat ends 6:55pm
Sat Night Sukkah Event 8pm
HOSHANA RABBA, LAST DAY FOR LULAV, SUNDAY OCT 16th:
Hoshana Rabba Prayers TBA.
But it doesn't end here and goes straight into the finale of Shemini Atzeret and SIMCHAT TORAH! (see next tab)
These incredibly special and opportune 48 hours (of Shemini-Atzeret and Simchat-Torah) climax the whole long holiday season, that climaxes everything that began on Rosh Hashanah and Yom Kippur, and takes it spiraling both upwards & downwards to totally new levels that spin off off into the whole year!
Friends don't let friends miss Simchat Torah (especially Monday night… even if you/they can only come for a short while). It's a once-a-year type celebration, an incredible ourpouring of the joys of Judaism and of being Jewish. We dance with our feet (any old way, fancy steps not required) and closed Torahs, Simchat Torah celebrates the heritage, the core connection, it's not about knowledge or specifics.
SUNDAY NIGHT OCT 16th:
SHEMINI ATZERET, LAST DINNER IN SUKKAH
Prayers & mini-Hakafot 7pm, 8pm last holiday dinner in the Sukkah

MONDAY OCT 17th:
SHEMINI ATZERET DAY
Prayers 10am followed by 12:30pm the last lunch in the Sukkah
MONDAY NIGHT, OCT 17th:
****SIMCHAT TORAH NIGHT!****
The Big Night of Lively Spirited Jewish Celebration!
Don't miss it – even if you can only come for a short 15 minute or half-hour window, come anytime between 8:30pm and 11:30pm… 8:30pm Hakafot dancing start, hopefully until midnight! Food buffet all night, dancing, singing, uplifting vibe and energy, annual collectible souvenir. TBH, especially from a Chabad lens, the Simchat Torah celebration is more of a celebration of the Jewish people and our core essential connection to G-d, the Torah and our heritage, than it is about the Torah or any of its particular teachings..
Prayers and Ata Horaya 7:30pm, Hakafot Dancing and Buffet starts 8:30pm, goes late, hopefully until midnight!
TUESDAY, SIMCHAT TORAH DAY
SIMCHAT TORAH DAY, OCT 18th:
9:30am Prayers, more Hakafot, reading, completing and restarting the Torah cycle… Lunch by 2pm
Holiday ends (and with this the whole long holiday season) at 6:50pm
Sukkah Take-Down…
Rosh Hashanah prayers and festive meals will all be at Shabbos House. Yom Kippur prayers will be in the Campus Center Assembly Hall with pre-fast at Shabbos House and Break-fast by Hillel in the Campus Center. All Sukkot holiday meals and prayers climaxing with the joyous Simchat Torah will be at Shabbos House.
Stay tuned for updates and details – best way to get the full info is to be on the weekly student email list from Shabbos House. The Shabbos House Whatsapp student list is also helpful way to keep informed with any last minute updates or changes and such (especially in this Covid period).