This Fall 2022 the Jewish holiday season comes later in the Fall semester, Rosh Hashanah is in the last week of September. And all the holidays fall mid-week which takes up a lot of days (in festive ways!) at the start of the semester.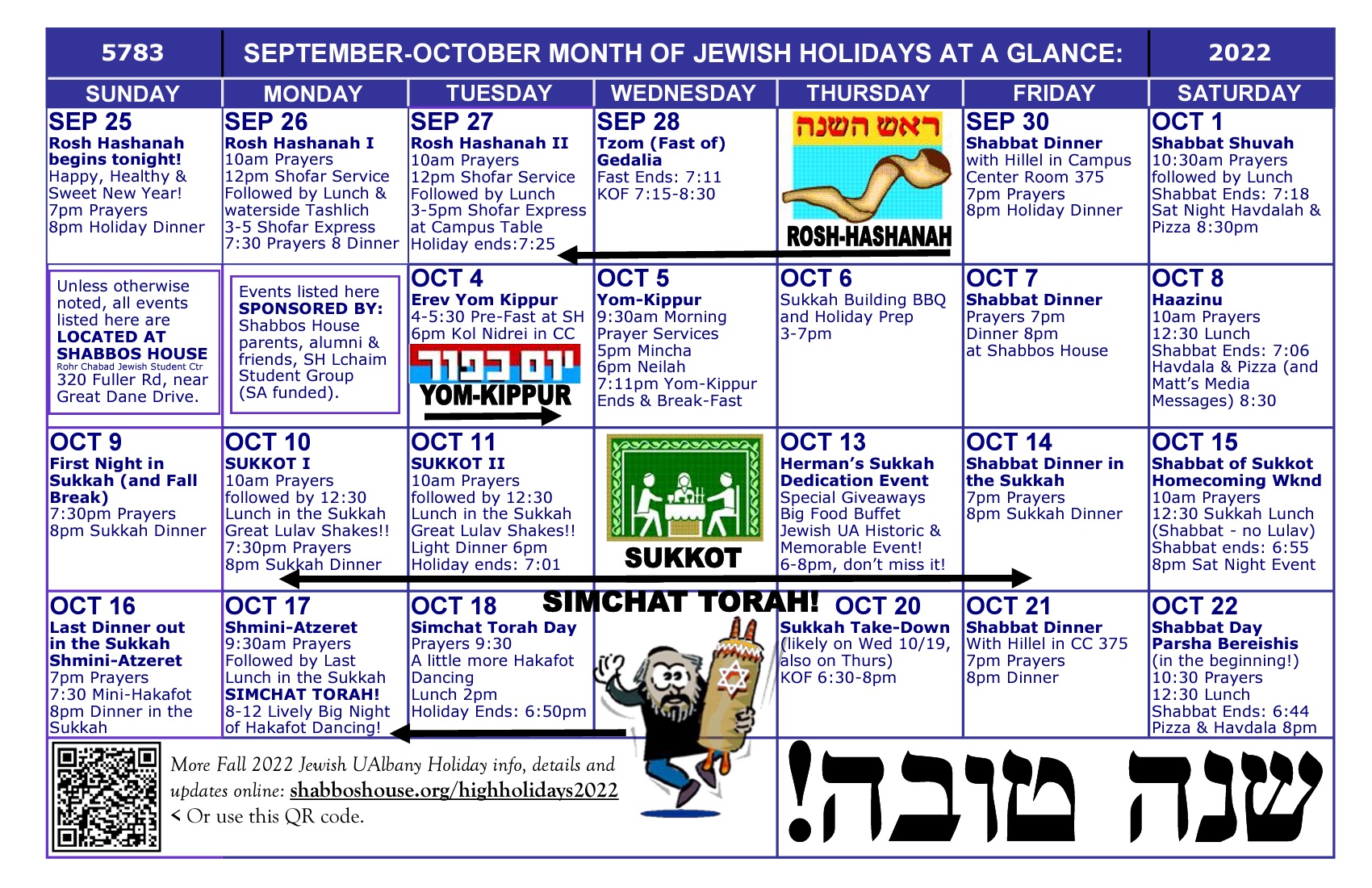 Click on calendar image to enlarge the image or click here for a handy PDF calendar of the Fall 2022 Jewish Holiday season  of the Jewish holiday Fall 2022 season at UAlbany, all the prayers, festive meals and celebration at Shabbos House, this year all in the month of September 2021.
There is no cost to students for any holiday meals or prayers. There's no dress code, no attendance, no expectations. Prayers are traditional but explained and student-centered and student-friendly.
These are wonderful times of Jewish celebration, student-centered and student-friendly, with good food, good friends, good times. Each holiday offers a special flavor and atmosphere and creates a special set of memories. Sukkot and Simchat Torah are especially rich in celebration, connection and are very memorable times at Shabbos House.
Rosh Hashanah prayers and festive meals will all be at Shabbos House. Yom Kippur prayers will be in the Campus Center Assembly Hall with pre-fast at Shabbos House and Break-fast by Hillel in the Campus Center. All Sukkot holiday meals and prayers climaxing with the joyous Simchat Torah will be at Shabbos House.
Stay tuned for updates and details – best way to get the full info is to be on the weekly student email list from Shabbos House. The Shabbos House Whatsapp student list is also helpful way to keep informed with any last minute updates or changes and such (especially in this Covid period).