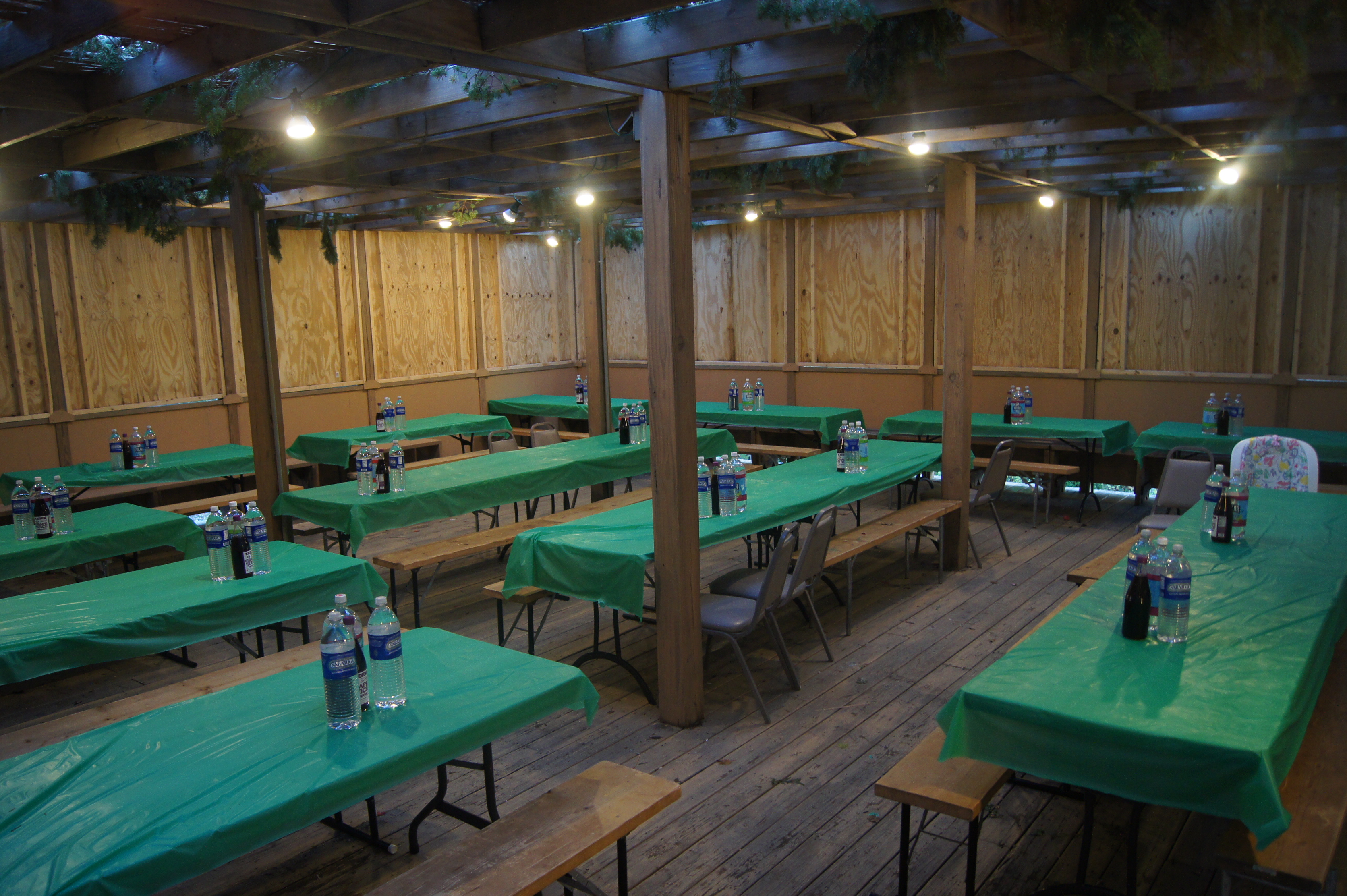 Sukkot is that wonderful time of the year at Shabbos House! It's time for the upstate hot cider tradition and the beloved Sukkahleh song, the freshmen class begins to come together and gel, and there are meals after meals in the Sukkah with incredible flavor and atmosphere. Come for one meal or two, or come for them all, this is a special season of Jewish holiday on campus – not to be missed. And unlike Passover, Sukkot doesn't peter out as the holiday goes on, on the contrary, it climaxes with the lively celebrations of Simchat Torah!
While many most synagogues emphasize Rosh Hashanah and Yom Kippur, for us at Jewish UAlbany, Sukkot and Simchat Torah are the richest experiences of the Tishrei 2017 holiday season (see link for this month of holidays schedule at a glance).
> SUKKOT 3-DAY HOLIDAY WEEKEND OF MEALS & FESTIVITIES
We're excited to have special guests for this extended weekend, including our own Mushky and Moishe from Florida, Raizy's parents the Galperins and Bubbe Fox, her youngest and engaged sister Sara G, alumni Ben & Steph and their two boys, alumni Rachel & Yehudah and their 3 girls, alumni Genna and Michael… plus all the students, of course!
Having a 3-day holiday stretch with Shabbat, we're doing an "Around the World" food theme. Look for Italian, Israeli, Mexican, Russian and more!
In addition to Shabbos House sponsors, all these Sukkot meals are funded in significant part by the Shabbos House – Lchaim Student Group (SA Funded) "Your Student Activity Fee at Work"
WED NIGHT 10/4 – FIRST NIGHT IN THE SUKKAH (ITALIAN)
It's special Mitzvah to eat in the Sukkah on the first night of the holiday. We'll pray at 7pm, eat dinner at 8pm, out in the Sukkah, under the stars. Dress for it. The first night's menu includes garlic bread, meatballs and spaghetti, minestrone soup, an Italian theme.
This first night in the Sukkah is annually sponsored by alumni families Eisen & Kotel (both Class of 2006) in appreciation of their long-standing friendship since meeting years ago in the Shabbos House Sukkah on the first night of the holiday.
THURS DAY 10/5 – FIRST DAY FOR LULAV SHAKES (JAPANESE)
Minyan start up at 9:30am, with Lulav shakes, Hallel and Torah reading, Hoshanot circuits. Lunch starts around 12/12:30pm. We call it revolving-door as people come in/out according to their class schedules. Japanese food theme includes sushi-salad, teriyaki salmon, sesame noodles and asian cole-slaw.
Sponsored by Joseph & Linda Kastner
THURS NIGHT 10/5 – ISRAELI NIGHT IN THE SUKKAH (ISRAELI)
This evening in the Sukkah is sponsored by Great Danes for Israel and CAMERA. Look for Shwarma-flavored chicken, couscous, Israeli-salad, and more. Great Danes for Israel will be leading a fun, educational Bingo game about Israel over dinner. Prayers 7:30pm, dinner at 8pm in the Sukkah.
Sponsored by Great Danes for Israel and CAMERA
FRIDAY DAY 10/6 – SECOND DAY OF SUKKOT (MEXICAN)
Minyan 9:30am, revolving door. People come/go as they can. Lulav shakes, Hallel, Torah reading, Hoshanot circuits. Lunch is also revolving door. It starts 12/12:30pm and goes until about 2:30pm, people come and go as their schedules allow. Lunch Menu: Taco Bar with meat, rice, beans and corn and a whole bunch of toppings – Mexican theme.
Sponsored by Tani & Danyel ('07) Klein
FRIDAY NIGHT 10/6 – SHABBAT UNDER THE STARS!
Prayers 7pm, Dinner 8pm. Hot cider in the Sukkah is an old Albany tradition, and we're serving it on Friday Night. Along with Kiddush, Challah and chip-salad, pepper-steak, wild rice, broccoli quiche and s'mores brownies and more. The Sukkaleh Song, of course! We're going to celebrate Esther Miriam's 6th birthday on this night as well.
Sponsored by Jessie Mishali, Class of 2013
SHABBAT DAY 10/7 – NO LULAV SHAKES ON SHABBAT
No Lulav on Shabbat, but we do have Minyan at 10am with Torah reading as on Shabbat. Lunch will be 12:30pm in the Sukkah. Salads and all, plus a hearty Cholent stew.
> MID-SUKKOT WEEK ACTIVITIES & EVENTS
SATURDAY NIGHT 10/7 – TEEN EVENT IN OUR SUKKAH
The Jewish Federation is hosting a teen event in our Sukkah on Saturday Night. It's geared for local teens but college students are welcome, and would be nice to share your view of Jewish campus life, especially with those high-schoolers already eyeing colleges.
MONDAY & TUES & WED 10/9-11 – SUKKAH BIKE ON CAMPUS
We're bringing back the Sukkah Bike! Look for us rolling about on campus to grab a Lulav shake and a bite inside our mobile Sukkah. We'll make stops at each of the four Quads and around the Podium before and around noon-time on Monday and Tuesday. Stay tuned. We'll post our whereabouts on social-media.
Sukkah Bike Monday: 4:50pm-5:15pm
Sukkah Bike Tuesday: 10am-12:3pm.
Sukkah Bike Wednesday: 11:30am-1pm
TUES NIGHT 10/10 – LATE NIGHT LEARNING
It's customary to stay up late to study on Hoshana Rabba, the last night that its still technically Sukkot. We'll start around 9pm, have something interesting and engaging to learn or discuss. Plus hot soup and drinks and other treats. Stay tuned for updates on this one.
> SIMCHAT TORAH 3-DAY HOLIDAY WEEKEND OF MEALS & FESTIVITIES
WED NIGHT 10/11 – SHMINI ATZERET – LAST NIGHT IN THE SUKKAH (RUSSIAN)
Shmini Atzeret is technically no longer Sukkot but Chabad's custom is to eat in the Sukkah one more night, and we'd love to enjoy the Sukkah for one more night if we can. This night's dinner will be Russian-themed with stuffed cabbage, Plov rice, kasha & bowties, and more. Hopefully Rabbi Galperin will have a good Russian story for this one. Prayers 7pm sharp include short Hakafot, Dinner begins a little after 8pm.
Sponsored by Michele ('06) & Max Gluzman
THURS DAY 10/12 – SHMINI ATZERET DAY (ISRAELI II)
Minyan Prayers at 9:30am, revolving door with people coming as they can. No Lulav anymore but holiday prayers. Lunch starts around 12:30pm, revolving door, people come before/after classes. We're doing a second Israeli-theme with Felafel, pita, humus, tehina, babaganoush, Israeli salad…
Sponsored by Yishai ('04) and Rachael Cohen
THURS NIGHT 10/12 – SIMCHAT TORAH, THE BIG DANCE CELEBRATION! (CHINESE)
Come dance with the Torah, dance because you're Jewish, dance for the climax of a beautiful holiday season! Prayer begin at 7:30pm with festivities starting around 8pm and dancing that hopefully goes to Midnight! There are "jelly-bean-holder" collectible souvenirs, a big food buffet (sesame chicken, egg rolls, matzah-ball soup, and much more) and dancing, dancing and dancing. Come sing with us, for 5 minutes or a few hours. This is a once-a-year type of event. We only do it once like this. It's great for the Jewish soul! It builds reservoirs of spiritual energy and memories for the whole year.
Sponsored by Alumnus Brad and Maital Legum and Dr. David ('98) and Adina Muhlbauer
FRIDAY 10/13 – SIMCHAT TORAH DAY (AMERICAN)
Somehow this is the longest prayer of the year at Shabbos House, longer than Yom Kippur, only difference is that it is more interactive, we have food and a little dancing and a lively Musaf. Come for whatever part you can. This is the day that we conclude the Torah and begin it once again. Prayers start 9:30am and run until about 2pm. Lunch will be American Deli: subs with deli, veggies, cole-slaw, potato-salad, macaroni salad, even apple-pie!
Sponsored by Ken & Sheri Malc
FRIDAY NIGHT 10/13 – BACK TO REGULAR SHABBAT
Simchat Torah is over, no more Sukkot, but still at Shabbos House as the holiday runs right into Shabbat. We'll do the usual, 7pm prayers, 8pm dinner. Kiddush, Challah, fish and salad, chicken course, sides, desserts, good times.
Sponsored by Jason ('07) and Ali Nussbaum
SHABBAT 10/14 – ONE LAST MEAL OF THIS HOLIDAY STRETCH…
Prayers 10am, Lunch 12:30pm. This is the Shabbat when we read the Creation story, the first reading of Torah. One last holiday season meal together.
Sponsored by Valerie & Moses Hasson
A FEW IMPORTANT NOTES:
1) Come when you can. Late is fine! Yes, we start dinner at 8pm, but we'll still be in the Sukkah at 9:30pm and there's always plenty of food.
2) Dress for the weather. There's usually no dress code at Shabbos House, but since we'll be eating outside (in the Sukkah) barring the rain, dress for the weather.
3) Lulav Shakes are only a Mitzvah during the daytime. And not on Shabbat. If you can't make prayers, that's OK, but we'd love to do a quick Lulav shake over lunch or something.
4) When holidays fall during weekdays, we do "revolving-door" minyans and lunches. That means people come and go as per their schedule, and that's 100% fine.