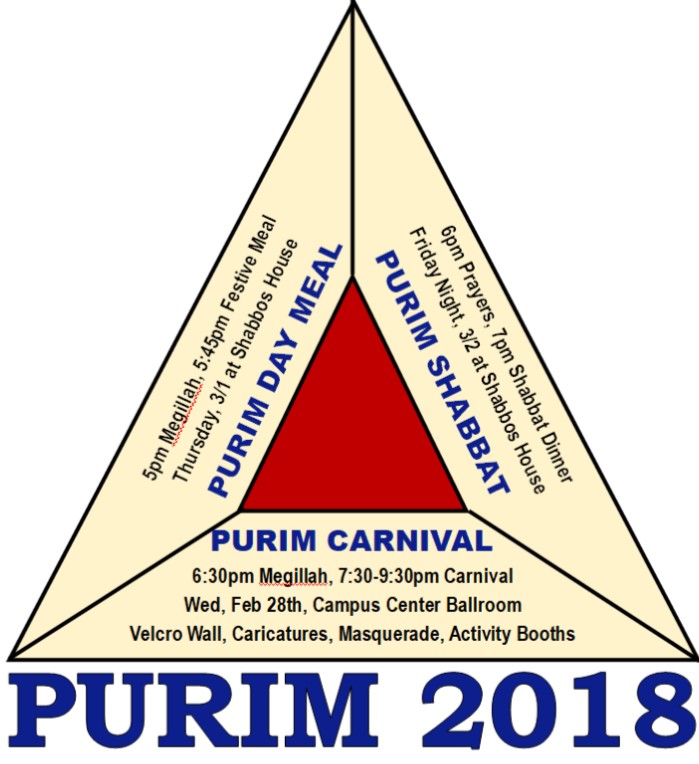 Purim falls this year at the very end of February, midweek following after Shabbat 360 on Feb 23rd, Purim begins on Wednesday night February 28th (that's the night we're having the big carnival) and goes into Thursday day March 1st.
This joyous Jewish holiday is celebrated by hearing the Megillah (Scroll of Esther) read both at night and during the day, sharing gifts of food with friends, giving charity to the needy, and enjoying a Purim meal. It's customary to masquerade in costume (just as Esther's identity and G-d's hand were hidden throughout much of the story) and to eat yummy 3-cornered jam-filled pastries called Hamantaschen (that's why we have our 3 Purim events in that shape – on left).
Tues 2/27: PRE-PURIM HAMANTASCH BAKE
Torah-Tues as usual at 5:45 and 7:45pm with dinner. We're doing an abridged 15-minute Torah Tuesday discussing Talmudic insights to the King of the Purim Story.
Hamantasch Baking follows the second Torah-Tues session from 8pm to 10pm. We have a bunch of filling flavors, make yours any size, any way, come have fun with this delicious Purim treat.
Wed 2/28: THE PURIM CARNIVAL
6:30pm Megillah Reading. Carnival runs from 7:30-9:30pm. All in the Campus Center Ballroom. We're looking for all types of groups to run activity booths and there will be caricature artists, photo magnets, a big velcro wall, basketball and football tossing games, and more!
In addition to Shabbos House – Lchaim, student groups involved and running activity booths include: Hillel, Ruach, Great Danes for Israel, Kehila, APO, DPHIE, Green Scene, Musical Theater, Music Appreciation Group, Pitch Please, ROTC, The Guild and more!
No admission, no cost to do any of the booths and activities. Come in costume if you can, we'll be having a masquerade in good Purim spirit! Additional Megillah Reading (for those who missed the 6:30pm) at approx 9pm.
Purim 2017 fell during Spring Break, as will Purim 2019, so we're going all out for the Carnival this 2018. Come and enjoy, and bring friends! All welcome!
Thurs 3/1: MORNING MINYAN AND MEGILLAH
We're going to have a Purim morning Minyan at 8:00am (please be timely so we can get people to their classes on time). In addition to Tefillin and Shacharit, there's a short Torah reading (read by a student for his Bar-Mitzvah anniversary) and the whole Megillah (which is supposed to be heard once at night and once during the day if possible).
Thurs 3/1: AFTERNOON FESTIVE PURIM MEAL & MEGILLAH 
As is traditional to have a festive Purim Meal, we will be reading daytime Megillah at 5pm (sharp) followed by a lively festive and delicious Purim meal at Shabbos House. We're doing shwarma-flavored chicken, pita and felafel  salads and fries for an Israeli flavor.
Each year the Purim Meal is dedicated in memory of an alumni parent Linda Manheim obm, who passed away a few days before Purim 2001.
Friday 3/2: POST-PURIM SHABBAT
The joyous Purim spirit linger on into Shabbos! Shabbat dinner like always, but with a nice Purim twist… stay tuned for details. Dinner at Shabbos House 7pm.