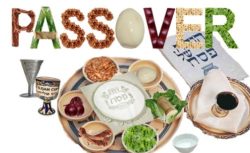 Passover 2018 at Shabbos House
stay tuned for more details, info, coming soon!
3/30: First Seder 8-11:30pm
(Seder-within-a-Seder 9:30-10:30pm)
3/31: Passover Lunch 12:30pm
3/31: Second Seder 8:15pm-11:45pm
(Seder-within-a-Seder 9:30-10:30pm)
4/1: Passover Lunch 12:30pm
4/3: Possible Torah-Tues Passover Picnic 7:30pm, stay tuned.
4/5: 7th Night Passover Dinner 8pm
4/6: 7th Day Passover Lunch 12:30
4/6: 8th Night Passover Dinner 8pm
4/7: 8th Day Passover Lunch 12:30
4/7: Farewell Passover Dinner 7pm
Prayers precede holiday meals. Kosher for Passover Dining is also available on Indian Quad, especially on Passover weekdays.
RSVPs are not required to attend, but they are very helpful to us and appreciated so we can be best prepared. See quick form below:
Passover law is extensive, here are just a few campus-related items in a nutshell:
What are examples of Chametz – that we are forbidden to eat and own on Passover?
Bread, of course. Also Cheerios, oatmeal, granola bars, any pasta or pizza (aside for matzah-pizza), pretzels, cookies and cake. All beer, whiskey and vodka is actual Chametz.
There are 3 steps to rid ourselves of all Chametz in our possession for the 8 days of Passover:
1) Clean up, search for it, get rid of what you won't eat before Passover or burn it on the morning before Passover.
2) Nullify all remaining Chametz in your possession. This is a verbal declaration we say on the morning before Passover.
3) Sell non-perishable Chametz using the Halachic legal sale of Chametz – also available via Chabad.org online.
I cleaned up the best I could, but my roommate has his Chametz in the fridge and out in the open in my room!
That's not your problem. The Torah specificially prohibits "your" Chametz. not someone else's.
All I have is Matzah! How much Matzah can I eat? How will I survive the week?
Nonsense. Think outside the Matzah box. Chicken isn't Chametz, neither are any fruit and vegetables. There's lots to eat, but it can be harder to find. Kosher Dining on Indian Quad has Kosher for Passover meals. And Shabbos House is hosting 8 delicious lunches and dinner this holiday, for the first 2 and last 2 days of the 8 day holiday. Raizy cooks up a storm. You won't go hungry!
More in this section coming soon…
Here's a collection of Shabbos House Passover Insights and Tidbits, stories and inspiration…
HAGGADAH TWEETS
These are a bunch of Haggadah tweets in 140 characters or less, many should be self-explantory, others reflect deeper teachings in nutshell form:
DYING FOR CHAMETZ?
Whenever you get sick of Matzah and yearning for some Chametz, here's a short powerful read and image to keep in mind: https://www.shabboshouse.org/prayer-for-eating-chametz-on-passover-in-bergen-belsen-19
THREE PASSOVER WORDS
Rabban Gamliel (in the Haggdah) makes a very big deal about these three key Passover words
this may add a little insight.
A STORY FOR THE SECOND SEDER
My Zeide Reb Moshe Rubin often told this story on 2nd Seder. It's a telling story about the message in Tanya Chapter 41.
WHY SHMURAH MATZAH
about the Rebbe and Shmurah Matzah: hopefully explains why we go all out and what makes Shmurah Matzah different – especially for the Seder!
GIRD YOUR LOINS SAYS THE BIBLE
a funny story about my Zeide Reb Moshe Rubin and the girded loins at the Exodus:
JEWISH BODY LANGUAGE
some thoughts about reclining at the Pesach Seder:
MEMORIES OF PASSOVER PREP IN TASHKENT RUSSIA
My father-in-law Rabbi Galperin, shared in 2015 some of his childhood and teen memories of Passover preparations and celebration from Tashkent Russia.
Plus we have a bunch of Torah-Tuesdays that are Passover-related, including The Rebbe's Unconventional Wisdom on the Four Sons, Seder Song Symbolism, Passover Laws in Nutshell Form, and other topics. You can browse them by Spring semester on the Torah-Tues Archive page Alumni: email us for that class in PDF format.