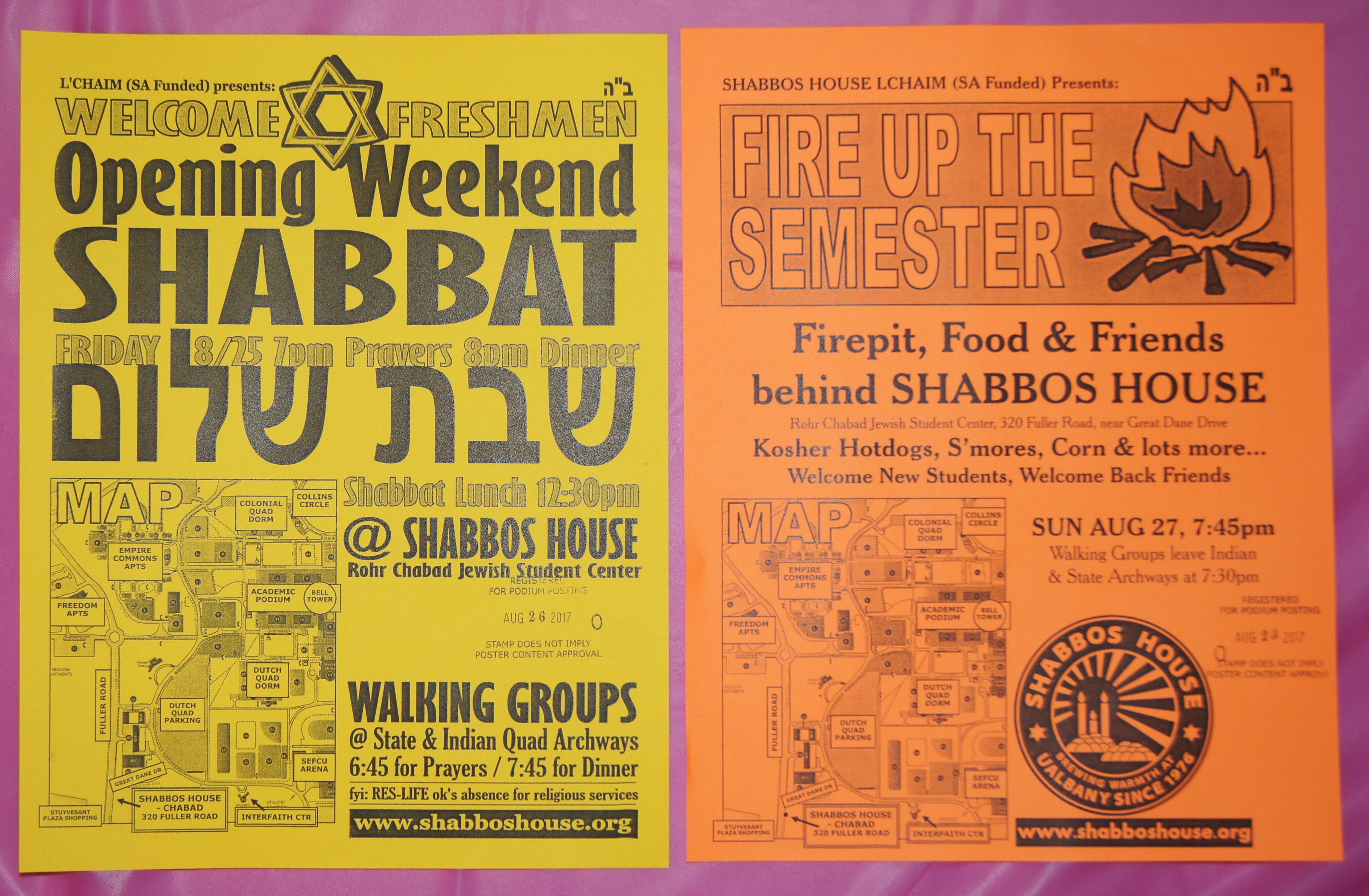 Welcome (back) to Jewish Life at UAlbany!
THURS 8/23 & FRIDAY 8/24
Look for Hillel Helpers at freshmen move-in on State and Indian Quads.
FRIDAY 8/24 SHABBAT DINNER
Walking groups will leave State and Indian Quad archways at two times: 6:45pm for those interested in prayer services, and at 7:45pm for those coming only for Shabbat Dinner. Shabbat Dinner this week is at Shabbos House Chabad. If you have a Res-Life floor meeting at this time, speak to your RA as there is special permission for attend religious services and Shabbat dinner and you can catch up about the floor meeting later.
SHABBOS DAY 8/25
Minyan starts at 10am at Shabbos House Chabad. Lunch starts at 12:30 or 12:45pm. You are welcome for services and lunch, or just lunch, whatever works. If you come late, that's fine, too. Feel right at home. Shabbos ends just in time this year at 8:23pm for the 8:30pm candle lighting ceremony on campus. We'll do Maariv and Havdalah at 8:25 for those not headed to the ceremony.
SUNDAY 8/26 BASSIE BAS-MITZVAH
No Minyan Brunch this Sunday, look for that next week. At 2-4pm we will be celebrating Bassie's (the Rubin's of Shabbos House 4th daughter) Bas-Mitzvah with students and alumni, family and community.
SUNDAY 8/26 WELCOME (BACK) FIREPIT
It's become an annual tradition on the night before classes. We get a fire going behind Shabbos House, and put out all kinds of food, from s'mores materials to hotdogs and corn on the cob. We'll also have lots of food and desserts from that afternoon's Bas-Mitzvah. Great opportunity to hang out casually, catch up with old friends, make some new friends. Walking groups will leave State and Indian Archway at 7:30pm to make sure new students know the way!
MONDAY 8/27 HILLEL WELCOME BBQ
This BBQ on the first day of classes is sponsored by Hillel and held at the Interfaith Center, 5-8pm. There will be walking groups from the freshmen quad archways for this event as well.
TUES 8/28: FIRST TORAH TUESDAY OF THE YEAR
Find out more about Torah-Tuesday by clicking here, or by speaking to friends who've gone. We serve dinner, there's original content-rich study materials that are creative and relevant. This week's topic takes a look at the effect of Torah through the lens of prescription medication. See other topics by clicking on the Torah Tuesday link.