To see all the Tishrei Holidays at UAlbany (Rosh Hashanah, Yom-Kippur, Sukkot and Simchat Torah), download our one-page PDF calendar at a glance: TishreiCard2018web.pdf or see our online Google calendar under Programs / Events Calendar.
ROSH HASHANAH: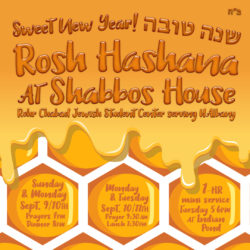 Most students head home for the Jewish New Year to spend it with family, but quite a few end up staying and joining us for prayers and meals.
UAlbany now gives off for the first day of the holiday but not the second. Students observant of the holiday can contact Rabbi Mendel for a religious letter.
No need for tickets, we don't charge for services, and students can come for the portions that work for them. But RSVPs are helpful to us so we can be best prepared, see short form below.
SEPT 9: EVE OF ROSH HASHANAH, THE FIRST NIGHT
Prayers 7pm, festive holiday dinner 8pm
SEPT 10: FIRST DAY OF ROSH HASHANAH
Prayers 9:30am, Shofar approx 11:30am, Lunch approx 1:30am
SEPT 10: SECOND NIGHT OF ROSH HASHANAH
Prayers 7:30pm, Dinner 8:30pm
SEPT 11: SECOND DAY OF ROSH HASHANAH
Prayers 9:30am, Shofar approx 11:30am, Lunch approx 1:30am
SEPT 11: ONE-HOUR SERVICE ON ROSH HASHANAH AFTERNOON
5-6pm at Indian Quad Gazebo. Quick prayers, Shofar blasts, apple in honey, waterside Tashlich etc.
YOM-KIPPUR:
More students tend to stay up for Yom-Kippur. We do a joint traditional student-friendly service both nights, and during the day split up between Orthodox and Reform. The pre-fast is at Shabbos House, the break-fast is by Hillel, and all the prayer services are held in the Campus Center.
SEPT 18: PRE-FAST
4-6pm at Shabbos House
SEPT 18: KOL NIDREI
Yom Kippur services in Campus Center Assembly Hall, begin 6:30pm and end about 8pm
SEPT 19: YOM-KIPPUR MORNING
Traditional/Orthodox services in CC Assembly Hall at 9:30am, egal/reform service in CC 375
SEPT 19: CLOSING PRAYERS
Mincha 5:30pm in CC Assembly Hall, followed by Neilah at 6:30pm, Fast ends: 7:40pm
SEPT 19: BREAK-FAST
by Hillel in the fire-side lounge outside CC Assembly Hall
—-
and then comes to joyous climax of the Tishrei holiday season, stay tuned for Sukkot and Simchat Torah!