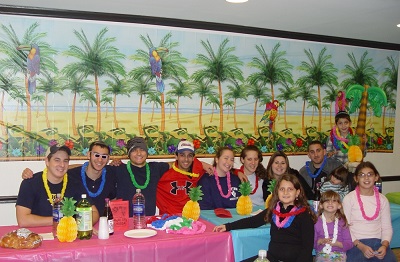 The weather is just starting to turn cold at UAlbany, so we figured it was a good time to bring in a taste of the tropics for Hawaiian Shabbat! The last time we did this Shabbat theme was back in the old house, before the move to the new Shabbos House in 2008. This picture is with the set-up crew that Friday.
Friday, November 10th, 2017. Note new time: Prayers 6pm, Dinner 7pm, since the clocks have changed.
Menu includes pineapple chicken and island rice, volcano-lava gefilte fish, upside down pineapple cake and macadamia nut & white choco-chip cookies, coconut water – all with a tropical decor. And hot soup (not Hawaiian) for it being a cold night.
Still working on the accompanying Torah thought and life message for this year, for now here's something we said  last time about the "Shaka" wave. Since we ordered lei necklace garlands, this time we shared something on Great Neck vs. Little Neck, about necklaces and bottlenecks in a spiritual sense.