Here's what's going on this week (end of April, beginning of May 2018) at Shabbos House and in the UAlbany Jewish Community:
Sunday 4/29:
Minyan Brunch 10:30am + a little Talmud (note new time)
Kehilah Board Elections 4pm in Humanities 114
Lchaim Old and New Boards joint dinner and planning meeting 6:30pm
Monday 4/30:
Great Danes for Israel Board Elections in Education 126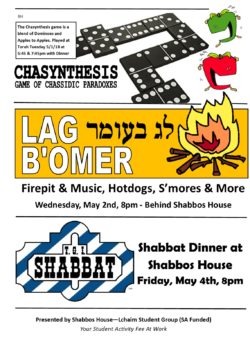 Tuesday 5/1:
Hillel's Tuesday Schmoozeday 11am-2pm in CC 320
"Chasynthesis Game" made by Rabbi Mendel as a blend of dominoes and apples to apples on classic Chassidic paradoxes, games played at both 5:45 and 7:45pm at Shabbos House with dinner served
Wednesday 5/2:
Lag B'Omer Firepit starts 8pm behind Shabbos House, looking for some musicians to strum up some spirit. We'll have hotdogs, s'mores, other treats. Hopefully some stories and inspiration.
Thursday 5/3:
Shabbos Prep, Cooking and Setup 7:30pm and on at Shabbos House
Friday 5/4:
Shabbos House Dinner. Prayers 7pm, Dinner 8pm. This is the last Shabbat dinner at Shabbos House before Finals Week. We will be having Shabbat dinner during Finals week and then an extended Shabbat and Shavuot holiday weekend over graduation.