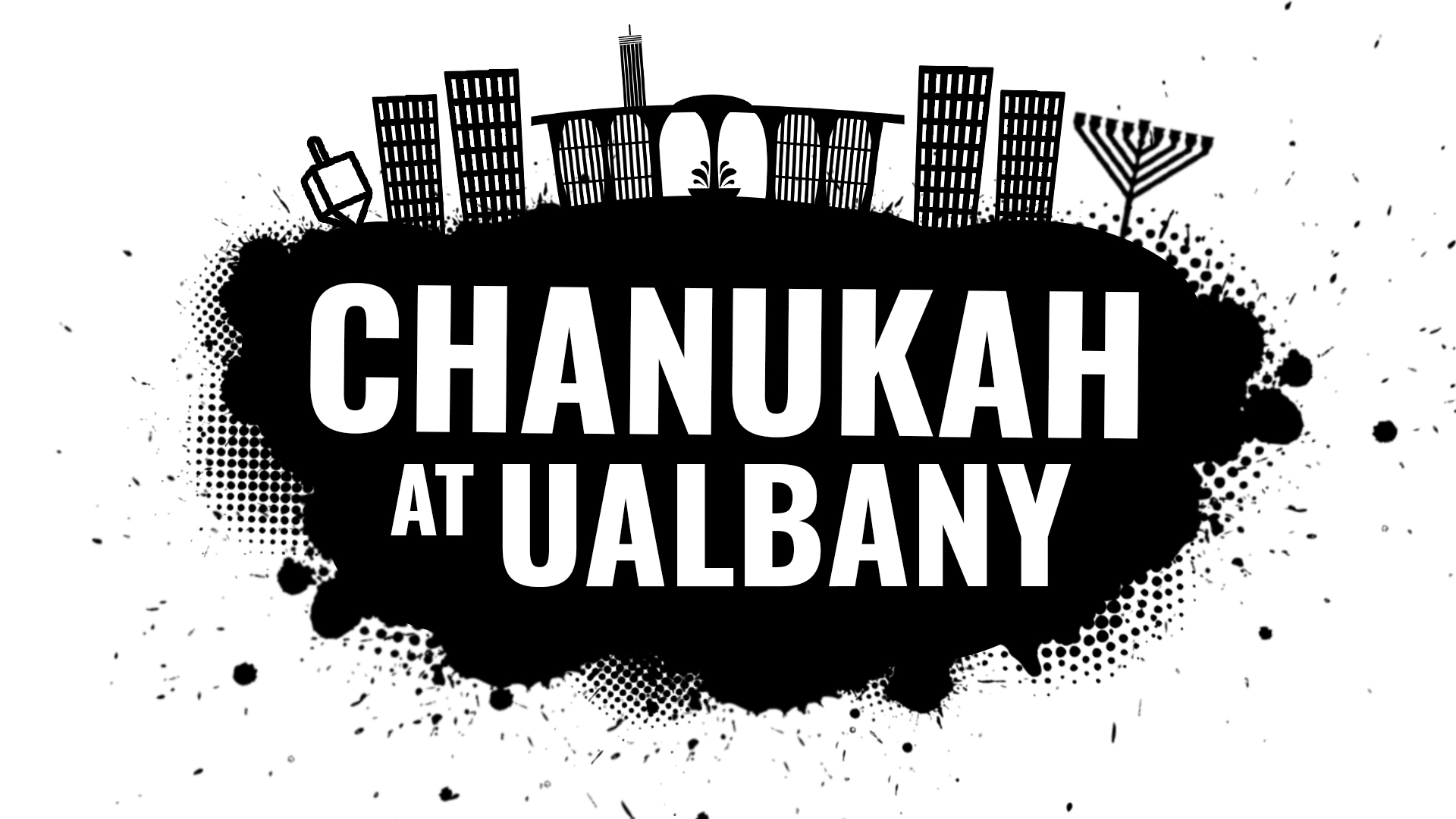 Chanukah comes early in 2018, it begins Sunday night December 2nd and the 8th night is Sunday, December 10th.
Students who can't or prefer not to light in their own living spaces are welcome to come light the Menorah at Shabbos House on any Chanukah Night, see below for nightly times which vary when we are at a campus event or communal activity etc.
Here's the event listing for Chanukah 2018 at UAlbany, more details soon:
SUNDAY 12/2 – FIRST NIGHT
5-8pm Open House at Shabbos House, come over to light Menorah, enjoy some hot sizzling homemade Latkes, fresh hot dougnut balls, too – which you can accessorize with fillings and toppings. We're making homemade from scratch Latkes only on this first night of Chanukah, so come out for that!
In addition to menorahs and candles which you can either light here or take with you, we also have an option for granite Menorah-making, an upgrade on the Hebrew school Menorahs made of wood and metal ring nuts.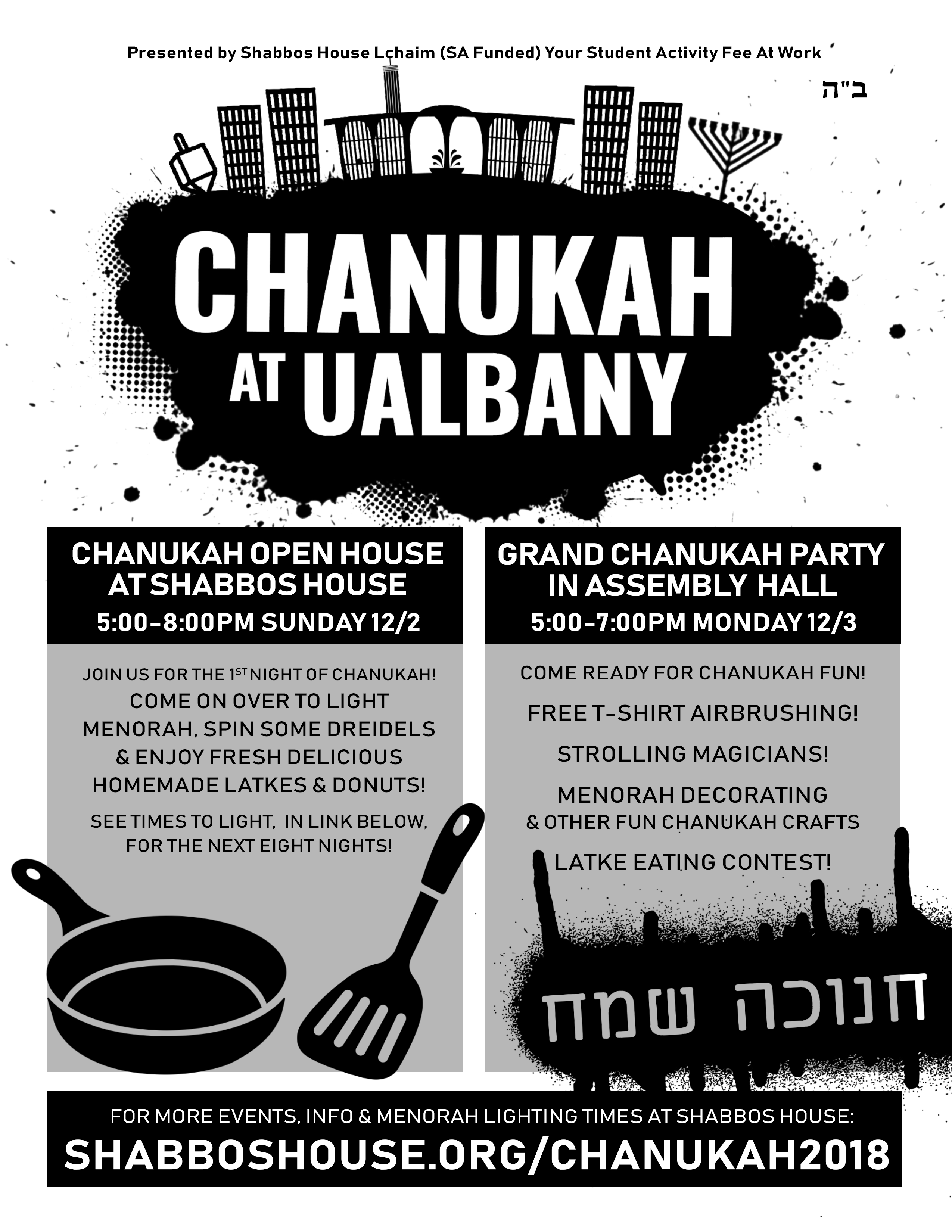 MONDAY 12/3 – SECOND NIGHT, CHANUKAH PARTY ON CAMPUS
5-7pm in Assembly Hall. We're ordering event tshirts, booking airbrush artists, strolling magicians, Dreidel-esque Spin-Art machines, and hoping to line up contestants for the Latke Eating Contest. Sign up here if you are interested to be a contestant in the Latke Eating Contest. There will be a communal Menorah lighting, Chanukah cookie decorating, Menorah crafts and possibly a Hebrew name painting wall and a Sofer (scribe) inscribing Hebrew names on parchment strips. Look for a host of fun activities for this Chanukah celebration on campus. The Chanukah Party event is planned for the UAlbany Campus Center Assembly Hall. We changed the timing to 5pm-7pm as we don't want to conflict with the Aly Raisman Speaker Series event at 7:30pm in SEFCU Arena. This event is sponsored by Shabbos House Lchaim (SA Funded) with generous support from a ZBT (Zeta Beta Tau) Heritage Grant.
Open House Menorah Lighting later that evening at Shabbos House from 9pm-10pm. TUES 12/4 – THIRD NIGHT – WOUNDED MODERN-DAY MACCABEES
7:30pm. Change-up from Torah-Tuesday. Two wounded Israeli soldiers will be visiting to share their story, very appropriate for Chanukah to celebrate these modern day Maccabees who made sacrifices in defense of Israel. This event is also open to the broader non-student community. Parking available in UAlbany's Dutch Quad Lot in the rows closest to Shabbos House. Dairy dinner and Chanukah nosh will be served.
Open House Menorah, come and light yours anytime from 7:30-9:30pm.
WED 12/5 – FOURTH NIGHT – HILLEL MOVIE NIGHT
Hillel will be showing "The Hebrew Hammer" film along with Chanukah nosh and treats, on this Wednesday night of Chanukah, in the Campus Center West Multipurpose Room. 7:30pm.
Open House Menorah Lighting at Shabbos House 5-7pm.
THURS 12/6 – LATKE TABLE
Stay tuned for our annual Lchaim Hot Latke Table. Details being finalized. Hoping to be outside the Campus Center at the Small Fountain between 11am-2pm, see us there!
FRIDAY 12/7 – SIXTH NIGHT – HILLEL SHABBAT DINNER
Menorah has to be lit before Shabbat Candles and Shabbat Begins. Open House Menorah at Shabbos House 3-4pm, plus we'll have a Yartzeit/Kaddish Mincha at 3:45pm with Menorah Lighting at Shabbos House, a little Minyaneer Chanukah celebration and then walk over to Hillel Prayers 6pm and 7pm Chanukah Shabbat Dinner.
6pm Prayers, 7pm Shabbat & Chanukah Dinner with UAlbany Hillel in the Campus Center.
SAT 12/8 – SHABBAT DAY OF CHANUKAH – SEVENTH LIGHT AT NIGHT
10am Minyan at Shabbos House, 12:30pm Shabbat Lunch with a Chanukah & Rosh Chodesh Twist.
Open House Menorah Lighting after Shabbat at Shabbos House 5:30-7pm.
Sat Night Hillel event with Service Auction and a DJ Gala – stay tuned for details. To be held in the Campus Center West Multipurpose Room.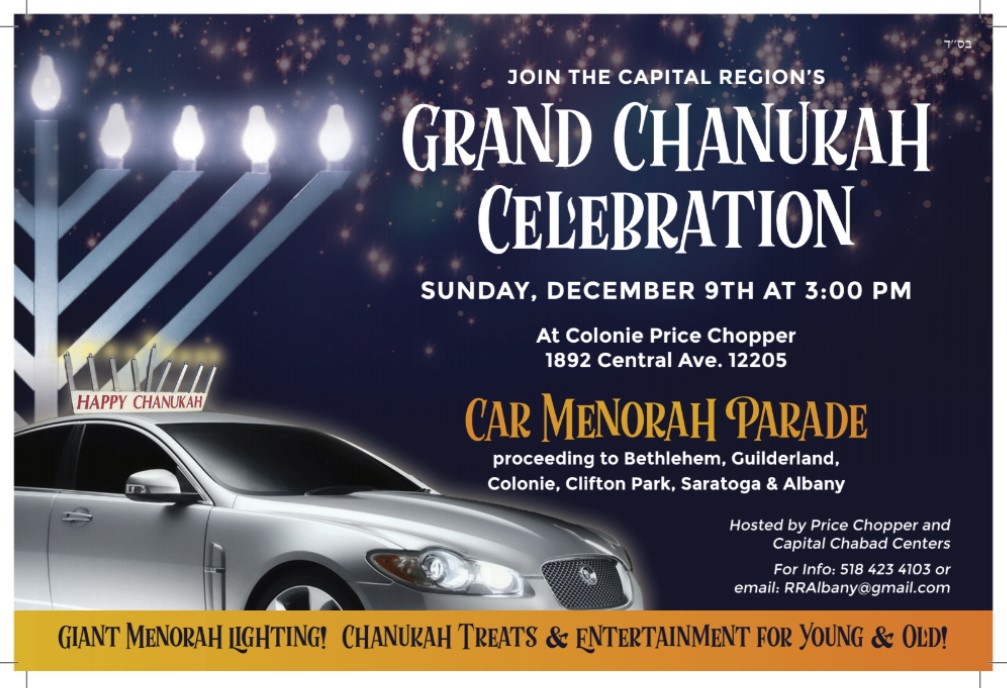 SUNDAY 12/9 – 8TH AND LAST NIGHT OF CHANUKAH
Chanukah Minyan Brunch at 10:45am. This Brunch includes a short weekday Torah reading.
Stay tuned for a "Menorah Car Parade" to begin with a Chanukah Party celebration at the Kosher Price Chopper in Colonie at 3pm and then spread out around town starting at 4pm.
Open House Menorah Lighting at Shabbos House anytime between 7pm to 9pm.