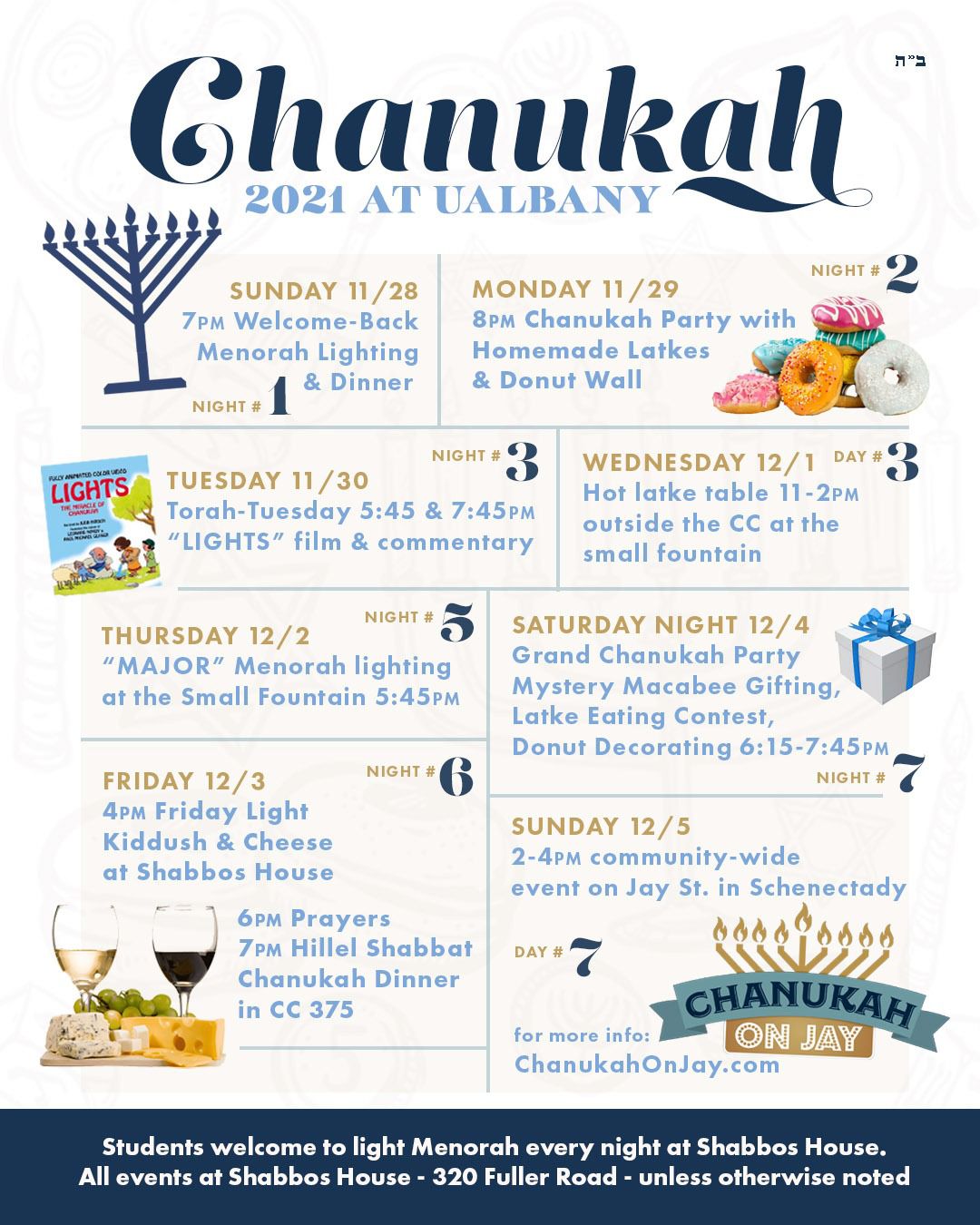 Chanukah falls early this year, beginning on the Sunday night at the end of Thanksgiving Weekend 2021. All of Chanukah will be before Finals Week so plenty of opportunities to celebrate this joyous and luminous holiday as a campus community.
Click on image on left for an enlarged handy "Chanukah 2021 at UAlbany" at a glance, and to share with friends via social-media to share with others!
See this online PRE-CHANUKAH FORM to signup for: (1) Mystery Maccabee (give a $10 gift to a randomly assigned fellow student) (2) invite a Jewish professor to our "Major" Menorah lighting at the Small Fountain on Thursday night (3) to be a contestant at our Latke Eating Contest on Sat Night Dec 4th.
Remember, you can come light Menorah each night at Shabbos House!
SUNDAY 11/28 – FIRST NIGHT
7pm Welcome Back Menorah Lighting with Dinner and Chanukah Treats
MONDAY 11/29 – SECOND NIGHT
8pm Chanukah Party with sizzling delicious homemade Latkes, and a gorgeous doughnut wall -for both photos and noshing!
TUESDAY 11/30 – THIRD NIGHT
Community Car-Menorah Parade will be coming through campus just after 4pm on Tuesday, entering on Western Ave, passing Empire Commons, exiting on Washington Ave, and making a big circle at Collins Circle. Come out to see it, it will be passing through quickly!
Torah-Tuesday, Chanukah-themed, of course. "Lights" film excerpts and commentary at 7:45pm, over a dairy dinner. Did you know that dairy foods are a Chanukah tradition, too?
WEDNESDAY 12/1 – THIRD DAY
Hot Latke Table outside the Campus Center at the Small Fountain (Podium Level). Stop by between 11am-2pm for a warm taste of Chanukah on a chilly UAlbany December day! Plus we have gelt, and dreidels and treats.
Remember, as on every night of Chanukah, students are welcome to stop by after nightfall, to linger, hangout at Shabbos House to light their Menorahs and take in the candlelight and Chanukah spirit!
THURSDAY 12/2 – FIFTH NIGHT
"Major" Menorah Lighting with students and faculty at the UAlbany Small Fountain, at 5:45pm. Join for this brief outdoor communal lighting ceremony, as the Menorah reaches its tipping point of ever-increasing light!
Also look for a Hillel Chanukah event later that Thursday evening.
FRIDAY 12/3 – SIXTH NIGHT
4:00pm Friday Light! Remember that on Fridays, Chanukah Menorahs must be kindled before sunset! Come light your Menorah at 4pm (sundown comes early this time of year!) followed by "Kiddush and Cheese" at Shabbos House. We'll walk over to the Hillel Shabbat dinner afterwards.
6:00pm Prayers and 7:00pm Shabbat Chanukah Dinner with Hillel in Campus Center Room 375
SAT NIGHT 12/4 – SEVENTH NIGHT
Grand Chanukah Party 6:15-7:45pm at Shabbos House with the Mystery Maccabee Gifting (we'll have extra gifts for those who didn't sign up earlier), the Latke Eating Contest with live play-by-play action (contestants can sign up using the pre-Chanukah form at the top of this page), and personalized Doughnut topping and decorating!
Hillel's "Winter Formal" follows that same Saturday night, starting 8:30pm at the Ground-Up on Quail Street.
SUNDAY 12/5 – SEVENTH DAY
Minyan Brunch (with Hallel and Chanukah Torah Reading) at 11:00am
Community-wide outdoor street Chanukah festival on Schenectady's Jay Street, near City Hall. More info at www.ChanukahOnJay.com with illusionist, entertainment, live music and break-dancers, activity booths (one run by our UAlbany Shabbos House Lchaim students) and much more. Great way to celebrate Chanukah outdoors with the broader local community!
Students are welcome to come light their Menorahs, as on every night of the holiday, in the evening at Shabbos House. Sunday night will be the eighth and last night of Chanukah 2021!