INVEST AND FORTIFY 24-HOUR CAMPAIGN DEC 2018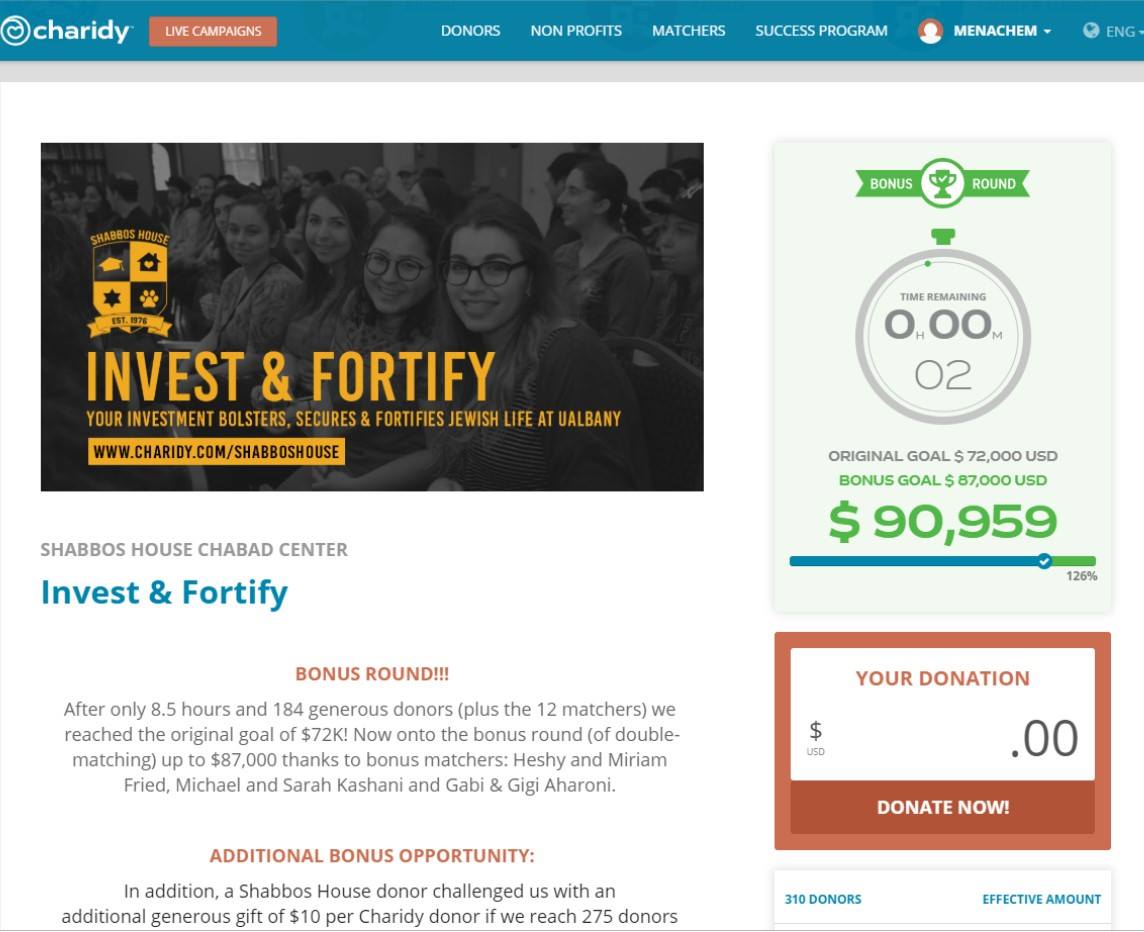 Many thanks to all who participated this 18th-19th of December 2018, 10th-11th of Tevet 5779! Matchers and donors, alumni and parents – all made this happen within 24 hours!
The original base goal was $72K on a 2:1 triple match. That goal was reached in the first 8 hours of the campaign. The bonus goal of $87K on a 1:1 double match was reached and surpassed with a few hours to spare the next morning, ending up with a campaign total of $90,959!
There were also those who contributed offline and even after the 24 hours, eager to be part of this outpouring of support.
The theme of this campaign was "Invest and Fortify" fitting for the Tenth of Tevet which commemorates the siege around ancient Jerusalem. Shabbos House aims to fortify and bolster each individual student, our Jewish campus community as a whole, to strengthen Jewish identity and involvement. A portion of these funds raised will also go towards steps to better secure Shabbos House (without fortifying it physically – as we want to maintain a warm, welcoming homestyle atmosphere).
Special thanks to the matchers whose generosity enabled and propelled this campaign: Gabi & Gigi Aharoni, Carl Bloomberg, Dr. Arthur and Nanette Brenner, Josh and Faith Fisch, Heshy and Chaya Miriam Fried, Yehudah and Rachel Gass, Daniel Jacobowitz, Sam Jacobowitz, Michael and Sarah Kashani, Brad and Maital Legum, Shmuel and Sara, Arie and Chana Paller, Abe and Ariella Sedgh – and especially Norman and Micki Massry in loving memory of Morris Massry.
PHOTOS & CAPTIONS
For this "Invest and Fortify" campaign we posted a random assortment of Shabbos House pictures from over the years, with caption twists connecting in some way to the theme of the campaign. Here are they are collected in no particular order, (they are not posted in the order they were during the campaign) along with their connective captions:
NOTE: Many phones will crop these photos off and as designed here are best viewable on a full screen but you can get the flavor anyways.
Fortifying Jewish life at UAlbany is a team effort, each individual contributes in their own way to strengthen and enrich the fabric of our campus community.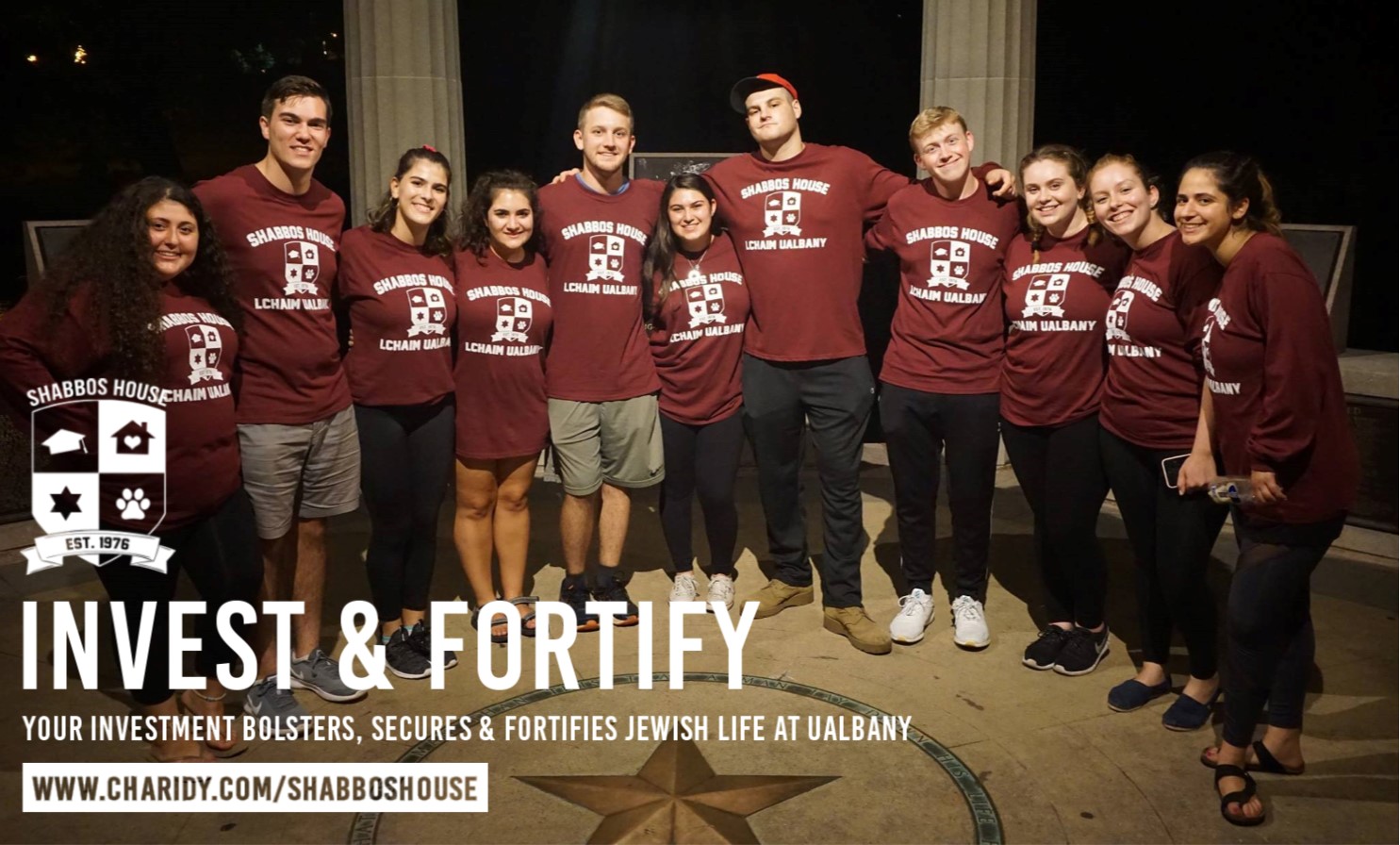 These UAlbany alumni graduated approx 5 years ago and we continue to be very proud of them! Holding the Menorah high at UAlbany… fortifying Jewish spirit and identity!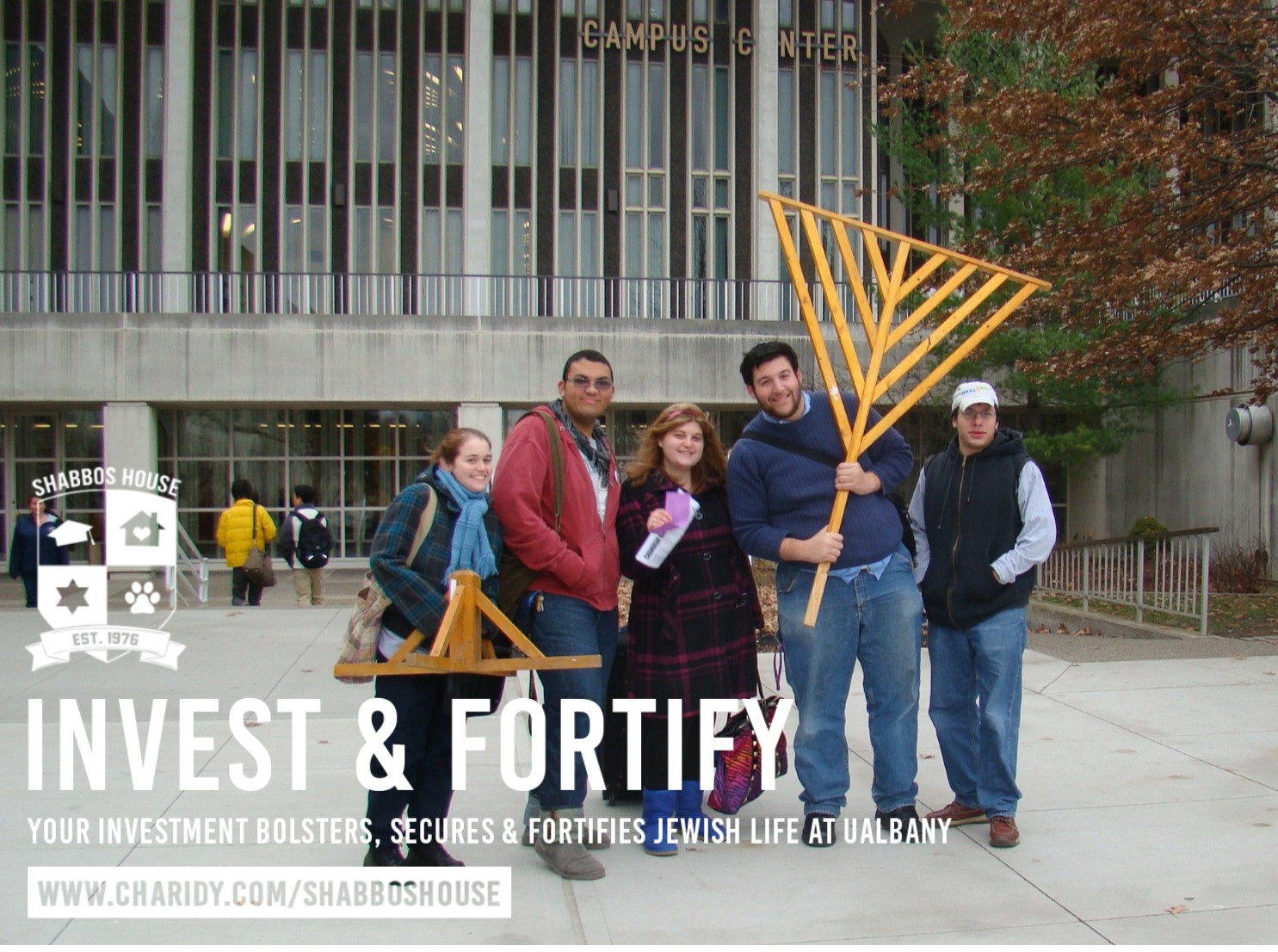 Like Challah-Baking (this picture below is from close to 20 years ago, Mushky was the little girl there) it takes time for the dough to rise, for everyone to know about it, for it all to fall into place..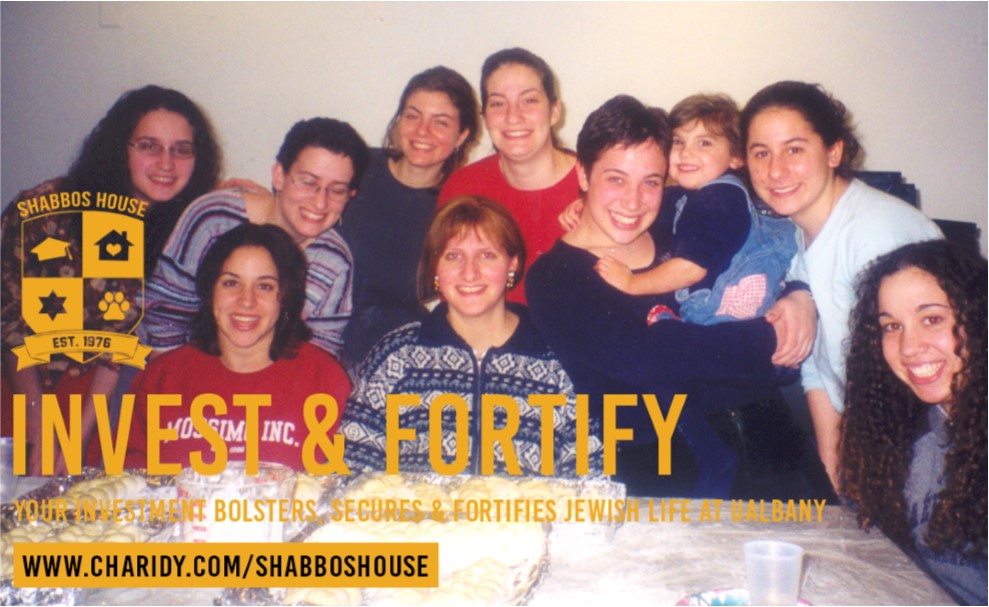 Fortify may seem like a serious or scary word, but not when you think Purim… or Shabbos House in general. Help us fortify Jewish life in pleasant, positive, fun, engaging and relevant ways.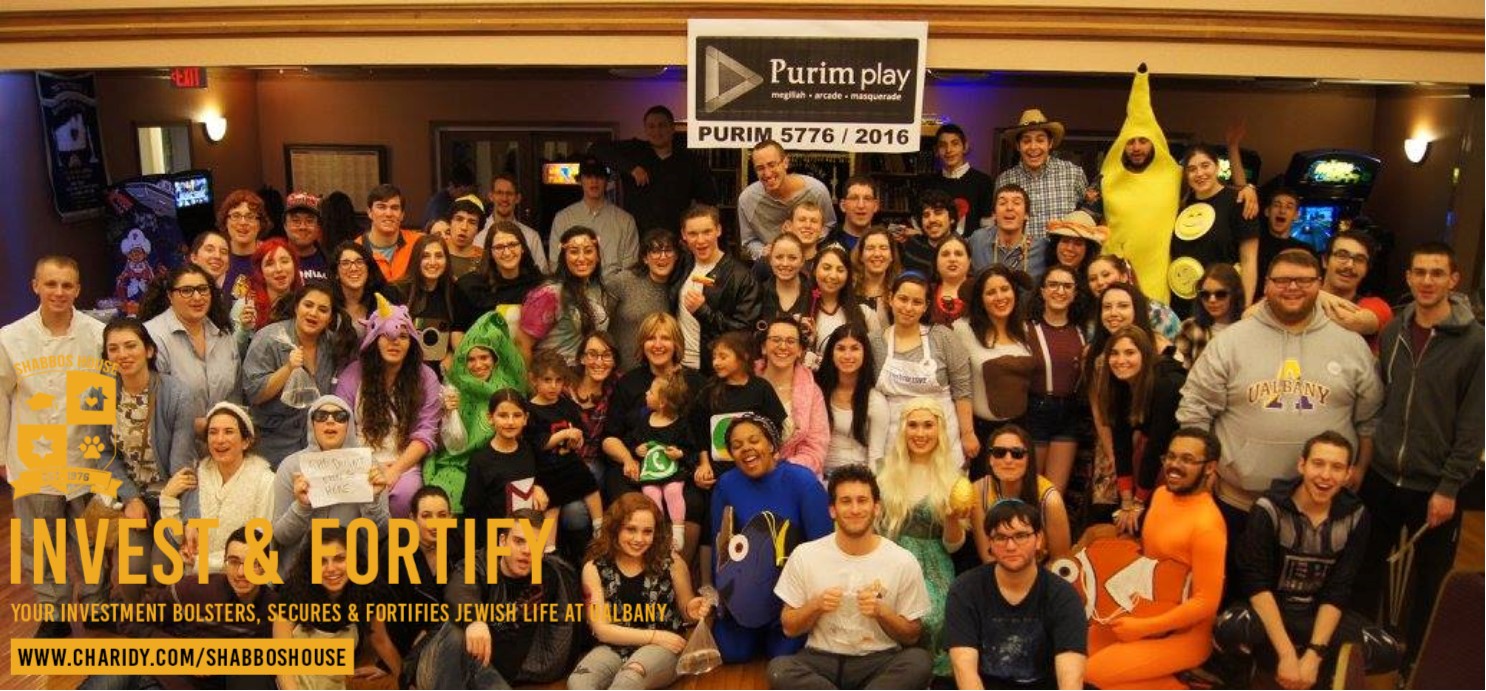 Just after midnight now, and the campaign begins at 1pm tomorrow (is that today?) this subway photo was also late night (a great night it was!) — what's the #InvestandFortify message? (1) it takes extending outward to get everyone in, and (2) we're are concerned with those missing subway wall tiles, we don't want anyone left out.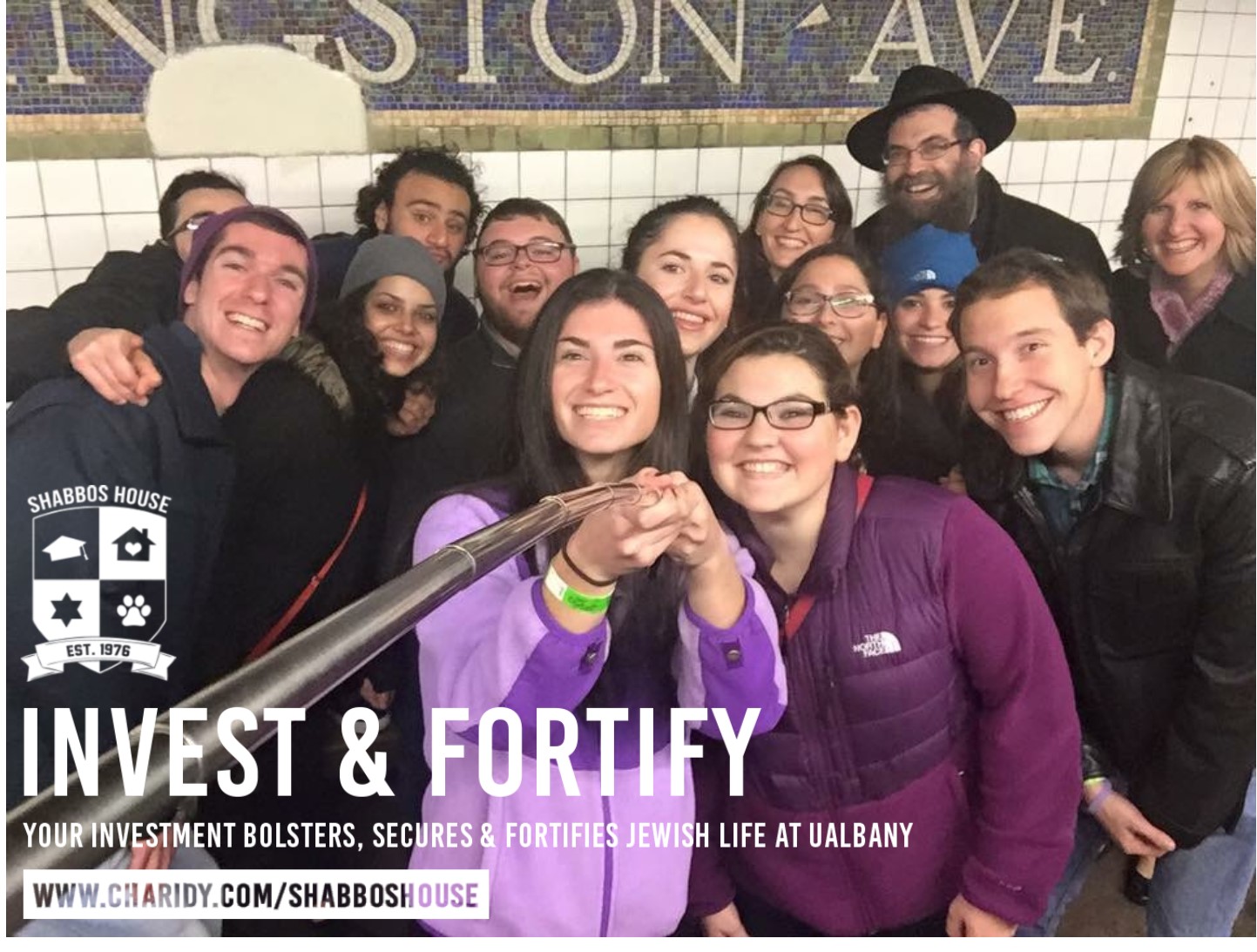 This was from "Roll Your Own" (sushi) event 12-15 years ago. Shabbos House doesn't order in, so much is made in-house, homestyle, from scratch. #InvestandFortify, its what you put into it that makes it so much stronger and longer-lasting.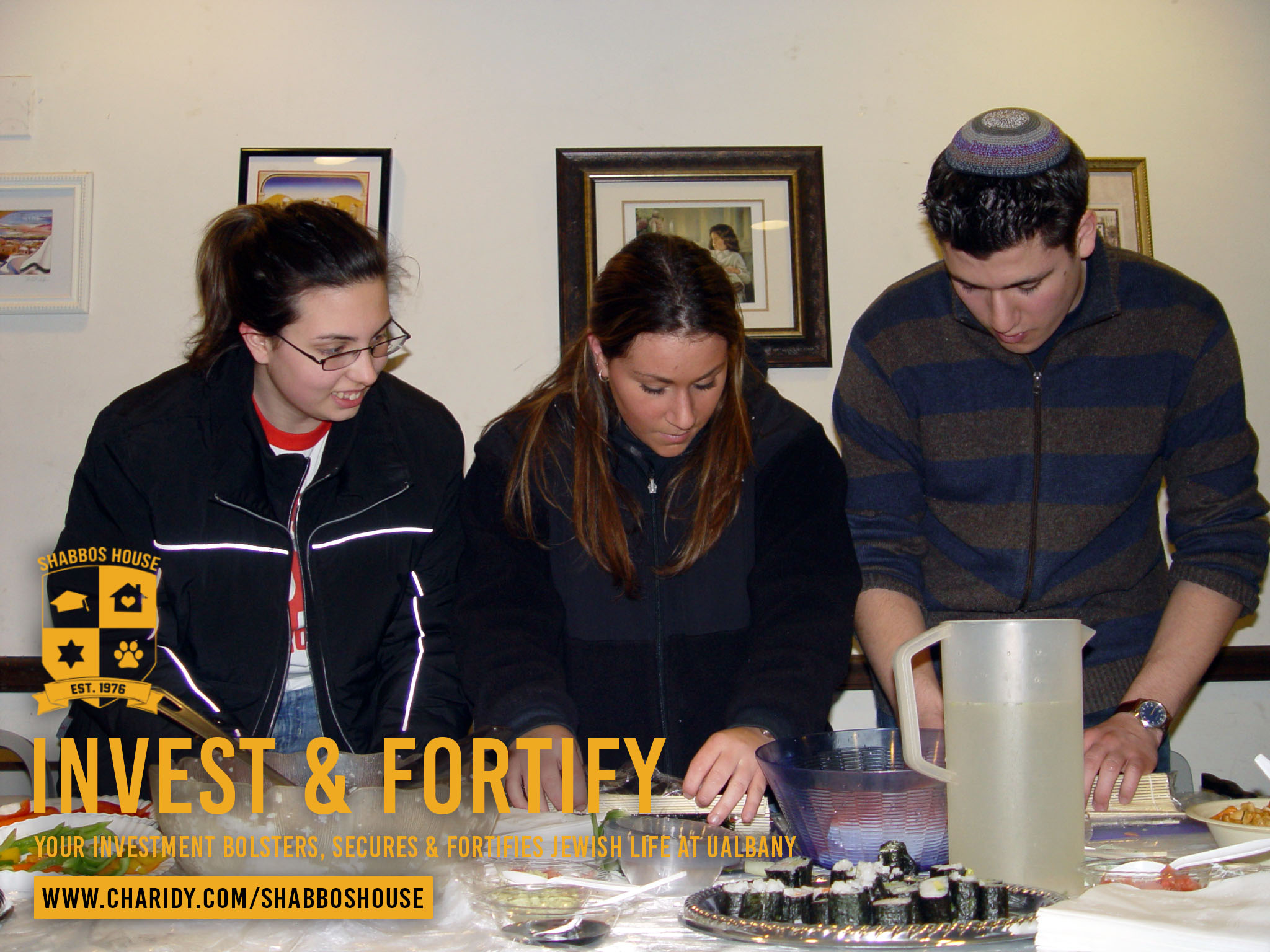 Shabbos House thrives on each individual's involvement, and like this big bucket of Lego, each piece (each person's involvement, each Mitzvah, each contribution) really adds up. And yes, that is our Moshe, and the huge Lego bucket (from J.A.) continues to entertain, but alas, the good ol' station wagon in the background (an alumni gift from Oren S.) is finally no more.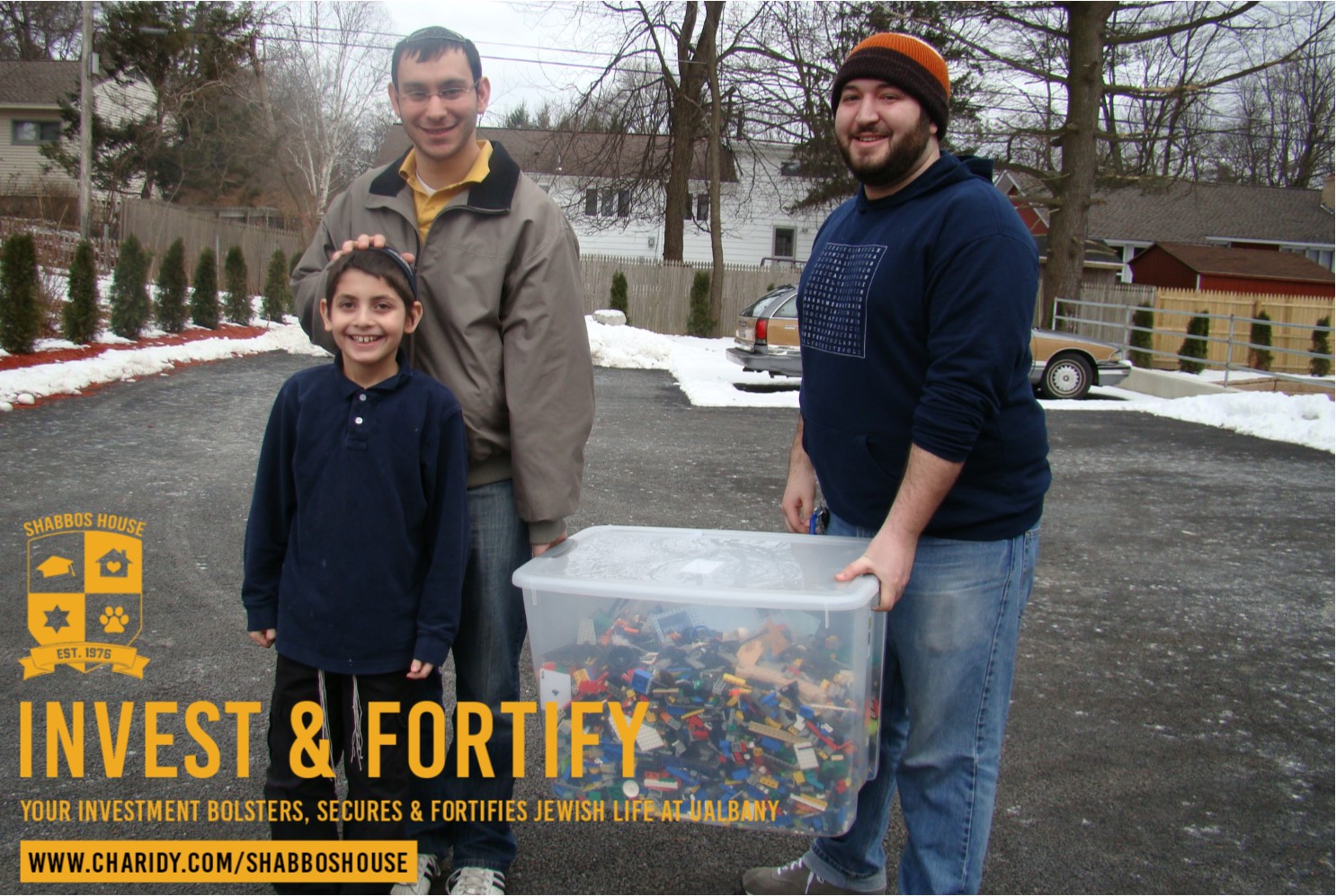 Two freshmen, a sophomore and a Rabbi – at the entrance to Shabbos House. It's not a joke, these guys are invested and they fortify our campus community.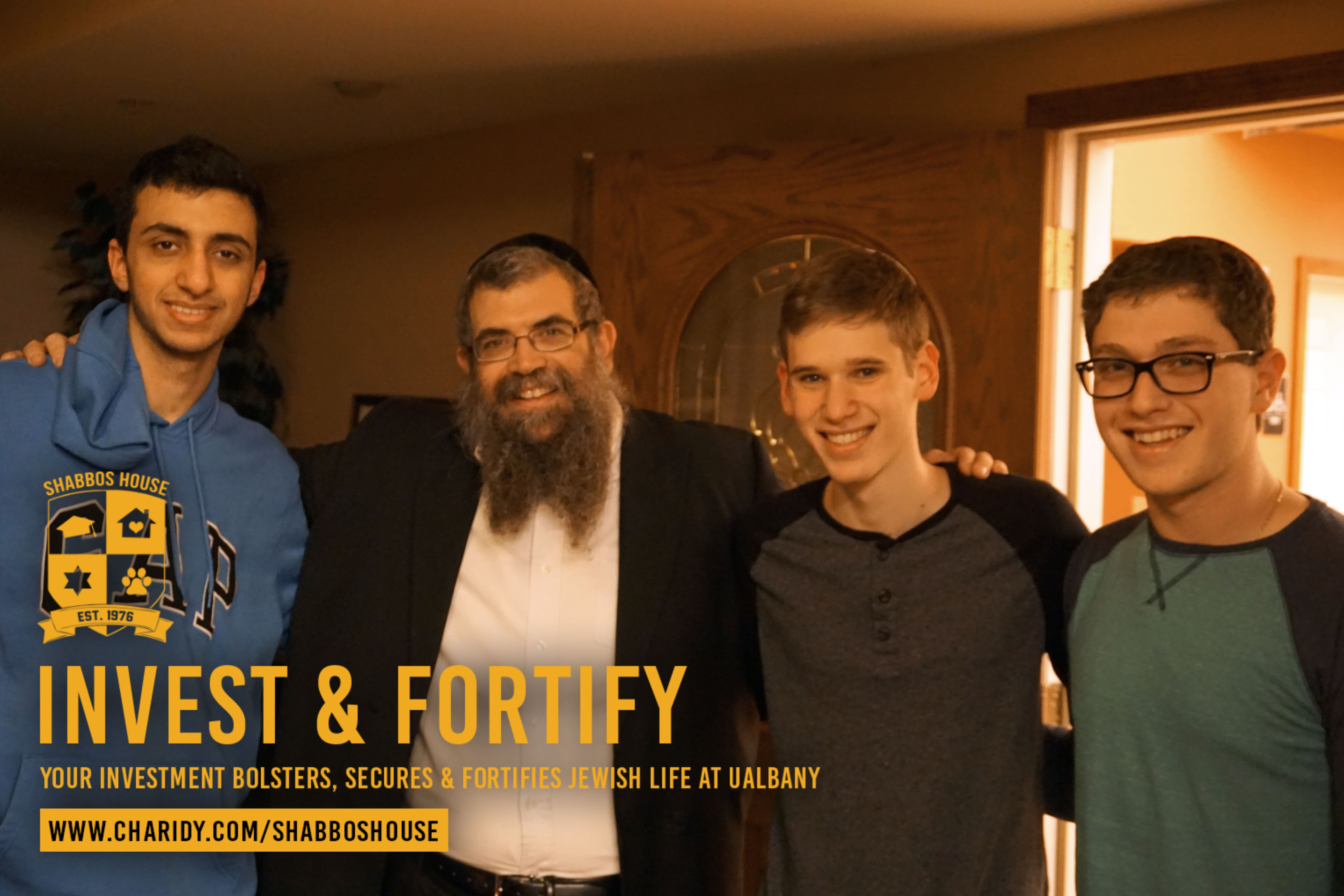 One branch at a time. It works for Schach on the Sukkah and for this #InvestandFortify crowdfunding campaign. BTW, these guys added zest and pizzazz to everything!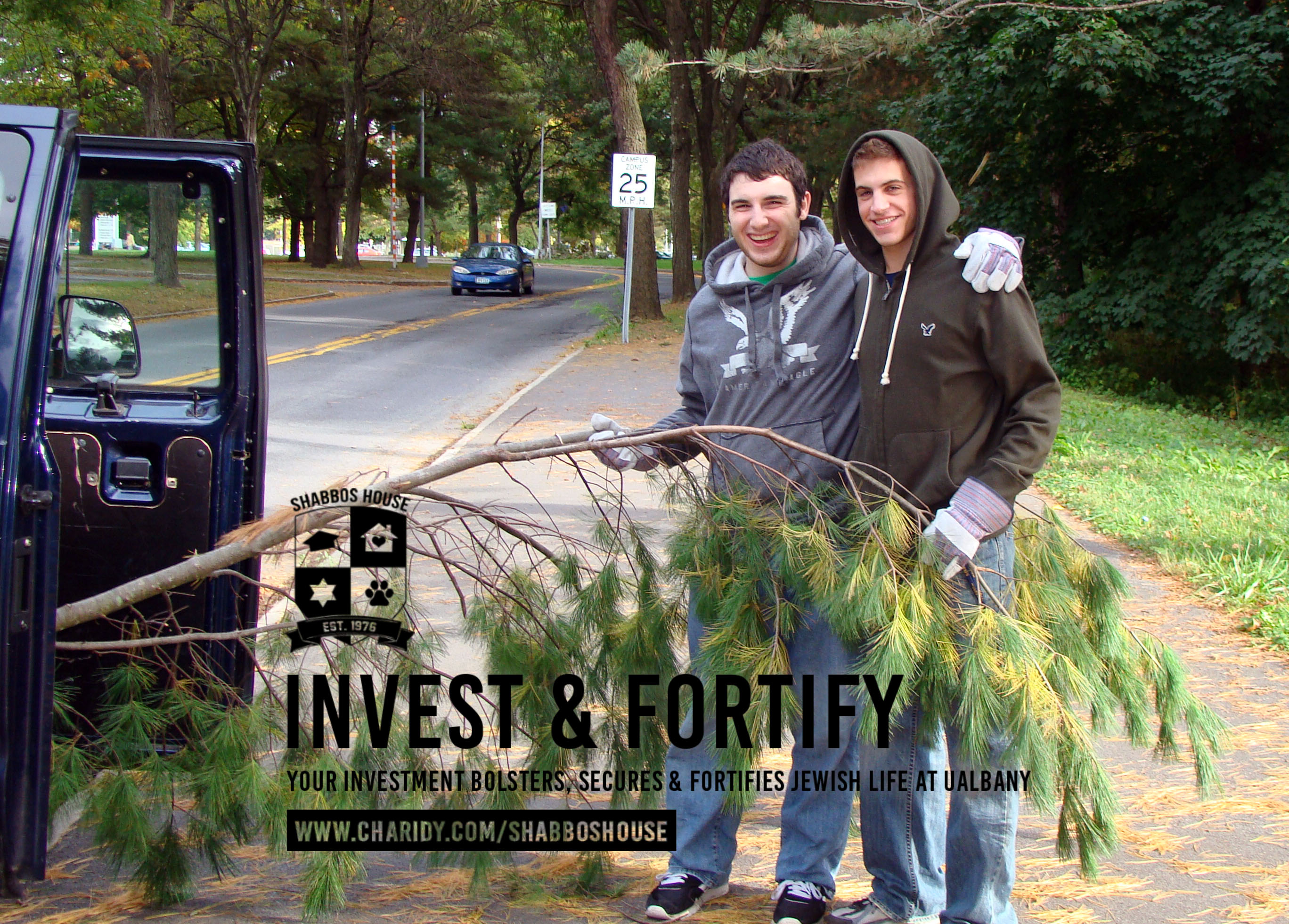 What a rally! (these are "rally towels" pictured) 40 minutes in and already at 20%! Thanks to the first 35 donors.. much appreciated.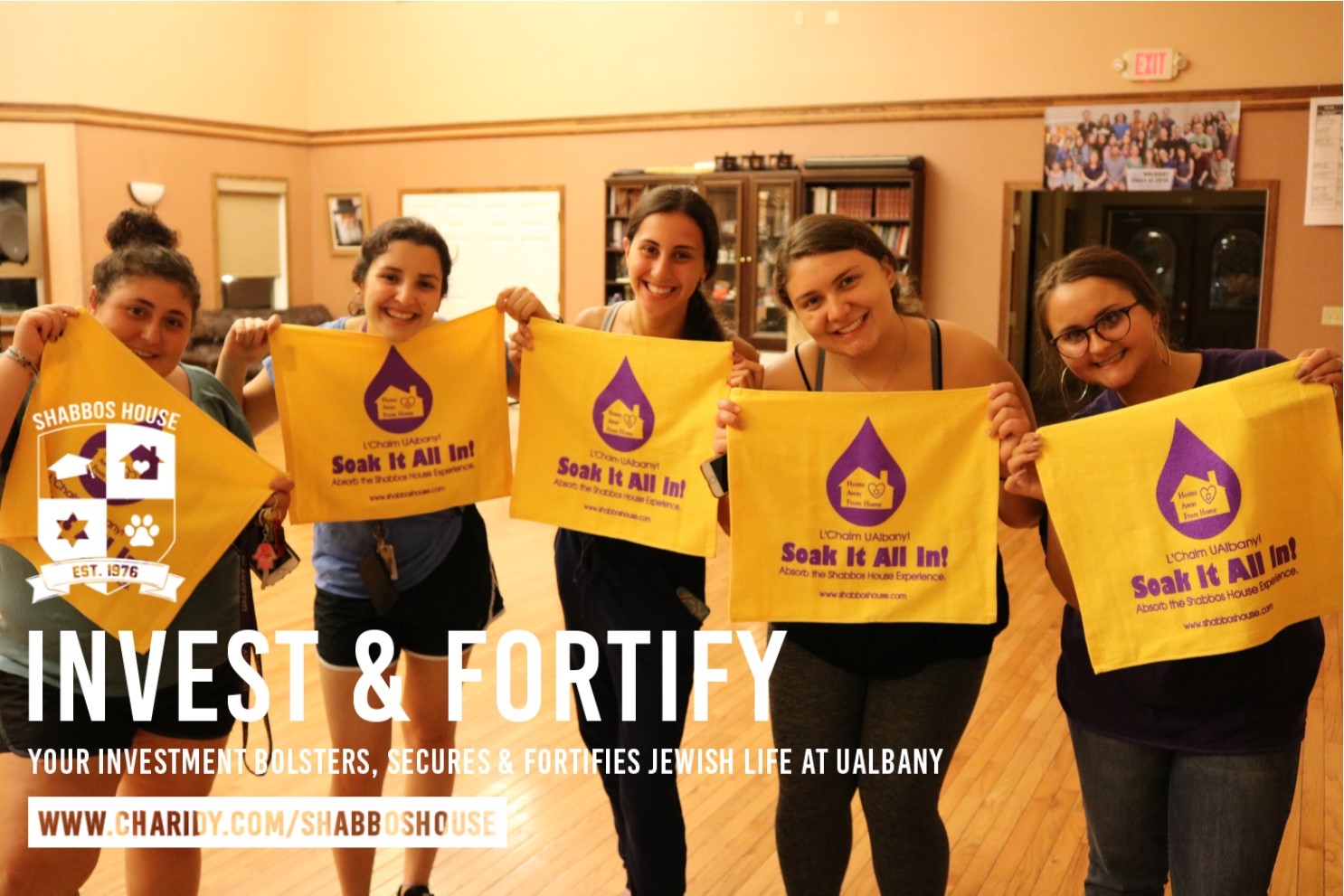 Messages of Light! One way we fortify is certainly with light…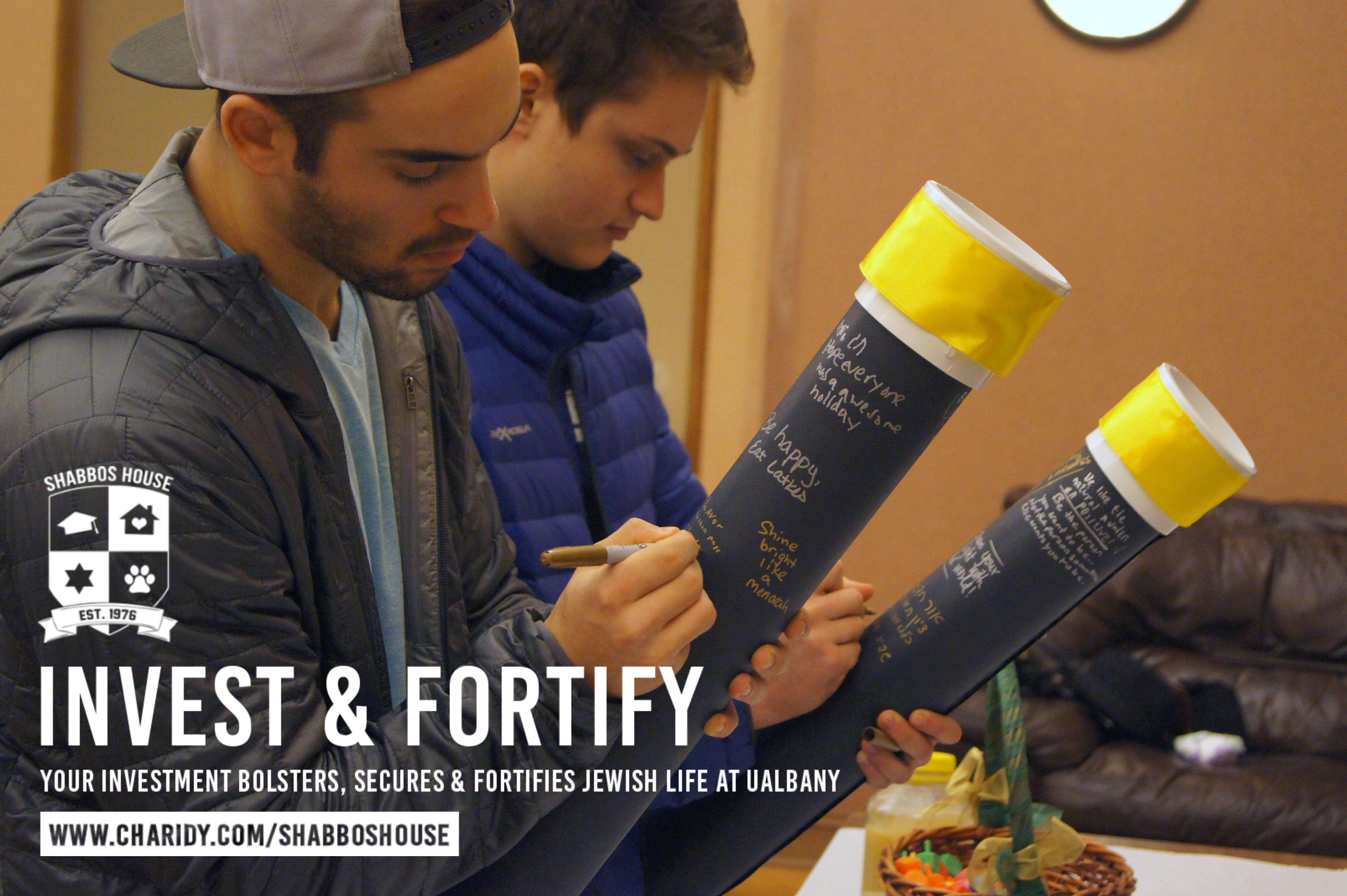 Hop on to make this pop even more! We now have matchers to take this campaign to a bonus round (of double matching) but first have to finish this original goal of $72K… thanks all for getting us to this point only 8.5 hours in!

This whole 24 hour challenge (plus a bonus round) is somewhat of a gamble, but we have better odds than a Dreidel because of the many friends who come from all sides through spins and turns for Shabbos House!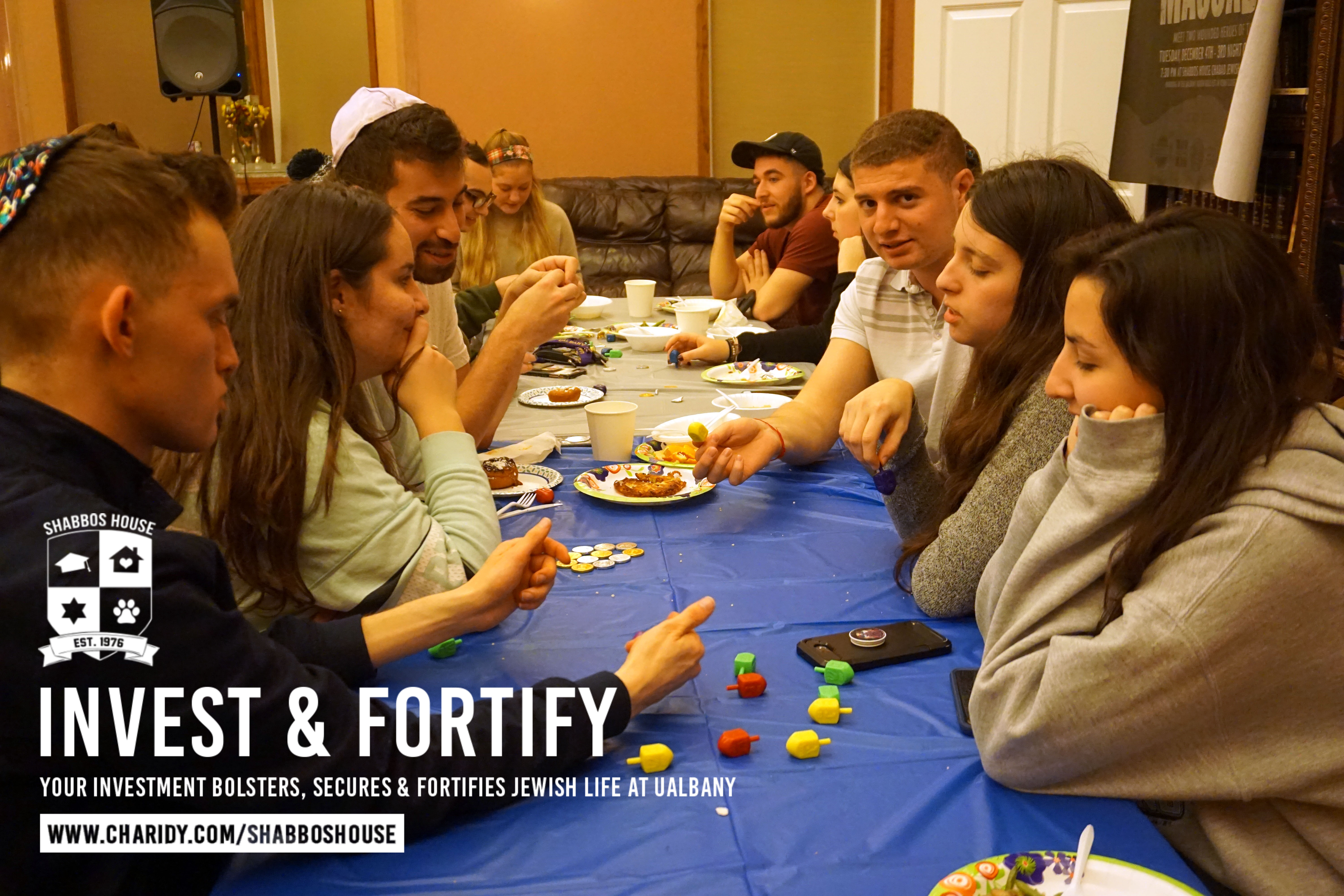 This one is about Hamantachen – and the people of course. Thanks for filling (pun intended) our lives, home and atmosphere with meaning and flavor. Let's keep pushing that filling into every corner, somehow it all comes together!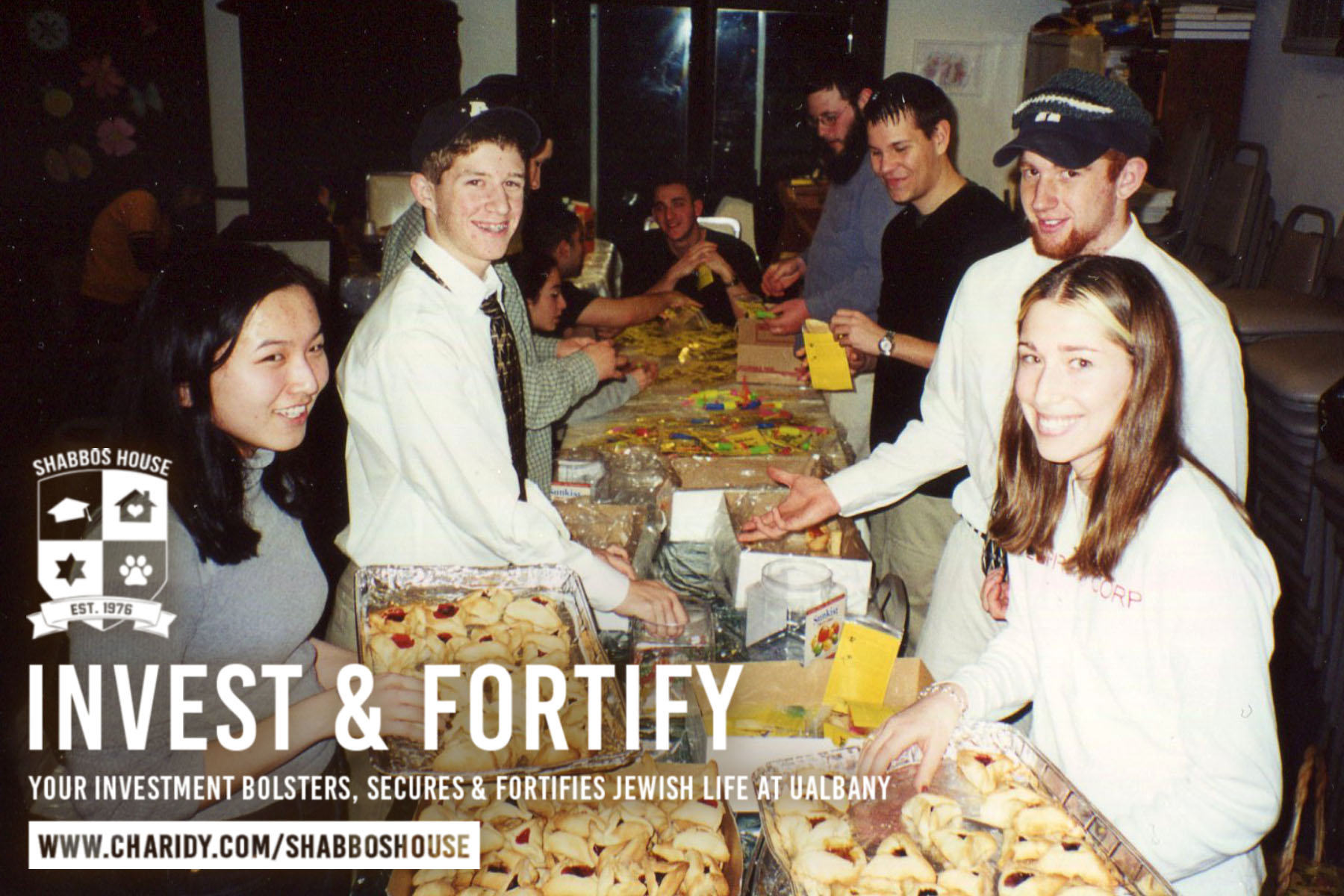 Students nowadays have no idea about this annual tent. But you guys all pitched in – in so many ways – to help us make things work! As so many of you are doing today as well with #InvestandFortify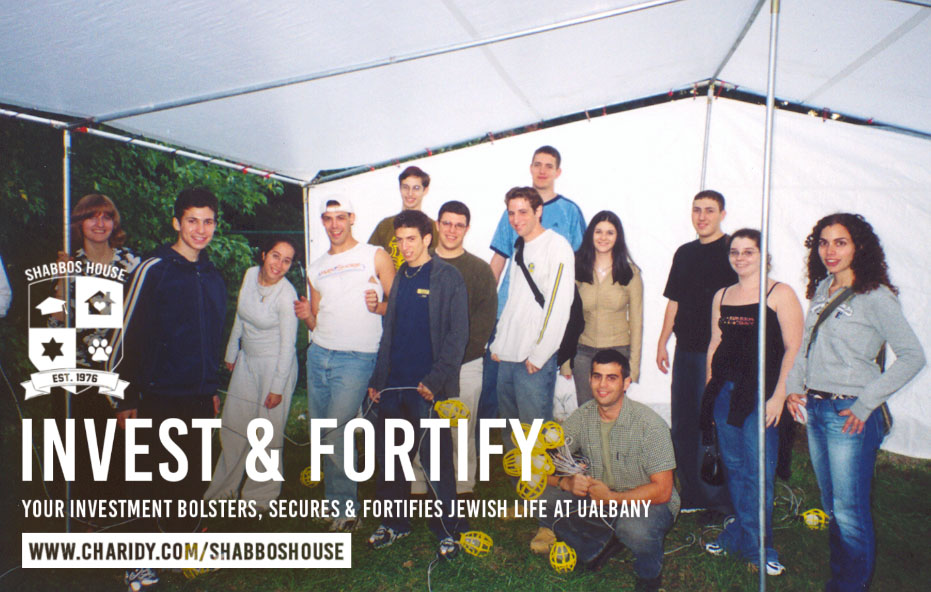 What a day! Your support has been very uplifting! We may get some sleep for a few hours but will be back on this campaign early tomorrow morning so we can have a strong bonus finish by 1:00pm tomorrow afternoon. Thanks all very much!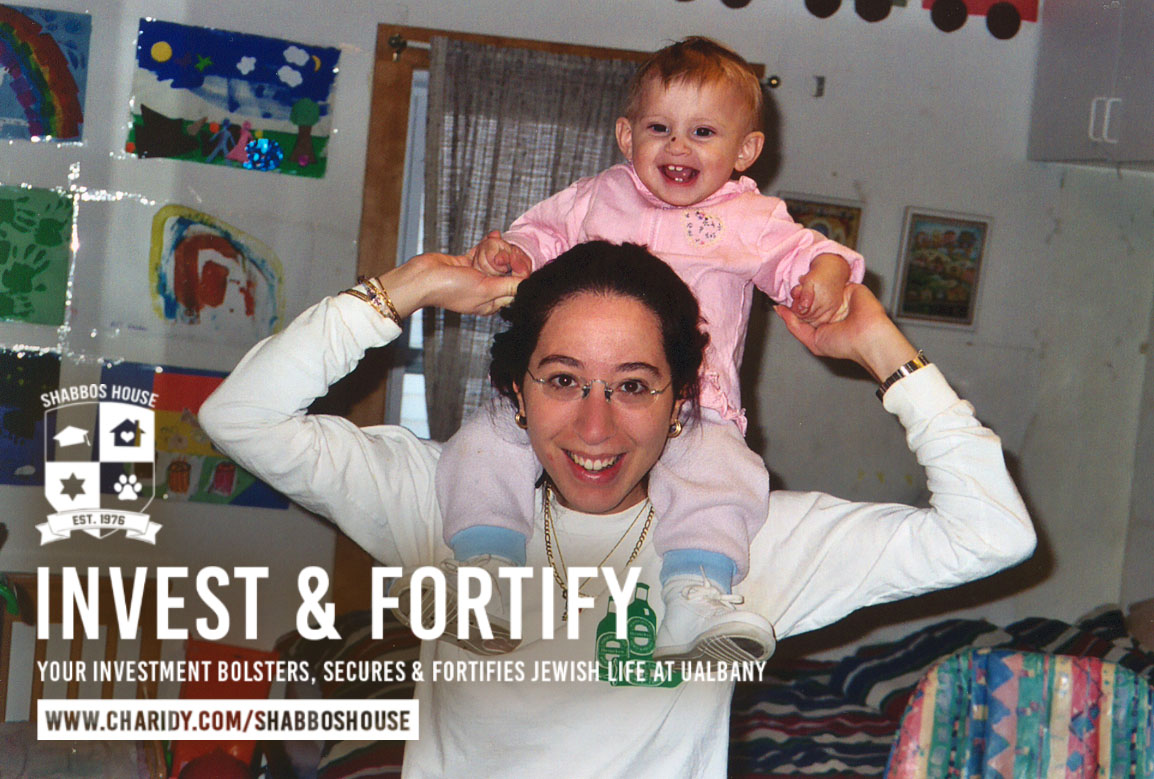 "Are we there yet?" Like this walk, it is one step at a time, one donor at a time. Thanks for walking the walk with us to #InvestandFortify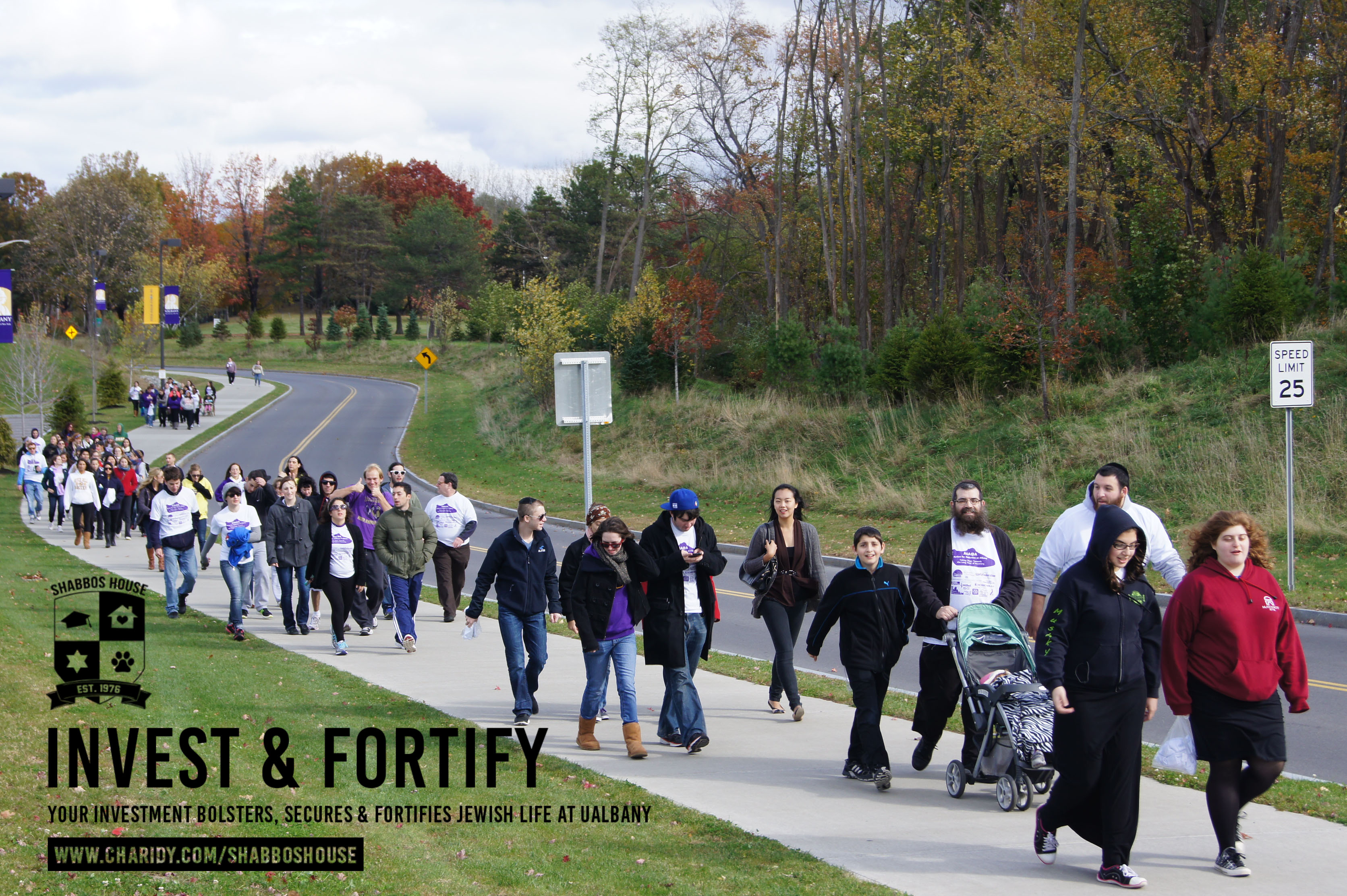 Feeling chilly out this morning? One way we fortify is with warmth! Thanks for your warmth, friendship and support!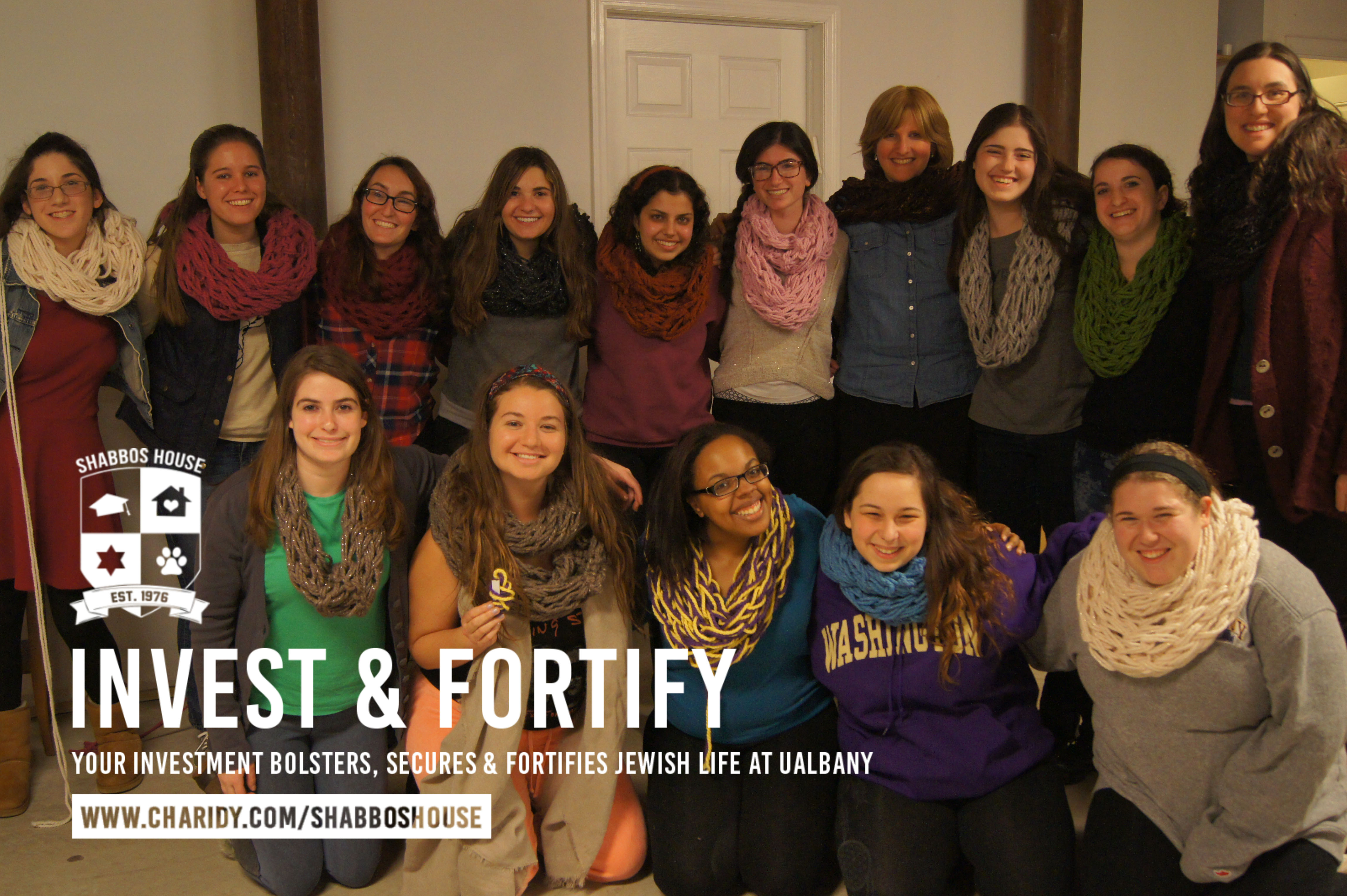 10th of Tevet commemorates the siege around Jerusalem, hence the theme to fortify – fill in, build up and strengthen our walls (like those of this Sukkah pictured). The truth is that while walls may have a connotation of keeping people out, walls also create intimate & meaningful spaces within.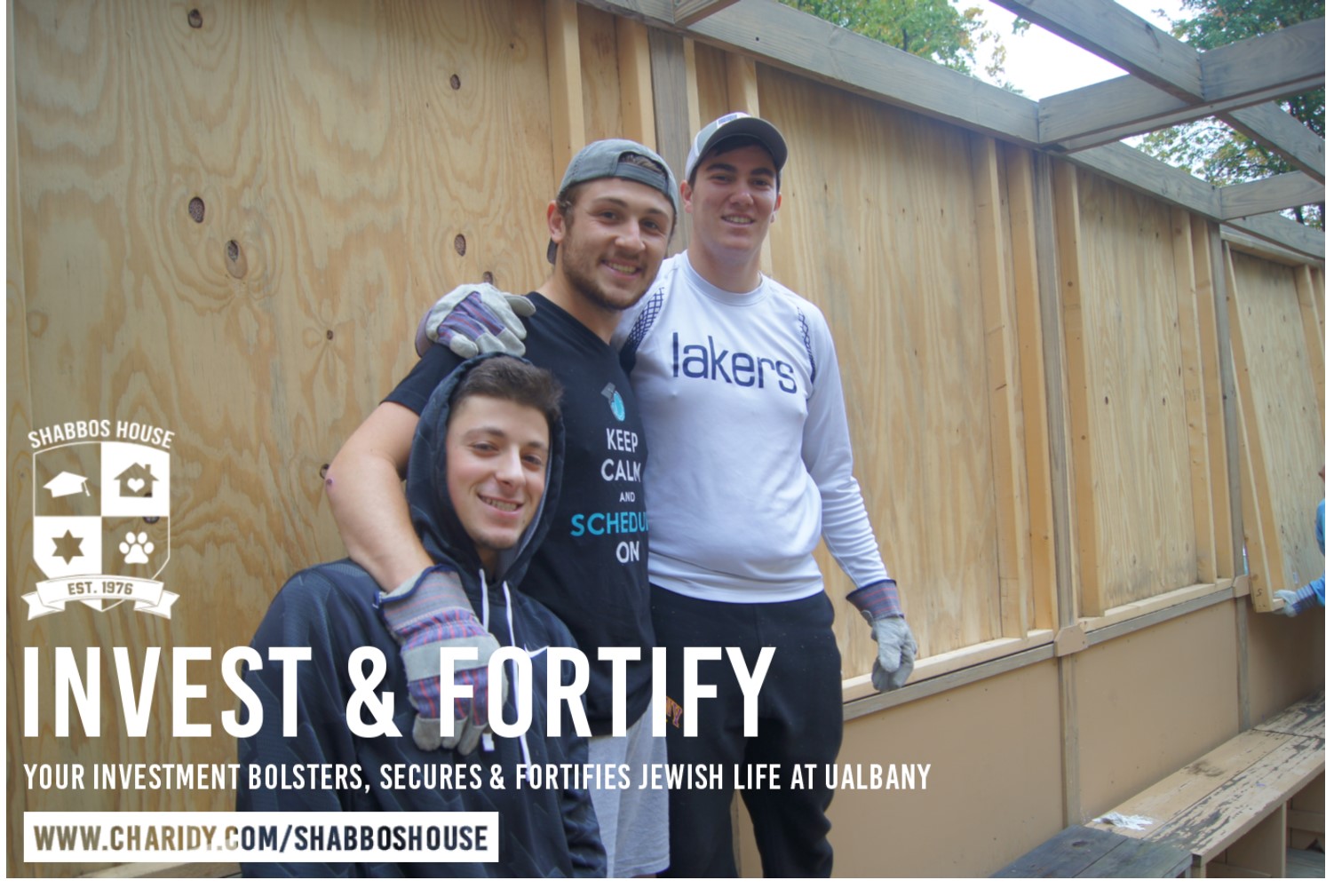 It works when we're all standing together, shoulder to shoulder!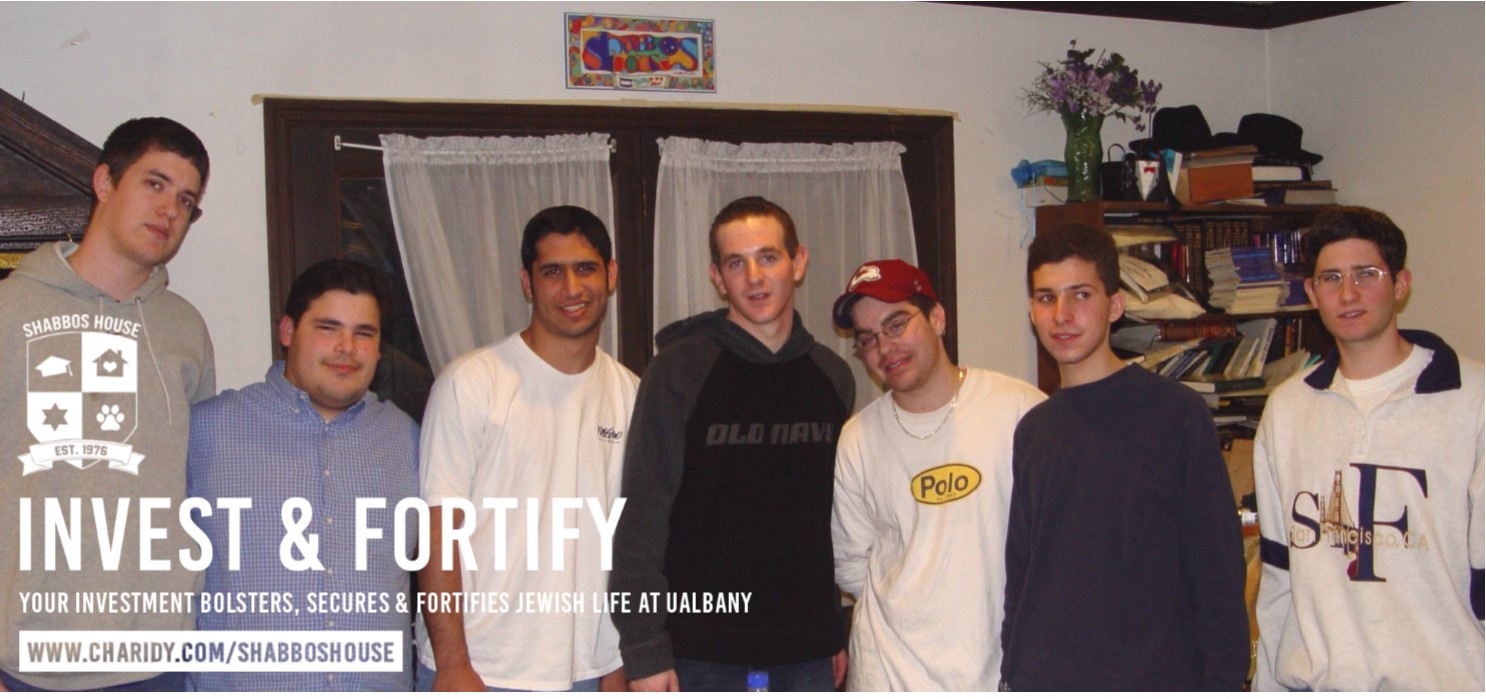 Speaking of #InvestandFortify, Jason K. (and Moshe!) built these benches so well, they are still in use! Shaun Z. brought up the first sets of these bench legs. Since the new Shabbos House was built we no longer use them each week but they are mainstays in the Sukkah and built to last!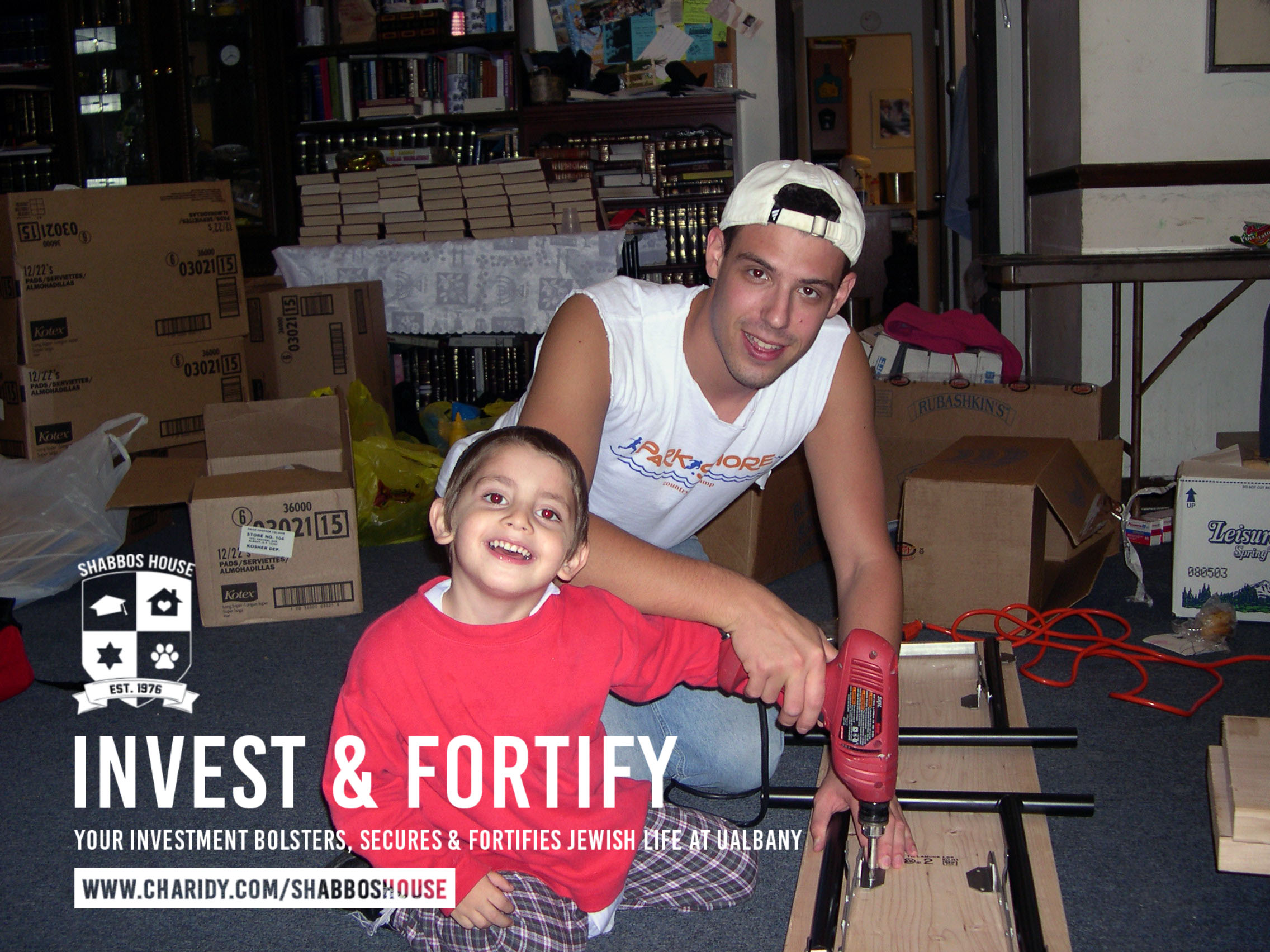 This picture is special because it features current students in the foreground, with black and white (OK, we did have color back then… Shabbos House does a lot in B/W to save green) of pictures of the earlier years hanging behind them! As with #InvestandFortidy all of us Shabbos House today supported by the years and people who came before them!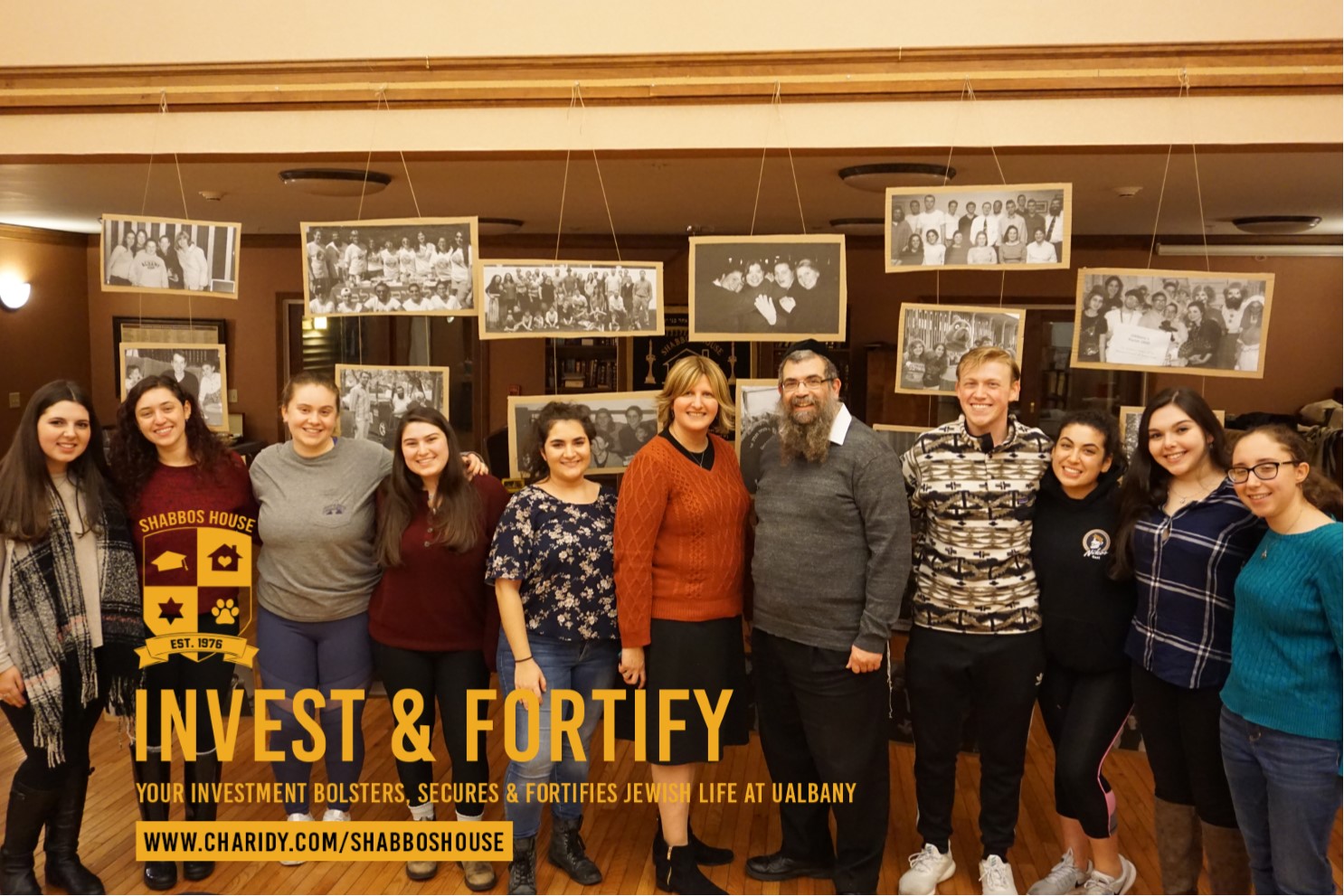 The Rebbe once told Mr. Frank Lautenberg (D-NJ) that working with young people is like working with young trees, #InvestandFortify so that will grow strong and bear wonderful fruit. It's a crucial time to create lasting impact.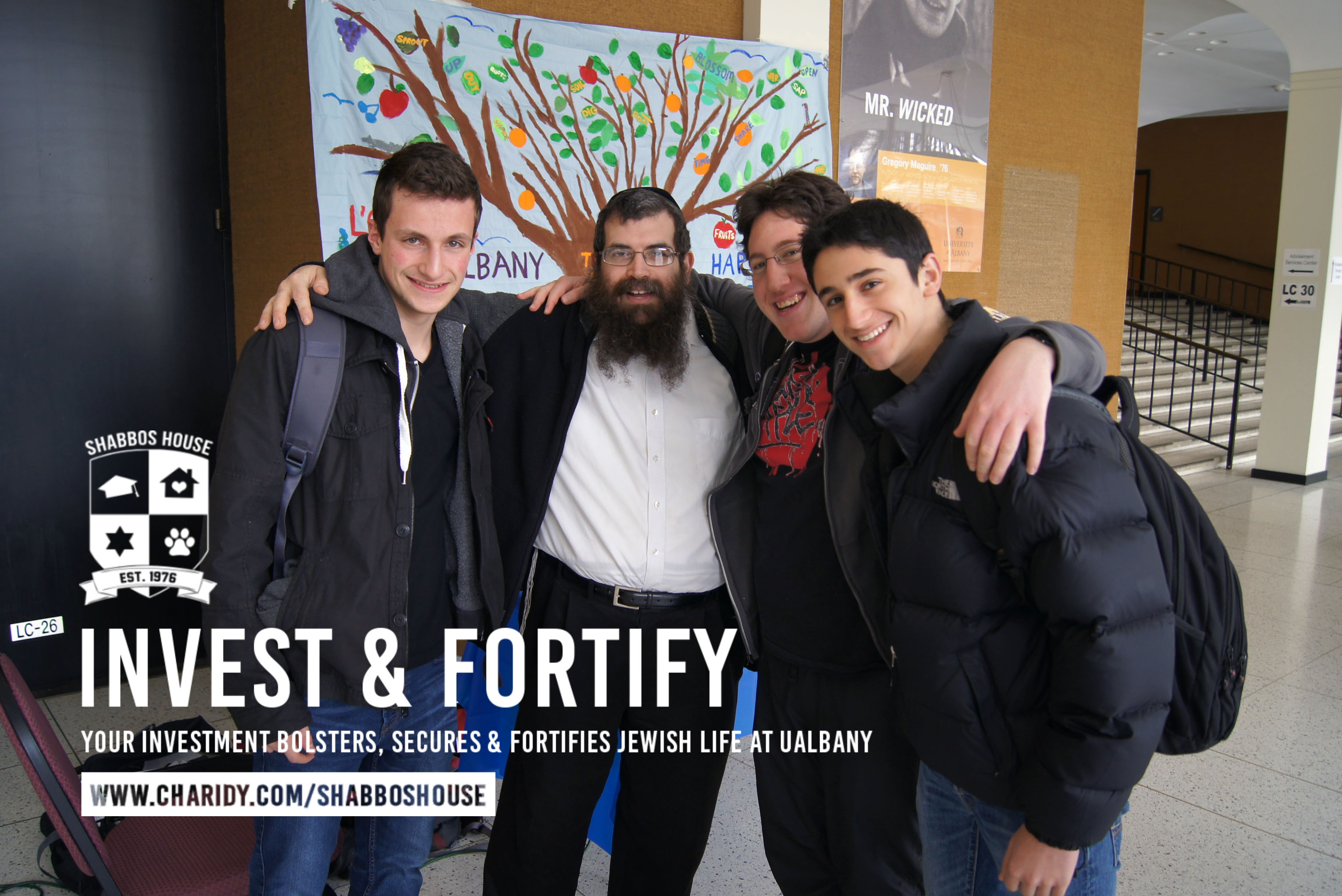 From Dr. Laz's band visit (in 2003?) The rap that night still is something we live with: "Working Together is the way to be, it's how we survive (Thrive!) through (Shabbos House) History!"
Ready for Action? Be a part of building our campus community, from generation to generation…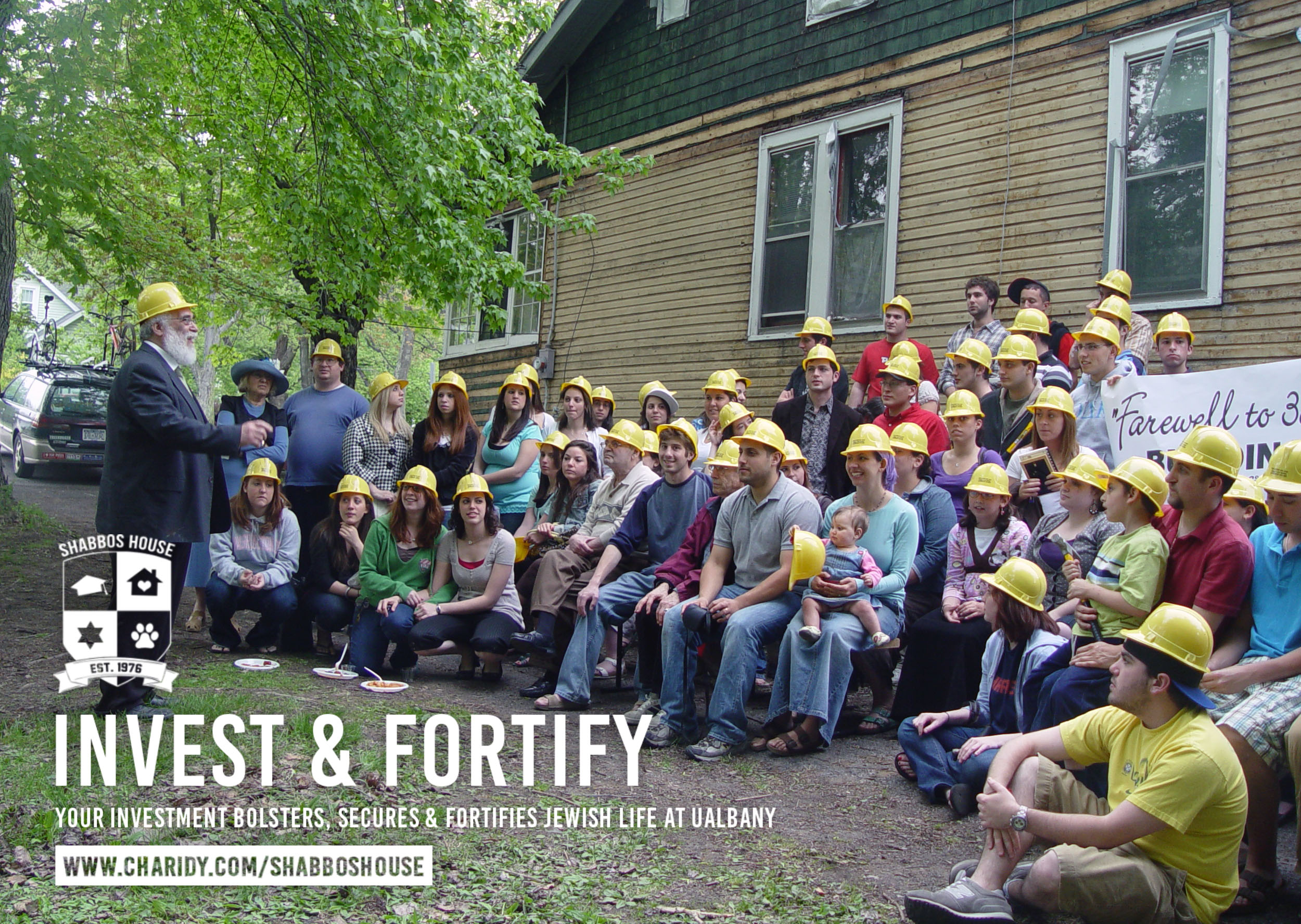 QUOTES AND FEEDBACK
In addition to the generous broad-based grassroots support, the feedback and meaningful quotes during this campaign were very uplifting. Below are a sampling of quotes and messages from during the 24-hour campaign:
"The gratitude I feel to Shabbos House is beyond words. What it gave to us socially is only part of the story – a truly remarkable place that fostered such a dynamic presence on and off campus." – A.G.
"When I was at UAlbany, Shabbos House was a huge part of my life, giving to them is giving to the continued existence of a strong Jewish community in the Albany circle." A.W.
"Raizy and Mendel have made my time in Albany more amazing than I ever could have expected. They pour everything they have into making sure each and every student feels welcome and included. I feel so blessed to have found my home in Shabbos House, and to have gotten so close with every member of the Rubin family. I am so happy to be able to help support Shabbos House during this 24 hour fundraiser. Thank you Raizy Mendel Rubin for giving me so much love, inspiration, and of course food!" – D.C.
"Shabbos House and Raizy Mendel Rubin have done so much for me over the years. They have been a second family, from when I met them during my freshman year through today. So much of who I am is because of the influence they had on me during college, graduate school, and beyond. Please support this amazing organization, this amazing family, so they can continue to make a difference in countless lives." – J.H.
"Calling all Shabbos House alumni, family, and friends! Craig and I are forever indebted to Raizy Mendel Rubin for their love, compassion, guidance, and mentorship. Thank you both for helping us to bring a bit of Shabbos House to our home for our daughter and our loved ones. Between the smells in our home on Friday nights and the melodies we sing at our table, we never feel far away. We hope to see you in person again soon! We love you and all of the Rubin children very, very much." – J.B. & C.B.
"Our son's life has changed so much because of you Raizy and Rabbi Mendel. This has been truly a home away from home which also includes all your amazing cooking that he always raves about! Your kindness is one of a kind! Your doors are always open anytime any day! We feel truly blessed that our son always have a place, a teacher and a Shul where he is!!! Thank you, Thank you Thank you." – P. & C.M.
"Raizy and Mendel Rubin of Shabbos House have truly impacted not only my own life, but that of J.A. (whom I wouldn't have met if it wasn't for them). Shabbos House made my UAlbany college experience as amazing as it was." – V.R.
In honor of the wonderful UAlbany students! – N.O. a former UAlbany bus-driver
Thanks for all you do – it means more than you will ever know! – J.K.
Thanks Mendel and Raizy for living & breathing Shabbos House 24/7! – M.D.
Thank you for always being there with love, support and brocolli salad… – S.P.
I can't think of an organization in my life worth more donating to! – I.B.
Shabbos House did more for me than I can ever express! Thank you! – J.H.
Thanks for providing a safe home away from home for my daughters. – C.S.
I wouldn't be where I am today and whom I am today without Shabbos House. – R.H.
Chazak, Chazak V'Nitzchazek! Love you all, keep doing amazing things!
Thank you for opening doors to your home for all students.
Thanks for being there for our granddaughter.
Thank you for everything, here's to so many more years of amazing memories!
Plus many dedication notes in memory of loved ones, in honor of current students, in honor of grandchildren.