On Hoshanah Rabba (this year on the Sunday of Sukkot 5777 / 2016) Mendel Brikman passed away at the young age of 43. He was a father, son and husband. He was a business-owner and an active member of the community.
Mendel was also my classmate. We studied together in the 6-8 grade of the Lubavitcher Yeshiva on Ocean Parkway, and later again in the Oholei Torah Yeshiva in Crown Heights.
Mendel was a big guy, especially in middle school, he towered over the rest of us. He was big, built and strong. Sadly, during his illness, he was a shadow of his former size and strength. But only physically – the amazing thing was the incredible inner strength, his faith and positivity in the face of such adversity, challenge and pain was such an inspiration. His illness revealed such astounding inner strength, it could knock you down – rather, up!
We are sitting tonight in a Sukkah as I recall Mendel Brikman, on the night after his passing and burial. I don't have a Sukkah memory with him, but there's a Sukkah story about his grandfather that I think is a very fitting tribute and description of Mendel as well.
Mendel Brikman's grandfather was a Chassid named Isser. Reb Isser settled with his wife and sons in Albany NY, where he had a job as a Shochet (ritual slaughterer) in one of the Kosher meat-houses back then in downtown Albany. They were the first Chabad family in Albany, and an important factor in the early development of Cong. Shomray Torah (then on Elm Street, later on New Scotland) and a lasting inspiration to some locals.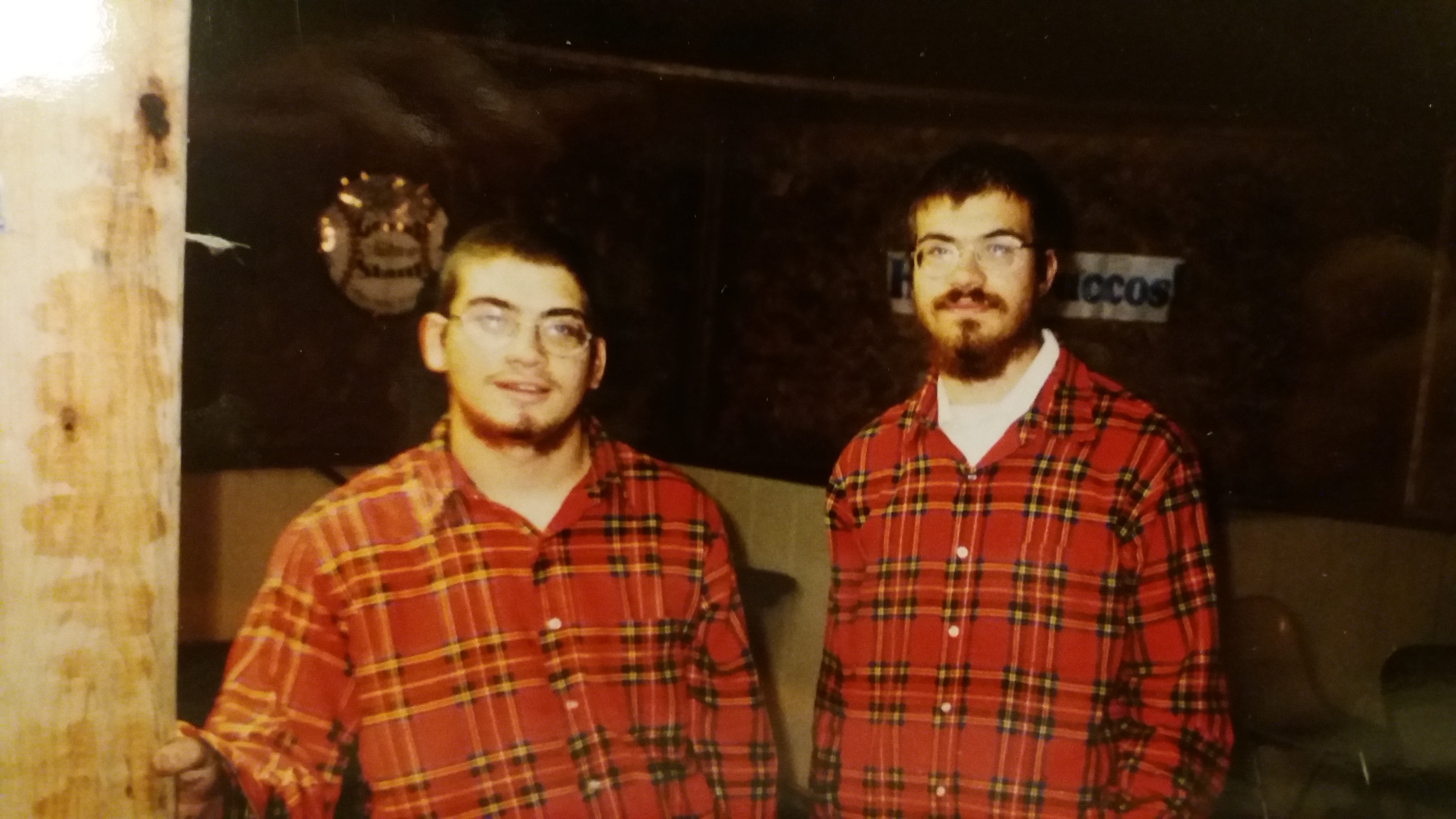 Two of those locals, named Yisroel and Feivel, whom Reb Isser had inspired to greater observance and involvement, were sitting in the Shteeble one day after Yom Kippur when Reb Isser walked in, wearing a thick red flannel shirt telling them, "Come build me a Sukkah!"
(This photo is not of Isser, but of Rabbi Mendel's brothers Yossi and Shmuly taking down the Shabbos House Sukkah – in red flannel shirts!)
Reb Isser was a Chassid, a pious old-school Yid, with a big untrimmed square beard – but they loved his earthiness, his hands-on Judaism, the physicality of all of it. It wasn't cerebral, it wasn't a text, it was a flannel shirt to build a Sukkah!
Yisroel and Feivel often refer back to this scene, this beloved red-flannel shirt Sukkah-building memory of Reb Isser Brikman.
I think the same could be said of his grandson Mendel Brikman, also of blessed memory. He was a down-to-earth guy. He started a business, he and a cousin owned and ran a retail electronics business in Brooklyn that eventually opened a few branches. He wasn't a Chabad Rabbi or Chabad House director. He was a working Chassid. He was people-minded, he was sensitive to people's needs and their troubles. He was a big guy with a big heart.
The beauty of Mendel Brikman's Chassidic style – like his grandfather's before him – was its earthiness, that it was physical, it was about people more than books or ideas. He had a geshmak in things, with taste, relish, zest and gusto.
His untimely passing, and the terrible illness leading to it, is a tremendous loss and blow to his wife and children, to his family – but also to all who knew him, to the community where he was beloved, and to all those whose life he touched.
May his memory be a blessing. So sad to say that about a classmate.