This year, in 2020, American's Independence Day and one of Chabad's Freedom Festivals coincide on the same day. Shabbat is both July 4th Independence Day and in Hebrew it is Yud-Bais (12th of) Tammuz – the day the Previous Rebbe (1880-1950) was released from Soviet prison & exile for the "crimes" of keeping Judaism alive under communism. There's a shared theme here!
But aside for the shared freedom theme, there might be more similarities and lessons as we get into the details of both holidays. Obviously, one is religious, the other secular, and they have totally different contexts and means & modes of celebration but why not learn something from this interesting juxtaposition this weekend…
Here are a few interesting connections in the details:
GOING AGAINST THE GRAIN, STANDING UP FOR YOUR BELIEFS
The colonists felt oppressed by the British and it took guts to stand up to the power and might of the greatly feared and respected British Empire. They felt their rights were violated, they coudldn't take it anymore and wanted to stand up and put everything on the line for what they believed in. The Previous Rebbe, R' Yosef Yitzchak, was fighting more of a religious battle than a political one, but he too, stood up against the absolute power and might of the Soviet Union, with all of its ruthlessness and total control, because he felt and knew it was worth fighting for. He and his Chassidim took that "Give me Liberty or give me death!" or "I regret that I have but one life to give for my country" and lived that – and many died for that – in their quiet but determined underground struggle against the communist regime.
THE DECLARATION AND THE ACTUAL
Yud-Bais Tammuz is really on the 12th of Tammuz, but is actually celebrated in Chabad for two days, on the 12th and the 13th. That's because the Russians declared him free and notified him on the 12th, but that happened to be an official national holiday so the offices were closed and he was only actually freed on the next day, the 13th. You might say a similar thing happened on July 4th. The Declaration of Indepence was voted in by the Continental Congress on July 4th but was signed until later. It took until August for all the signatures to be on it.
THE DATE HAS ADDED SIGNIFICANCE TO THE PEOPLE INVOLVED
It so happens that by a remarkable coincidence, Thomas Jefferson and John Adams, the only two signatories of the Declaration of Independence later to serve as presidents of the United States, both died on the same day: July 4, 1826, which was the 50th anniversary of the Declaration. Although not a signatory of the Declaration of Independence, James Monroe, another Founding Father who was elected as president, also died on July 4, 1831. That's regarding July 4th. Similarly with Yud-Bais Tammuz, this day of release was actually the Hebrew birthday (and Bar-Mitzvah anniversary) of Rebbe Yosef Yitzchak so the day had added meaning for him.
WHO IS INCLUDED IN THE CELEBRATION
The Previous Rebbe's 1928 Yud-Bais Tammuz letter (on the first anniversary of his release, now out of Russia in Riga, Latvia) sets the tone for Yud-Bais Tammuz commemoration and celebration. At Yud-Bais Tammuz in the years that followed, the Rebbe often made reference to this letter, learning lessons from its wording and expressions. One famous phrase is that this holiday should be celebrated (beyond Chabad) among all those who cherish Torah, and even those whose only Judaism is in name only. It has very broad application (and the background and context of the story and what the struggle was about explains why). Similarly, you might say, July 4th isn't only celebrated by politicians or civic minded folks or likely voters. It is celebrated by everyone, even those who can't tell you what happened on this day. But they all celebrate, and indeed are all affected in a very deep way because of what happened on this day. Regardless of what we know or how much we observe…
AND THIS LETTER OF REBBE TO PRESIDENT GEORGE BUSH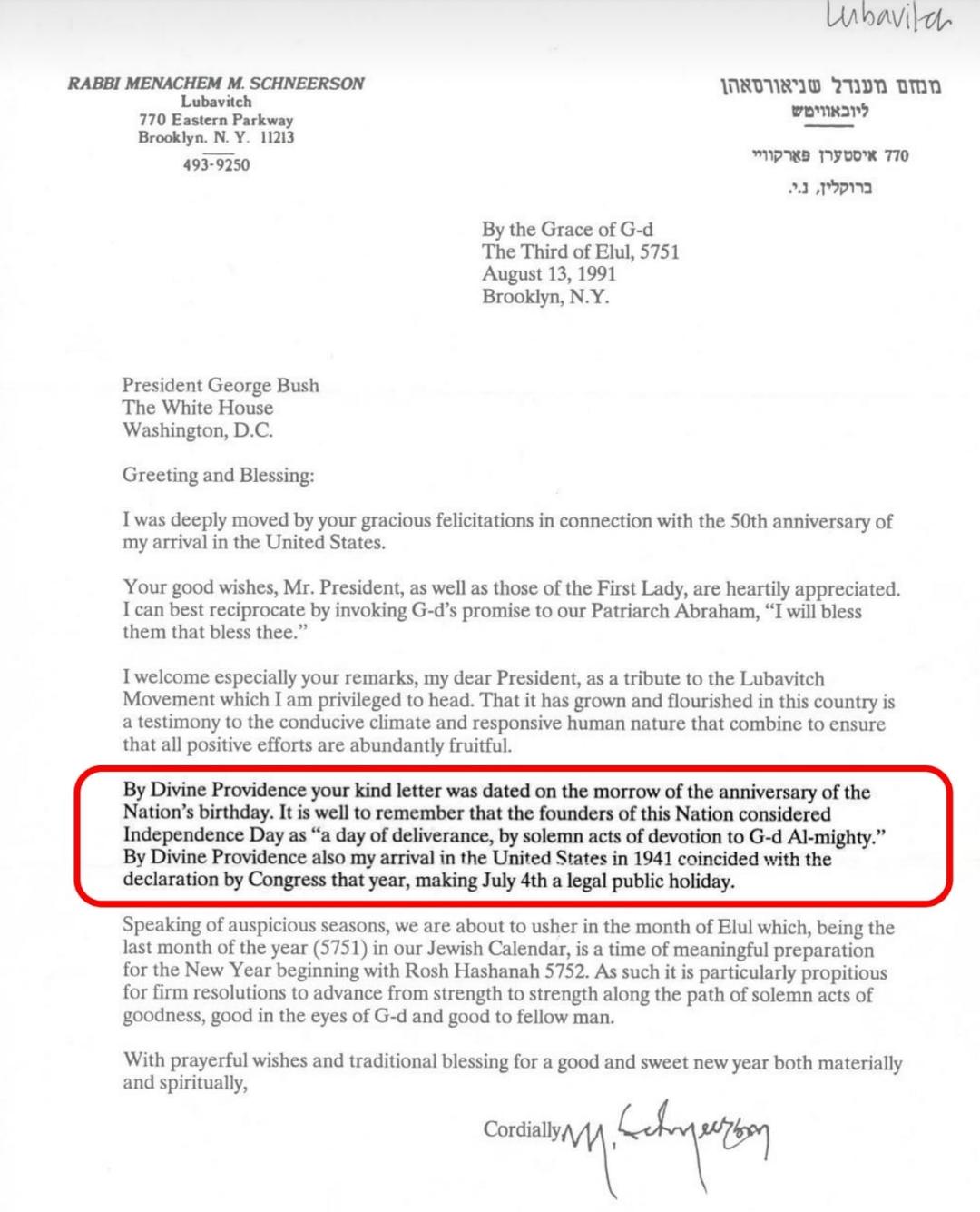 Will add any others if I think of them…
But… as much as I love making comparisons and connections, a July 4th celebration is probably for most more about BBQ than independence (though there's definitely a vibe of patriotism that abounds on this day), whereas a Yud-Bais Tammuz farbrengen is much more likely to focus on the story and message and values that Yud Bais Tammuz celebrates.