On July 20th, 1969, after flying a crew 200,000+ miles away from earth, as the whole world held its breath, the United States landed a man on the moon, fulfilling JFK's famous proclamation and NASA's tireless scientific development. "One small step for man, a giant step for mankind." This was the most watched broadcast in history up until that time. Hundreds of millions of people all around the world were glued to their TV's and radio sets. This June 2019 is the 50th anniversary of this great milestone accomplishment.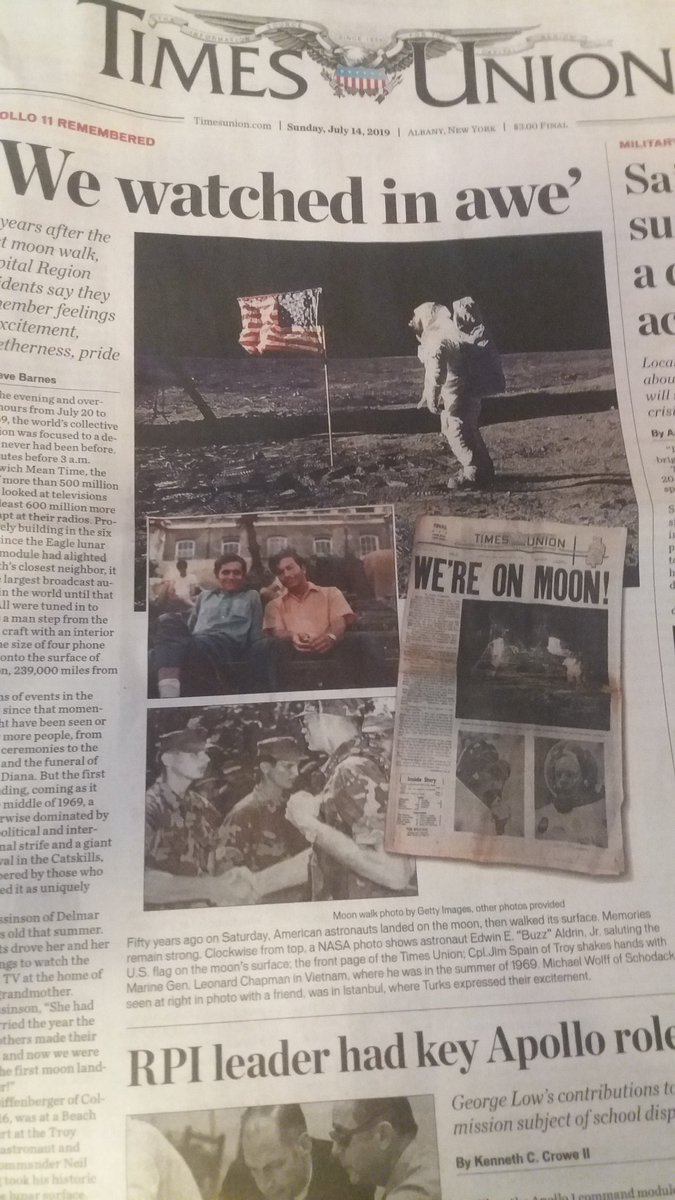 Our local paper, "The Times Union", did a full front page story reflecting back to 1969, including locals who contributed toward this great effort. But note the difference between the two headlines, after a span of fifty years, a half century: In 1969 the headline was "WE'RE ON MOON!" (see paper's flashback inset) while in 2019 the current headline is "WE WATCHED WITH AWE" (see bold top of page).
Note the difference, the personal distance. In 1969 we all felt like participants. In some sense it wasn't just Neil Armstrong, but everyone back on earth invested and rooting for the mission's success who felt that they, too, in some sense, also landed on the moon: "We're on Moon!" Now, fifty years later, in 2019, the headline is different: "We Watched with Awe" like bystanders or onlookers, like upper deck fans, from a remove, at a distance.
This is an important distinction. I'm with 1969 on this one.
STUDENTS: At Shabbos House, we want everyone on the moon! True, students all play different roles, as a campus community has many aspects, components and elements. Not everyone at Shabbos House is involved in the same way. There are varying religious levels, involvement levels, types of programs and events that people come to. But the goal is for all of us, or as many of us, to feel that they – we! – are all part of it, we all matter, for each person to feel invested, to realize that they make a difference. Don't leave Jewish life at UAlbany to Mendel and Raizy, or to student leaders. We want everyone to feel, in one way or another, to one degree or another, that we ALL are on the moon! Jewish life is all of US!
ALUMNI: Same goes for alumni. We know many alumni tell us that they follow us online, they watch what we do, they're happy with how things are up in Albany. But don't go 2019 on us! In 1969 most people (aside for just 3) were 200K! miles away, on a different planet (literally!) and yet felt that closeness and sense that "we are on the moon." Many alumni still feel invested. Their involvement and dedication back then as students still bears fruit at UAlbany, your contributions then helped shape Shabbos House. And your continued interest, involvement and keeping-in-touch connection, giving and support entitles you to feel that you, too, even from the distance of geography and time, are still here with us "on the moon" of Jewish life at UAlbany.
Don't watch from the sidelines like the headline from 2019. Be a part of it like 1969!
You are a part of it! We are all in this together…